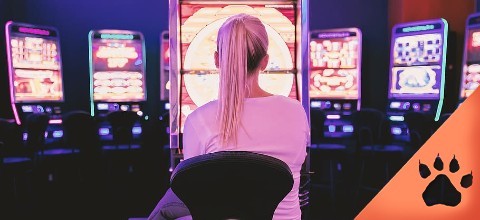 The Ultimate Guide to Dominating Slot Machines
Playing slots is a very thrilling experience, especially nowadays that digital innovation allows us to use our mobile phones or tablets to entertain ourselves with many online casino games, such as the video slots offered by LeoVegas Casino.
However, the question arises: how can you win at online slots?
In this article, we'll reveal some valuable tips from an expert perspective on how to play slots while making an informed choice and how to make the most of the key elements of one of the most beloved games among online casino fans worldwide: the slot machine.
In the meantime, you can click the button below to register with our site for free and become part of the LeoVegas pride.
Online slots Strategy Tips
Among the factors contributing to a mature slot gaming experience, our tips on how to win at online slots will contribute to the success of your game in several ways. Some of these are essential tricks that rarely get the attention they deserve!
It is not uncommon to find articles on the internet that promote the wrong approach to online gaming; always remember that the operation of a slot machine is regulated by precise algorithms that allow for the impartiality of the results (which are determined randomly by a random number generator system with every spin of the slot), and consequently also the regularity of the gaming platform.
Check out our "How slot machines work" article to learn more about RNG and casino slot algorithms.
To win at slots, therefore, there is no real strategy to follow, rather there is a conscious method to the game.
Acquiring a proper understanding of every slot machine aspect is important, especially if one wishes to become an expert player.
Below, we will try to give you all the useful information to maximize both winnings and fun. Get your notebooks ready, lions!
Choose a slot that suits you
Choosing the slot machine that best suits your taste is the first step to starting to profit from your gaming session. Here is what you need to consider in a slot machine before you start spinning its reels:
The type of slot or paylines
The special features
The RTP percentage
The slot volatility
The Type of Slot or Paylines
Choosing the right type of slots for you is of utmost importance, given how many different types exist. Do you like the more classic-looking ones with only three reels and one payline?
Or those with thousands of paylines, cascading symbols, reaction wins, etc.? Knowing what, more or less, attracts you is always a good first step.
There are several advantages in playing classic slots considering the gameplay is more linear and intuitive.
Likewise, when playing slots equipped with ways-to-win such as the MEGAWAYS mechanic, you'll get a more interactive but also hectic experience.
The Special Features
The bonus features of online slots are, by far, their most exciting aspect: Wild Symbols, Free Spins, Mystery Symbols, Feature Buy and many more. There is surely something for everyone!
Our advice is to always choose a video slot that is loaded with special features and bonus game modes in order to increase your chances of winning. It's also a good idea to check the pay tables for each slot game; this way you'll get to learn more about the symbols with the highest payouts!
To optimize your time, remember that many slots offer the so-called Feature Buy i.e. the possibility to buy the various extra features offered by the slot directly with your credit in your gaming account.
Let's not forget that slots with progressive jackpots (progressive slots) also fall into this category. In this case, remember to check if there is a minimum bet value to unlock the jackpot prize (and be sure to check out our jackpot slots section.
Check The RTP percentage
The acronym RTP stands for "return to player" and states the percentage of a slot's payout that must be converted into coins or money won by players.
Although this percentage is calculated on very long slot cycles, which can be as high as 30-40 thousand spins per slot, choosing an RTP that exceeds 96% whenever possible is always advisable.
This does not mean that during our session, we will win an average of $96 for every $100 spent, but simply that the slot we have chosen is among those calibrated to be theoretically more "generous".
Check The Slot Game Volatility
Slot Volatility is another factor that you must keep an eye on while choosing your slot machines.
In a nutshell, high volatility slots have a good big win potential, while low volatility slots generate a lot of small wins but frequently.
Grab a Bonus
A good tactic for winning at slot machines is to take advantage of online casino bonuses.
In such cases, the bonus allows you to continue using your real balance. At the same time, you play - meaning you can also withdraw any winnings at any time - and simultaneously compete for an extra sum in real bonus money.
If you are a new user, you can take advantage of the Casino Welcome Offer, which in our case, consists of a Deposit Match Offer of up to $1,000 PLUS up to 200 Free Spins.
But that's not all. Once you've finished your Welcome Bonus, you can access a long list of other promotions and offers.
Remember to always take advantage of the active promotions on site to make the most of all your gaming sessions.
Before depositing, check for any offers you can activate on your "My Offers" page to get a little bonus compensation for every bit of money you top up!
Set a Budget
Slots can be one of the most entertaining experiences online casinos offer, so it is important to set some limits before spinning the reels. While playing any slot machine, you should always keep an eye on two key elements that will affect your chances of winning at slot games:
Your budget
The duration of the game
It is best to establish a bankroll based on a fixed amount from the start to keep track of the funds deposited into your account. You can set a limit that you are mentally ready to spend and then simply stop when you reach the threshold. Or, you can consult our responsible gaming tools that can be optionally activated at any time.
The duration of the game
The money you start a game with is important, but so is the time you manage to keep your finances active. It will certainly not be by prolonging your playing time and squandering your money that you can win big!
For this reason, remember that you can always set a timer on your phone or a session limit to help you keep track of the time that passes while playing slots online.
Try Playing a Free Demo
You can learn the specifics of the slot while playing slot machines completely for free! Most of the slots at LeoVegas have a free demo mode that can help you to get some practice before playing for real money.
Discover the LeoVegas slots
Always keep in mind that there are no surefire ways to guarantee big slot winnings, but our tips above on how to win on slot machines will get you playing smart and potentially also maximize your chances.
Slot Strategy FAQs
Is there a secret to slot machines?
The secret is that there is no secret. When you play online slots, there is no way to know when another big win will hit you - it is completely random.
Is there a slot machine strategy?
Since winning in slot games is completely random, there is no established strategy for winning slot machines like in blackjack or poker. However, some tips can help you better manage your bankroll or choose online slot games that better match your playstyle.
What time of day do slot machines hit the most?
There is no specific time when playing slot games can improve your chances of winning. Online casinos operate 24/7 except for some short maintenance, so players can play slot games online whenever they want.
How often do people win big at slots?
More often than you would imagine - check our big winner stories to learn more about players who won big at LeoVegas!
Can you increase your chances of winning at slots?
Picking the game with higher RTP can potentially increase the chances of winning long-term, however, the slot machine odds remain the same for each spin.
How can I manage my bankroll when playing slots?
To manage your bankroll effectively, you need to settle two things first: how much you are willing to spend and how long you want to play casino slot games.
What are some tips for playing progressive jackpot slots?
There is no certain way to trigger win at the progressive jackpots, however, there are some slot tips that might help you:
Check out the slots with LeoJackpot on our jackpot slots page
Prepare a solid bankroll: jackpot slots are usually highly volatile and often require a high maximum bet
Play slot machines in demo mode to better understand the game features and mechanics
Learn more about bonus games and how to trigger them - most slots have bonus rounds that can provide higher multipliers and more free spins.
How do you know when a slot machine is going to hit?
It is simple - you don't. There is no clear indication of when the slot machine will hit. Every spin can be a winning one, and that is the most fun part of playing online slots!
Should you manually stop slot machines?
You surely can, but it really makes no difference. When you play land-based slot machines, pulling that lever can feel good, however, when you play on your mobile, you just tap the screen.
Do slot machines remember you?
Online slot machines do not have any memory, and each spin is calculated to be unique and not affected by other spins.