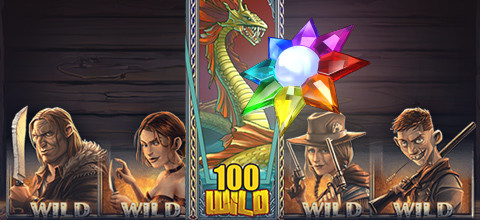 Wild Symbols in Slot Games
Wild symbols are somewhat of a staple feature in video slots. They effectively substitute for any missing paying symbols, to help form a winning combination. You can expect them to pop up in most games you play, giving you the chance to turn things around and hit a winning combination. But that's not all Wild, symbols in slot machines are good for. Over the years, video slot developers have come up with innovative ways to build on the core Wild symbol mechanic.
There's no small share of video slots at LeoVegas featuring Expanding Wilds, Random Wilds, Stacked Wilds and Sticky Wilds. But what exactly do all these variations offer? The LeoVegas guide to Wild symbols in slot games walks you through all that these symbols bring to the table in online slots. So, you can know exactly what to expect, whenever one of these benevolent symbols hits your reels.
Understanding Wild Symbols in Slot Games
Think of Wild symbols as a bonus life of sorts. They can take on the form of any paying symbol in a slot. This allows them to substitute for any symbols that might be holding you back from putting together a winning combination. Of course, if there are already enough symbols in slots, to complete the payline, Wilds will simply enhance the win, helping you hit the highest possible payout.
In most cases, Wild symbols don't have any payouts of their own, so their only value is when they combine with other paylines. But in some slot games, developers have given Wild symbols a cash value, making them rewarding symbols in their own right. In some situations, this can lead to both Wilds and paying symbols working together for a combined win.
Bear in mind that Wilds symbols function generally only step in for paying symbols, so they cannot substitute for any Scatter symbols or bonus tokens. There are exceptions, of course. In the 'Book of' slot genre, Wilds and Scatter symbols are combined into one, so Wild symbols also trigger special features. Developers like to include enhanced versions of Wild symbols during free spin bonuses too, creating a sense of progression whenever you hit the bonus rounds.
Types of Wild Symbols
Wilds come in all shapes and sizes. Their main goal might be to help form winning paylines, but they do so in different ways. We'll explore some of these distinct Wild symbols, seeing exactly how they bring rewards to the table.
Standard Wild Symbols
These are your basic Wild symbols. They tend to land across paylines during both the base game and free spins, behaving like any other symbol would on the reels. If they happen to form part of a possible payline, they substitute themselves for one of those symbols, giving you a chance to reap its rewards. In some slots, Wild symbols are the highest-paying symbol in the game, so landing combinations with more Wild symbols can lead to even bigger prizes.
Expanding Wild Symbols
Expanding Wilds look just like standard Wild symbols, except they expand to cover the entire reel that they land on when they hit. In doing so, they replace all other symbols on the reel, creating more opportunities for wins. In some cases, Expanding Wild symbols can land with win multipliers, which are awarded whenever any of the expanded symbols form part of a win.
Stacked Wild Symbols
What's better than one Wild symbol? A bunch of Wild symbols! These Wilds land in stacks, giving you an even better chance of having multiple Wilds on the reels during a spin round. Having more Wilds creates a bigger opportunity for wins to occur, so the more Stacked Wilds you get, the better.
Stacks may or may not land in full view on the reels and developers have been creative with this. In some cases, landing a full stack of Wilds on the reels activates a win multiplier, giving you even bigger wins if the stack forms part of a payout. Others have gone in a different direction, creating nudge features that push your stack into full view if some of its symbols are off the board.
Sticky Wild Symbols
Wilds are always a welcome sight on the reels. The only problem is that they ultimately disappear at the end of each spin, with no guarantee they'll return on the next go round. Enter Sticky Wild symbols. These special symbols stick to the reels and hold their position for future spins. Sounds great, right? Well, it's not that easy. Sticky Wilds have limitations too, with developers crafting different ways for them to trigger and stick. In the base game, Wilds can stay sticky for tumble features and respins, but they're most effective during special bonuses. Sticky Wilds can also appear in both free spins and Hold & Spin features. In these scenarios, they remain active for the entire duration of the bonus round.
Role of Wild Symbols in Slot Games
Although they started as fairly simple tokens, Wild symbols serve several purposes. Video slot providers have found ways to enhance Wild symbols, expanding their role further and using them to build more complex slot mechanics. Let's explore how they can contribute to your gameplay.
Enhanced Winning Opportunities
Wild symbols don't simply help put together winning combinations; they can also enhance existing wins. Say you have a winning payline made up of three-of-a-kind symbols. If you add a couple of random Wild symbols in to the mix, it can upgrade your win to the payout for landing five-of-a-kind.
Wild symbols can also land with their own payout value. So, if you combine three regular paying matched symbols on a payline with highest paying symbols and another three Wild symbols, you'll reap the rewards for both sets of symbols.
Substitute for Other Symbols
Wild symbols act like a one-size glove. They can step in for any symbol on the paytable. Wild symbols have acted as life savers in countless situations and can be particularly useful when you're trying to build winning streaks. Take tumble features, for example. In some cases, the more consecutive tumbles you get, the better the win multiplier becomes. Having Wild symbols step in to save the day keeps your streak alive, helping you build better win multipliers along the way.
Multiplier Effects
Speaking of multipliers, Wilds can significantly enhance your wins with multipliers. In some cases, Wilds simply land bonus symbol with an attached win multiplier. These multipliers are awarded to wins that the Wild symbol(s) contributes to.
In some games, several Wilds can land in one round, each with a respective multiplier. If more than one of these form part of a win, their multipliers are multiplied against each other, giving you a much bigger bonus.
Trigger Bonus Features
We've lightly touched upon the way some video slots, like the ones from the 'Book of' genre, use Wild symbols to trigger bonus game features. Games like Book of Atem have Wilds behaving like Scatter symbols, so landing three or more of them in one round will trigger a free spins bonus round.
How to Spot Wild Symbols in Slot Games
Game developers like to make Wild symbols stand out from the rest of the paytable. They'll most likely have a cool animation or portray one of the game's main protagonists. In some games, you'll see 'Wild' written all over the symbol, just to make sure you can easily identify it in the mix. If you're ever in doubt, have a look at the slot's paytable to see exactly which slot symbol the Wild is, and what payouts and features come with it.
Wild Symbols FAQ
What is the purpose of Wild symbols in slot games?
Wild symbols step in for missing pay symbols to form winning combinations.
Can Wild symbols replace all other symbols in a slot game?
Wild symbols can replace paying symbols in a slot game, but they cannot replace Scatters or other Bonus symbols in bonus games.
Do Wild symbols increase the chances of winning?
Yes, Wild symbols increase your chances of winning, since they can form part of multiple paylines.
Are Wild symbols more common in certain types of slot games?
Wild symbols are common throughout most video and slot machine and games, being given importance in the 'Book of' genre set of games, Megaways and more.
Are there any strategies to maximize the potential of Wild symbols?
As with all video slot mechanics, Wilds are completely randomized, so there are no strategies to optimize their potential.
Can Wild symbols trigger bonus features in slot games?
In some cases, Wilds and Scatters are combined, so they can trigger bonus features.
How do Wild symbols affect the overall gameplay experience?
Wild symbols give a chance to turn a narrow loss into a winning spin. They can extend winning streaks and enhance payouts to push them towards their full potential.
Do Wild symbols have any impact on the game's payout percentage (RTP)?
RTP is a theoretical indicator and so it is not affected by the presence of Wild symbols.
What are some famous slot games known for their innovative use of Wild symbols?
Book of Dead, Fishin' Frenzy and Mega Moolah are some of the most famous games to innovatively use Wild symbols.
Read more about slot mechanics in our guides: