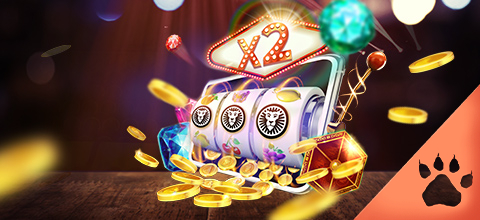 The Difference Between Slot Paylines, Ways-To-Win & Cluster Pays
Slots have definitely come a long way since the standard "three reels one payline" machines. In fact, nowadays you'll find slot games with hundreds of thousands of possibilities to win, - be it slots paylines or other mechanics. But what is the actual difference between slot paylines and ways-to-win? Which type is better than the other? And what exactly are cluster pays?
Not to worry, we're here to clear up all the confusion so that you can better understand the slots you're playing. Read on to find out more about the win mechanics in slots!
How Do Slot Paylines Work?
The paylines mechanic is the original 'way to win' when talking about slot machines. Think of the old school mechanical slot machines with three reels and a single payline. Getting three identical symbols to line up horizontally in the middle of the reels was how you won. Today, you will be able to find video slots offering hundreds of paylines, stretching vertically, diagonally, horizontally and in all kinds of patterns along the reels.
The idea behind slot paylines has remained the same nonetheless. In order for a win to occur, the same symbol needs to appear on adjacent reels on one of those paylines, starting from the leftmost reel. Take Mega Moolah, for instance, a popular slot that has 5 reels and 25 paylines - meaning that you have 25 different ways that symbols can align in order to trigger a win.
And let's not forget that you've also got the opportunity to stack up matching symbols on several paylines at the same time in multi line slots.
How Do Ways-To-Win Work?
Although the standard payline format has the potential to conjure up some massive wins, there can only be so many lines in one slot. The Ways-to-Win mechanic, on the other hand, has completely made away with this limitation.
A winning combination on a Ways-to-Win slot machine happens when you land several identical symbols on adjacent reels. The position they land on, therefore, becomes irrelevant. This makes for a lot more winning combinations, with the most common Ways-to-Win slots today offering 243 ways-to-win.
MEGAWAYS slots take this mechanic one step further. MEGAWAYS are unique slots that have soared in popularity due to their possibility to offer up to 500,000+ ways-to-win!
So, how do they work? Regular slots have a set number of symbols showing on each reel, however, with MEGAWAYS the number of symbols showing per reel might change with every new spin, meaning the number of ways in which you can win during each spin will change. One example of a MEGAWAYS game is Machina MEGAWAYS slot offers 6 reels and up to 46,656 ways-to-win.
Somebody Said Something About Cluster Pays Too?
Can you imagine a slot where there are no paylines or ways-to-win? "Reactor" slots work either over reels or on a grid, where a win occurs when there's a so-called "cluster" in sight. Therefore, when there's a pre-defined number of the same symbol in view.
One of the very first reactor slots to be released was Jammin' Jars, cash wins are delivered from clusters of 5 to 25 symbols.
The Next Generation of Pay Mechanics?
Online slots are always evolving, and one video slot that has combined the feel of ways-to-win with the cluster pay feature is Sweet Bonanza. The "Tumble feature" in this game counts 8 or more identical symbols as a win, no matter where they are on the reels, clustered or not!
It's safe to say that there are a lot of exciting new win-types around and we're excited to see what will be introduced next!
Which Pay Mechanic is the Best?
The deciding factor for how often and how much you win is normally a combination of the RTP (Return To Player) and the volatility of the slot. This means that you should choose a slot with a win-type that is comfortable and fun for you. Maybe you don't really want too much going on and would rather focus on seeing your winnings appear on a few paylines, or maybe you love the thrill of not knowing if your next spin will generate 20 or 200,000 ways-to-win.
Always keep in mind that wins are randomly generated, and no slot payline or cluster will ever give you an 'advantage' over that.
So, now that you know more about what goes on behind the scenes, it's probably a good time to test your new-found knowledge. Lucky for you, there's an abundance of great games to play at LeoVegas! We picked up some of the best online slot machines based on the number of paylines.
Single Payline Slots
These slot machines are close to classic slots and usually have only one payline.
Wacky Panda 3 reels and one simple payline are all the rage in this slot by Microgaming.
888 Dragons 3 reels make up this hugely satisfying slot by Pragmatic Play.
Multi Payline Slots
Multi line slot machines are modern slots that have more than one payline.
Book of Dead This slot by Play'n GO is written over 5 reels and 10 paylines.
Wolf Gold Hunt alongside your wolf pack across 5 reels and 25 paylines in this wild slot game by Pragmatic Play.
Read more about slot mechanics in our guides: