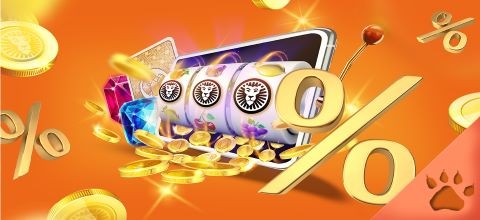 Slot RTP, payouts and winning percentages on slot machines
RTP stands for "Return To Player", and this percentage will help you understand when a slot machine should pay out!
So let's study the fundamental factors influencing gameplay to fully understand how an online slot machine works in an online casino.
Sometimes, slot game terminology can be confusing, so let's first review the basic concepts of RTP and slot machines' payout odds at online casinos.
At the end of the article, you'll also find a few more percentages and useful tips on which slots have the highest RTP at LeoVegas.
Before reading on, also remember to keep an eye out on our LeoBlog and make your free registration by clicking on one of the buttons below:
The Slot Payout Concept
What is a slot machine's payout? Simple! The payout ensures that a percentage of the proceeds is converted into player prizes or winnings.
The player who wants to maximize slot machine winnings must consider the particular slot machine's payout percentage to understand which slots are the most advantageous in terms of winning opportunities.
So, as a first step, let's consider that land-based slot machines have an average 75% slot machine payout, while the payout of online slot machines averages between 90% and 99% (yes, playing slots online is much cheaper!).
The main point to clarify here is that "payout" refers to the value of winnings allowed per slot cycle - pre-defined inside a microchip - versus the total amount collected by the house.
Put more simply: an ordinary slot machine always retains a percentage of all proceeds!
Instead, the remainder is returned to players in the form of winnings.
Before this happens, the slot must complete a full game cycle. At the end of each cycle, the slot will return a certain payout, represented by a percentage known as the "Return To Player" (RTP).
The slot cycle
The slot machine cycle is another concept that must be clarified to fully understand the dynamics of winning on slots.
To understand how often slots should pay out, the number of spins (also known as hands or rounds) in each game cycle must be evaluated.
We can define this cycle as the number of spins required for the slot to return the set payout.
For example, if the slot has been set to end its cycle with 40,000 spins, the machine will have to pay out the winnings within this time frame.
Once a cycle is finished, a new one starts automatically, subject to the percentages mentioned above.
The RTP percentage
As already briefly discussed earlier, RTP means "Return To Player" and it's the average payout percentage we have talked about so far. As you can imagine, in general, checking the RTP can be a smart move to understand which slot games have a good chance of awarding wins.
Slots with the Highest RTP
Below, we would like to point out a few slots that have made a name for themselves by having a very high RTP on average. Despite what has been said so far, we always want to remind our readers that winning online slots is always based on luck.
💡 Did you know? Variables such as RTP are undoubtedly useful but are not a determining factor in winning. So always remember that RTP is calculated over the long term, over millions and millions of spins, and that it is still a variable average based on the cycles of a slot. Each slot is constructed differently, and there is no exact way to predict if, when and how much it will pay. This means that if a slot has an RTP of 97%, we should certainly not expect it to pay out $97 immediately for every $100 spent in our session. However, a high RTP is always a good indicator, if you plan to find a slot game to your liking. You might also look out for bonus features, check slot volatility as well as payline mechanics.
Let's move on to our list of slots with fiery RTPs that you can play at LeoVegas!
Book Of 99
Book of 99 boasts an RTP of mythical proportions at 99%! Combined with this slot's high volatility means you may not win on every spin, but you could emerge with heroically big wins!
Rage to Riches
Rage to Riches is a video slot from Play'n GO. 5 scatter wins with Ten, Jack, Queen & Ace on reels 1, 2, 3, 4 & 5 respectively trigger the bonus, and 3 damsel scatters award 10 Free Spins with a guaranteed win every 3 Spins.
Money Train 2
The Money Train 2 slot by Relax is inspired by the dangerous world of the Wild West, and it couldn't be any more thrilling!
Join the group of professional bandits and trigger wins of up to 50,000x the bet! Leave them to steal, cheat, and set explosives down the railway as you try to hit 40 paylines on the 5x4 grid.
Jokerizer
Jokerizer, jokes and a lot of fun await on the reels of this crazy online slot.5 reels and 10 paylines in this Yggdrasil slot.3+ Jokers anywhere on reels 2, 3 & 4 for a mystery win, any line win activates the Jokerizer mode to play 20 coins per spin where only 2 Jokers are required for a win. Spin these reels at LeoVegas!
Break Away
Break Away is a hockey-themed slot from Microgaming. Stack Break Away wilds on reels 3, 4 & 5, full-reel Smashing Wilds for a certain win and at least 3 Flaming Pucks to trigger up to 25 free spins with multipliers.
5 reels with 243 ways-to-win make this Break Away slot a blast to spin and even better to win. So hit the ice at LeoVegas!
Big Bad Wolf
The hunt has started in this Big Bad Wolf slot! Bringing you wins of up to 1,225x your bet, this Quickspin slot comes with plenty of mind-blowing features such as the Free Spins and the 'Blowing Down the House' feature!
Slots RTP FAQ
What is a good RTP for slots?
Most slot games have RTP higher than 95% - it is enough to consider them worth playing.
What does RTP mean on a slot machine?
RTP stands for "Return To Player" and represents the amount of money a player can expect to win from a certain slot game long-term.
What slot game has the highest RTP?
Book Of 99 has a theoretical RTP of 99%, however, it is a high volatility slot.
What is the average RTP of slots?
The RTP of online slot machines averages between 90% and 99%, with most slots having RTP higher than 95%.
Is higher or lower RTP better?
Slots with a higher RTP can be more profitable long term. However, you can still win big in low RTP slots.
What does 96% RTP mean?
This means a slot with an RTP of 96% will pay out $96 for every $100 spent over time.
Does bet size affect RTP?
No, all online slots have fixed RTP that does not change based on player actions.
What is RTP and volatility?
The slot volatility is a measure of how frequently a machine usually pays out, whereas Return to Player (RTP) is a measure of how much a slot game gives players back.
Read more about slot mechanics in our guides: