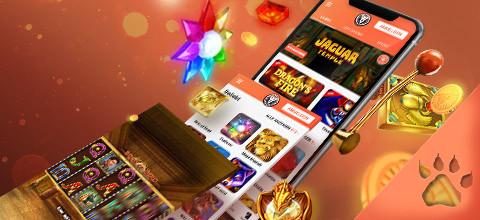 What are Multiplier Symbols in Slots
How Multiplier Symbols Work
Multiplier symbols can be found in many different forms across the vast majority of online slots. In most cases, they appear as separate symbols on the board alongside the regular symbols, while they can also replace the regular symbols or fuse with those symbols. They will multiply any winning lines which they form part of, increasing the total payout for that line by multiplying by the stated amount.
Multiplier sizes vary between games, normally offering numbers like 2x and 3x, but some use rare multipliers of 20x, 50x or even 100x.
In some cases, multipliers on symbols are added up on a line. For example, a 10x multiplier symbol and a 5x multiplier symbol on the same line will award a combined multiplier of 15x. More commonly, however, multipliers on a single line multiply each other, meaning that a 10x and a 5x multiplier increase on the same line deliver a 50x multiplier.
How Multiplier Symbols are activated
Multiplier symbols generally work like any other symbols, meaning you need to hit them on a winning line. Normally they are separate symbols that also act as Wild symbols, which can create winning combos as part of any other symbol line.
If multiplier symbols are added to normal symbols, then the line must be completed as normal to benefit from the multiplier. When it comes to cluster reels, any multiplier must form part of a winning cluster to be triggered, but otherwise, they work the same.
Note that a single multiplier can apply simultaneously to multiple winning lines. If more than one line includes a multiplier, it will activate separately for every line.
Multiplier Symbols and Bonus Rounds
Besides games that include the multiplier slot symbols in the base game, most slots are loaded with multiplier symbols available in bonus rounds. Given that there are so many unique bonus rounds out there, it's difficult to cover all of them. However, typically they pop up in bonus features like the free spins feature.
Other common variants: sticky multipliers, full-reel multipliers and multipliers that are added up. Sticky multipliers are the common ones, usually the Wild variety, which lock in position for the remainder of the bonus round. Full-reel multipliers cover an entire reel instead of taking the form of a single symbol.
Multipliers that are added up work differently from regular slot multipliers, as they don't always show up on lines. They can apply to the bonus round as a whole, although they may affect a single line as well. The interesting part is that different games can combine several or all of these types in a single game, while they can also include a distinctive bonus option.
Another feature to look for in terms of bonus action, is the ability to increase multipliers, either by adding amounts to them or by multiplying the multipliers. A number of games boast the option to increase the value of all multipliers on the board under certain conditions, and the longer the round lasts, the larger increasing multipliers it can get.
Best Slots with Multipliers
Here are some of the best multiplier slots that you can enjoy at LeoVegas!
Solar Queen
Solar Queen is one of many Egyptian-themed casino slots and comes with a unique approach to multiplier symbols in slot machines. This is a game where multipliers can appear in both the base game and the bonus round, and there aren't any multiplier symbols in the traditional sense.
In the base game, there are flaming sun symbols, which set certain spaces on fire. If a sun lands on that space again, it adds one to the multiplier total at the top.
After the required number of spins, all flaming symbols become Wilds and the multiplier is applied to that entire spin. The value of the multiplier during the bonus round is equal to the value of the multiplier counter at the time of triggering the round. All sun symbols instantly become Wilds as soon as they land throughout the bonus spins.
Mega Money Multiplier
Mega Money Multiplier is in many ways an unusual first slot machine as it combines a retro look with several features that are different from the ones in normal 3x3 slots. First of all, the multiplier symbols are the star attraction of the entire game. There are multiplier symbols ranging from 1x to 5x, although the symbols from 3x to 5x only appear on the middle reel.
While there is no specific bonus round, a special multiplier feature that kicks into gear if more than one multiplier lands on the middle reel. The latter is locked, while a free re-spin applies to the other two reels for a chance to create more combinations.
Lines pay out from both the original spin and the respin, so it's an immediate double-win chance. The multiplier symbols also form the jackpot combination of an increasing multiplier, two 2x multipliers and a single 5x multiplier.
Temple Tumble Megaways
Temple Tumble Megaways is a game packed with features and multipliers that only come into play during the bonus free spins mode.
The bonus round is triggered when all the blocks are cleared from the board in the main game, after which you are offered three bonus modes. One of them includes extra spin blocks, while another one contains multiplier blocks. The last option is equipped with both extras, but it starts with fewer spins.
When the multiplier blocks are active, they display values of 1x, 2x or 3, and their added value applies to all wins that come afterwards rather than to a single spin win. There is no fixed limit to the multiplier either.
LeoVegas Megaways
Our very own Megaways slot, LeoVegas Megaways, is fitted with extra features including plenty of Wilds and mystery symbols. The unlimited win multiplier is one of the biggest attractions in the bonus round. As the game is a Megaways slot, it features cascading symbols, and whenever there is a symbol cascade in the bonus round, it increases the total multiplier by 1x.
The best part of this multiplier is in the name as it does not have an upper limit. It is entirely possible to get four, five or more cascades on a single spin with the multiplier increasing with each of them. Given that groups of scatters that land during this mode also award extra free spins bonus too, it's easy to see how the numbers can start adding up.
Frequently Asked Questions
What are the different types of multiplier symbols?
Multiplier symbols come in many different forms across thousands of different slots, but they generally break down into separate multiplier symbols, multipliers that modify regular symbols and multipliers that total up across multiple spins.
Some games use more than one of these while some use variations of all three in different ways. Most bonus games in these slots will operate entirely differently.
How do I activate multiplier symbols in slot games?
Multiplier symbols that appear on the reels must form part of a normal winning line to be activated. Although rarely, in some games multipliers trigger on any spin they land on. If multipliers appear in the base game, they will usually only apply to a single spin, while multipliers in a bonus game feature often lock in position throughout the entire round.
What is the maximum payout with multiplier symbols?
Every online slot comes with a maximum number of multipliers that can be triggered on a single spin or in a bonus round. As a general rule, the maximum win is available in free spins round or the bonus round and multipliers are vital when it comes to the top payout, especially unlimited multipliers.
Are multiplier symbols available in all slot games?
Multipliers are very common in slots, including multiplier symbols. Some slots don't offer multipliers at all. However, these are usually the most basic kind of slots without any other special features. Certain game developers such as Nolimit City always feature multipliers as a core gameplay feature in slot games.
Can I use multiplier symbols to increase my chances of winning?
The odds of winning in an online slot are always the same, regardless of multipliers, which only affect the value of a payout that stems from a winning combination. The probability of landing big win from a successful combo, however, remains the same.
The odds of winning only differ slightly when you can choose between different types of multipliers.
Read more about slot mechanics in our guides: