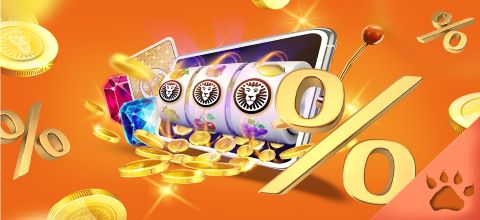 How to Trigger Bonus Features on Slot Machines
Slot Bonus Features
Slot bonus features are 'next level' when playing the reels and are the main draw of modern machines for most slot aficionados. Backed by video slot mechanics that came into play in the late 90s, slot machines are now well beyond levers and spinning reels. Slot games are at their peak of creativity and innovation, especially when it comes to bonus features and immersive bonus rounds.
Triggering a slot bonus feature can be as simple as landing three matching symbols on an active payline. This can launch a bonus round with payout boosting features like multipliers, respins, wilds, expanding wilds, cascading reels, and even an incredibly entertaining mini side-game.
Let's talk about a few slot bonus features that you'll likely come across.
Free Spins & Respins award spins, with no additional wagering or action required.
Multipliers, as their name suggests, multiply your winnings anywhere from x1 to upwards of x5,000.
Wilds are symbols that can substitute for other symbols on the reels to create winning combinations. Expanding wilds can overtake entire reels, making way for serious winning potential.
Scatters can create winning combinations from anywhere on the reels.
Cascading reels (Avalanche, Tumbling, Falling reels) are a feature during which symbols fall off the grid and are replaced by new ones, creating multiple winning opportunities on a single spin.
Player Picks are an all-time favourite mini-game bonus round during which the onus is on the player to pick and click an option to uncover a hidden bonus or prize.
Random Bonus Rounds
It's not always about matching symbols on the reels these days. Random bonus rounds can be triggered, as the name suggests, randomly. Perhaps on a non-winning spin, or when a certain level of gameplay is achieved, or when an undetermined number of symbols match.
Bonus and Scatter Symbols
Most slot machines have an array of beautiful symbols that are on theme with the general brand or storyline of the game. Within this mix, you'll usually find a Bonus and a Scatter symbol. These symbols have extra powers and can launch bonus features or offer a big win potential.
Bonus symbols are usually the key to unlocking a bonus round. For most slot machines, landing three Bonus symbols launches a mini-game, where your winning potential is magnified. Scatters on the other hand, can work their magic anywhere on the reels. Instead of landing three matching symbols across a payline, they can pay or produce a win when they land anywhere.
Respins and Bonus Rounds
First, let's quickly discuss respins versus free spins. The latter, free spins, are awarded at no extra cost to the player. They're usually triggered by matching symbols on the reels and can award anywhere from one to an excess of 100 free spins. That means, no additional wagering or action is required, the reels simply spin until the free spins counter runs out. During this bonus, all wins accumulate and are added to your balance as one lump sum upon completion of the bonus free spins round.
Respins on the other hand, can turn a non-winning spin into a winner. In fact, some slots award a respin on a non-winning spin, sometimes locking wilds or scatters in place. They're basically an advantageous spin opportunity that attempts to turn non-winning spins into winners! They're often found as a bonus feature in modern slots, but are becoming more commonplace as a buyable bonus in an effort to take another shot at winning with one spin.
Tumbling and Cascading Reels
Cascading or tumbling reels are a delightful experience when playing slots as they can bring multiple wins your way from a single spin. They fall under many names including cascading reels, tumbling reels, rolling reels, falling reels, or even avalanche reels, and they all work in similar fashion. Once an active payline hits, all the symbols that contributed to the win fall out of place, making way for new symbols. These new symbols fill the gaps and hopefully, bring more wins your way. This process of winning symbols falling out and new ones filling in continues until no more wins come of it. It's really the spin that keeps on giving!
Wheel of Fortune Bonus Rounds
Want to buy a vowel? Vanna can help you with that. Indeed, the Wheel of Fortune is legendary in the world of game shows and pop culture. So, it's only fitting that it has morphed into a slot machine staple in terms of excitement and winning potential.
We've all dreamed of spinning the Wheel of Fortune for 'big money'! And it's this very excitement that many slot machines have canned, so to speak, and bottled up in a bonus round for players to enjoy. As with many slots, triggering the wheel depends on what game you're playing, but usually entails landing three matching symbols.
And in this case, these are usually very clearly a Wheel of Fortune. When this bonus feature is triggered, the video slot screen is replaced with a wheel.
A click or spin button will usually get the wheel rolling. The wheel segments of prizes are no longer filled with St. Bart's vacation weekends from its game show days, but cash prizes, jackpots, free spins, multipliers, and more.
It's a whole wheel of excitement that can offer multi-million dollar prizes in games like Mega Moolah and Sisters of Oz WowPot!
Bonus Buy Feature
It's all in the name; bonus buy feature. Many slot machines allow you to forgo the anticipation of triggering a bonus round and instead, buy your way directly in. While it's not as exciting to seek a trigger, it does get you immediately playing for the biggest payouts of the game.
Be forewarned, if you're going to bypass the triggering process, it's going to cost you. The cost can vary of course slot machine by slot machine, but it's usually calculated as a multiple of your stake for the spin. If you enjoy immediate gratification, and you know who you are, this direct buy-in option is a great idea and gets you playing for potential big paydays pronto!
Slot bonus features FAQ
How do you trigger free spins on a slot machine?
This really depends on the specific slot machine you're playing, but in many cases, it's as easy as landing three matching "Free Spins" symbols on the reels. Exact combinations, active paylines, and symbol graphics vary of course, but you get the just of it.
Once a free spins bonus round is triggered, the free spins begin rolling immediately and automatically. Whatever number you've been awarded is displayed on the game matrix and will count down with every spin. Note, that all wins are accumulated and will be added to your balance once the free spins round completes.
More good news ~ many slot machines' free spin bonus rounds can be re-triggered. Meaning, you can trigger free spins while enjoying them, and these additional awarded spins will be added to the counter for more chances of winning big.
What triggers a jackpot on a slot machine?
It really comes down to what game you're playing. The millions dollar+ jackpot of Mega Moolah is awarded when the jackpot wheel bonus feature is triggered, which can happen randomly on any spin. When the bonus feature pops up, you're one spin away from landing one of its four progressive jackpots. Other jackpot slot machines, like Book of Atem WowPot! give players a chance to spin the jackpot wheel only after a certain amount of specific symbols have been collected through play on the reels.
Always remember that each slot machine works and awards prizes and jackpots differently. Be sure to check the paytable for each game or pay close attention to its intro upon launching the slot. For many slot games, you're going to need to bet the max in order to win the life-changing multi-million dollar big ones.
Read more about slot mechanics in our guides: