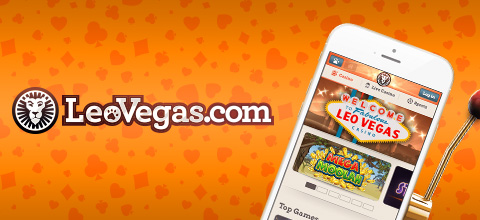 Oh hey there! Are you looking for a desktop alternative that will allow you to fit a spin or two in your busy schedule? Then look no further, we've got the perfect solution for you. LeoVegas places you in the middle of the action with its lightning-fast mobile casino apps. Never miss a goal as you bet LIVE during your evening commute, then keep yourself occupied during half-time with our friendly troupe of dealers. Our casino games will welcome you home, ready to help you unwind from your heavy day. So let the fun begin with 2021's Online Gaming Operator - LeoVegas!

LeoVegas Online Casino App
Keep your favourite casino games close at hand with our mobile casino app. Armed with Touch and Face ID, your favourite games are never further than a tap away thanks to our mobile app. Employing the Dark Mode technology, our mobile casino app adjusts to your surroundings, allowing you to experience the commotion of Las Vegas wherever, whenever. Designed with the player in mind, our interface allows you to choose your next game before you're even done from the latest one. Download our action-packed online casino app here to get the fun started!

LeoVegas Live Casino App
Place your bets to spin your fate around in our live casino app. Travel around the globe in a matter of seconds with our HD streams - broadcasting from studios spread across the world. Live Casino is fast in its nature. For this reason, our live casino app is also quick on its feet, allowing you to follow multiple tables at the same time. Play live casino whatever the time of day, download our live casino app here!

LeoVegas Sports Betting App
Hit the throttle and get ready to experience a lightning-fast Sportsbook from the comfort of your phone. Efficient, engaging, and easy to navigate, LeoVegas Sports puts you at the centre of it all, allowing you to bet on the most anticipated leagues of the season in the 'My Favourites' tab.
Take a seat in the bleachers of San Siro or The Wembley with the Live Betting option and place your sports bets as the action unfolds. .
Ready, set, go: Join our sports betting team to receive weekly Free Bets and thrilling Odds Boosts at your fingertips with our sports betting app that can be downloaded here.

LeoVegas On Your Browser
Not too keen on mobile apps? That's all right! As a mobile-first casino, our site works perfectly fine on browsers too. Navigate to our homepage on your iPhone, iPad, Android or Windows Phone and tap open whichever game strikes you to experience Vegas-style fun from the palm of your hand!

Although our mobile casino apps are native to the App Store, we also cater for Android users. Click the 'Android App' tab to learn more about playing LeoVegas games from your Android device!