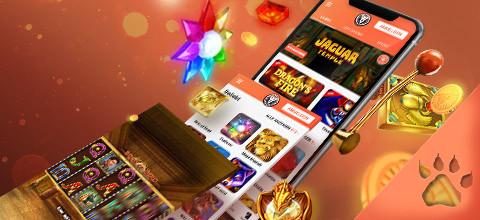 What are Cluster Pays Slots?
How Cluster Pays Slots Work
A cluster pays slot is any slot game that plays with symbols appearing on a grid format rather than rolling on traditional reels. The grid can be a square or most commonly a rectangle, or it can take a totally different shape. But, one thing all cluster pays games have in common is a minimum 25 symbols in view with up to 64 or 81 able to appear.
The exact features of each cluster pays slot will differ from game to game, but cascading symbols are a very common feature. Cascading symbols mean that whenever a cluster wins on the board, the collection of winning cluster symbols disappears and new symbols drop in from above to take their place. As you can guess, this creates new match and winning potential, making it possible to get multiple wins out of a single spin. In fact, many cluster pays slots have game mechanics that give bonuses for more wins per spin.
Cluster Pays vs. Paylines
The biggest difference between traditional payline slot machines and cluster pays is how wins are achieved. Paylines are predetermined lines along the reels which matching symbols need to align with in order to form a winning combination or combinations. Paylines are usually straight lines that run horizontally, vertically, or diagonally across the reels. Players win by getting matching symbols on an active payline, of which there can be multiple! Cluster pays, on the other hand, awards wins based on clusters of matching symbols that appear adjacent to each other, either horizontally or vertically. A cluster is formed when a group of symbols touch each other, creating a connected block or cluster on the reels. The size of the cluster required to win varies game to game.
The other big difference is the number of symbols that have to be connected for the slot to create payouts. In a paylines slot, three symbols are the normal minimum while five or sometimes six on a single line is a major win. In a cluster pays slot, the number of symbols needed to form a cluster often starts at six or seven, with the largest possible wins going anywhere up to 20 or 30 symbols at once. While the odds of either result are generally similar, it can look more difficult to get a large win with clusters.
Pros and Cons of Cluster Pays Slots
Pros:
No need to track exactly which lines pay.
The grid format gives the developers more creativity.
A lot of satisfaction is derived from hitting a 20 or 25 cluster win!
Added excitement because of the common cascade feature.
Cons:
For those accustomed to paylines, having to land six, seven, or more symbols can seem a lot for a minimum win.
The constant movement of symbols can be hard to track at times.
Best Cluster Pays Slots
Below are some of the most popular cluster pays slots currently available in our LeoVegas slot catalogue:
Sweet Bonanza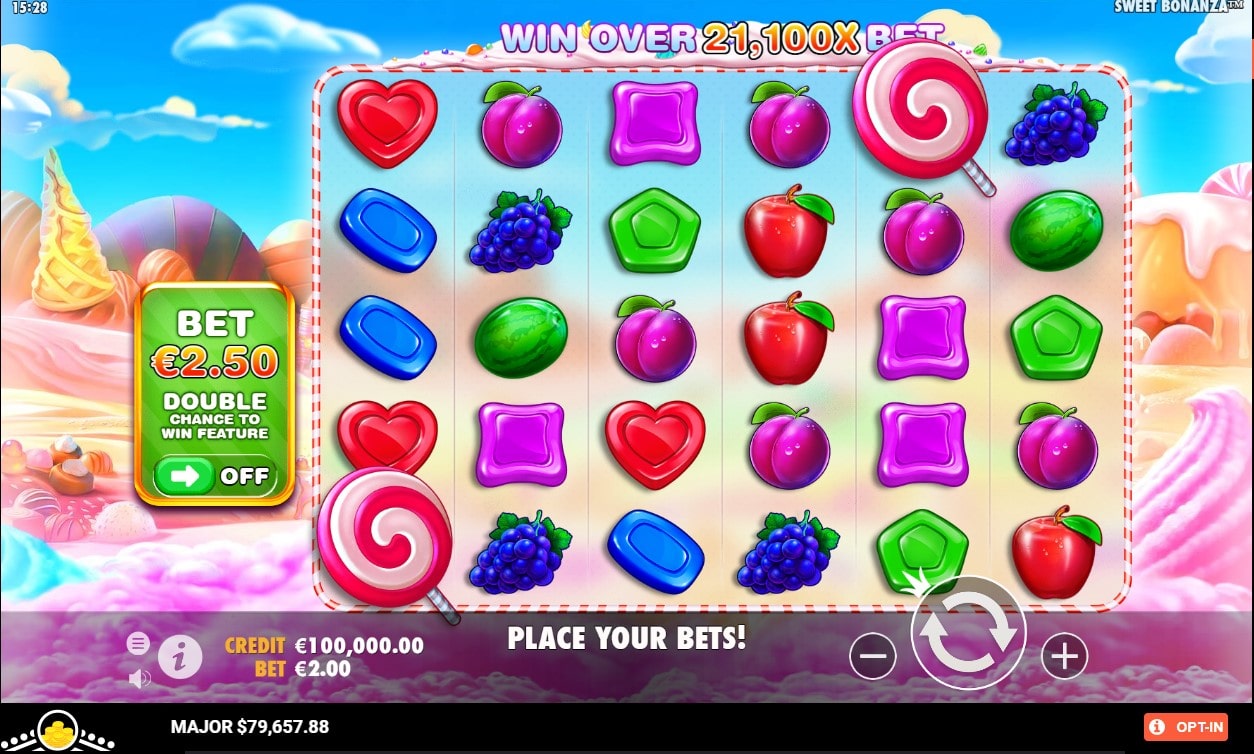 Sweet Bonanza is a little bit unusual as a cluster pays slot. While it does use groups of symbols instead of paylines, symbols don't need to be touching each other to count as cluster pay slots. In order to land a win, you'll need to see at least eight of any single symbol anywhere on the board, but keep in mind there are 30 symbols total in view.
The medium volatility of this game means that wins do come fairly frequently! Plus, there's a cascade feature to get wins chained together. You'll need to land four Lollipop symbols to launch the bonus game which starts you off with 10 free spins. These bonus features can cascade into chains of wins and come with special Multiplier Bombs of up to x100 that can help you achieve the biggest possible win of x21,000 your bet!
Cluster Tumble
Cluster Tumble is easily one of the most cinematic and action-packed slots out of slot games out there. The game is played on an 8 x 8 grid, although most of the board is closed off to start with. Every win blasts open the closed spaces next to it and symbols cascade down. While individual wins are relatively small, they quickly add up as more of the board gets revealed. The more open the board is, the more win chances there are.
When the whole board has been cleared on a single spin, it triggers five free spins. These play out the same as the base game, but come with mega special powers! Firstly, any glowing icon that lands will add an extra spin and any time the board is cleared again, a 6x multiplier gets added to the rest of the free spins. This can even stack up to 24x on every single spin!
Jammin' Jars
Possibly the most well-known cluster pays slot in the whole online slots and casino world, Jammin Jars is a bright and colourful cluster slot with a disco backing and plenty of fruit to go around. The biggest highlight of this slot is the titular jars which come in a rainbow of colours, act as Wild symbols and increase multipliers when cascades happen.
When three Jar symbols land at the same time, it triggers the free spins mode which plays a lot like the original game but with one big difference. During free spins, all jars on the board become sticky and stay for all remaining free spins. The best part is that if these jars ever become part of the same cluster, they multiply each other, even if there are three, four, or more at once.
Reactoonz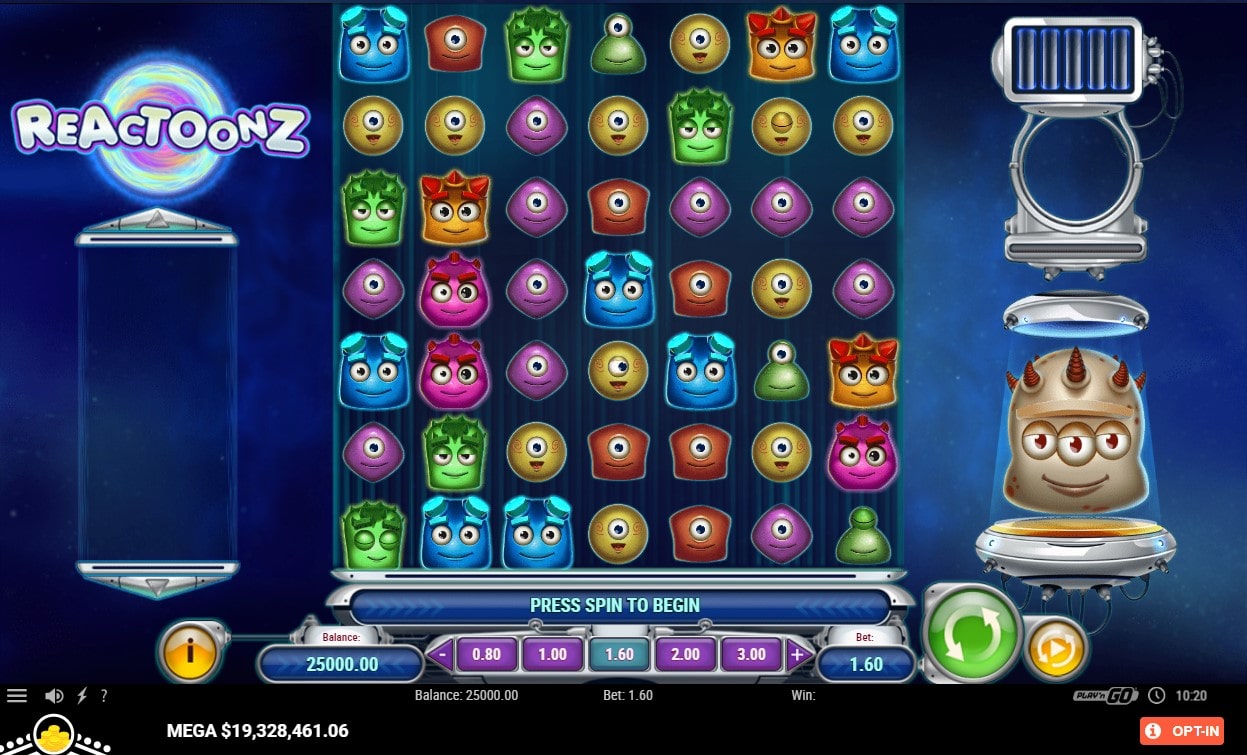 The biggest feature that makes Reactoonz such a popular cluster pays slot is the sheer number of special powers that appear in the base game. Behind the light and cartoony appearance is a full load up of powers including extra Wilds, symbols that transform scatter symbols into higher-value ones, low-value symbols getting wiped from the board, and more.
The more symbols that get cleared on a single spin, the more the metre charges up. Each level of the metre will trigger a special power once all the cascades finish. If it charges all the way to the top, the Gargantoon power triggers. This is a three-stage power! First, it drops a massive 3x3 Wild symbol onto the board, followed by two 2x2 Wilds, and finally a large number of regular 1x1 Wilds. Now, how wild is that?!
Gemix
A classic title amongst cluster pays slots, Gemix is one of the original titles to popularize this format. There's a much more familiar feel to this game's design, with coloured gems making up the entire symbol collection.
Like Reactoonz, one of the main features of Gemix is the metre which charges up with every symbol that wins in a cluster. Fully charging the metre will trigger all of the powers with a 3x multiplier on top.
In the Gemix slot, you will notice three levels, or rather three worlds, with lots of symbols and main protagonists: a mine gnome, a princess and a wizard. To activate the various levels, you need to win in all the positions indicated on the side of the slot on the green screen. Each time you level up, you earn a World Bonus bonus.
Cluster Slots FAQ
How do I know if a slot game is a cluster pays game?
While not every cluster pays slot looks differently than a paylines slot, most look different enough to be spotted immediately. If you don't see clear reels or any payline markers, that is usually a key indicator. The main way to tell, however, is during game play as you will see wins appearing with symbols that follow no consistent pattern across the board.
Is there a specific strategy for winning cluster pays slots?
In spite of the different format and play experience, cluster pays slots use the same basic structure behind the scenes as any other slot machine. All slots use a random number generator to reach results, so there is never any specific strategy that gives a higher chance of winning. In rare cases, games will give several options for bonus games that have higher or lower volatility and adjust the odds accordingly, but overall the player has no direct impact on win chances.
What are the most popular cluster pays slots games?
The two most popular cluster pays slots would probably be Reactoonz and Jammin Jars. Both highly rated by veterans of online casino games, they've spawned an entire series of slots based around the same concept. Games like Gigantoonz and Giga Jar. Both games come from established developers, are optimized for mobile play, and have set new standards for unique slot features.
Read more about slot mechanics in our guides: