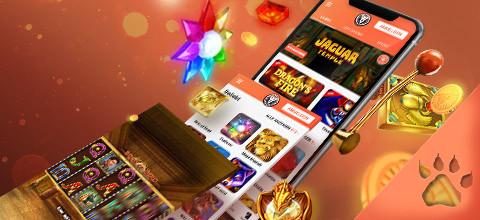 How to Play Slots
Slot games are by far the most popular type of online casino game to play. There are hundreds of thousands of different titles to choose from and a myriad of genres from Ancient Egypt to anime adventures.
Knowing how slots work and how to play slots can help you determine which ones will suit you best.
In this handy slots guide, we will take a look at key terms for slot games, answer frequently asked questions, and help you find the best online slots for you.
How to Play Slots: Step by Step
Knowing how to play slot games can appear quite daunting at first, but this is far from the case. Playing online slots is a simple process and game interfaces these days are quite intuitive.
For starters, know that slot games can be tested in demo mode. At LeoVegas, this means no account is necessary to try a slot game, nor is any monetary commitment. You're simply playing the game in demo mode using virtual coins for virtual wins.
Game features, bonus rounds, and game controls will all play in the same manner as the 'real' game, it's just that you'll have no personal risk or money at stake! When you are ready to play slots for real wins, here are a few steps to get started:
Create a LeoVegas Account ~ Nothing too intrusive is required here, but you will need to set up your own personal account to get started playing slots.
Deposit ~ Once you have found a slot game you want to play for 'real', it's time to fund your account using a credit card, bank transfer, or e-wallet solution. Keep in mind that your chosen deposit method may not be one that allows withdrawals. We've got a guide for that too, available here
Playing a Slot: With money in your account and a slot game in mind, select your game in the Lobby by clicking it and it will simply launch on your screen. Slot games make it easy to adjust your bet per spin and we recommend double-checking the amount you're risking before hitting the spin button.
Winning & Withdrawing: If you've been lucky enough to land yourself a win, it will be instantly credited to your account balance. From here, you will then be free to play more or withdraw the money at your leisure.
How Slot Machines Work: Brief Overview
Playing online slots is a relatively simple process, but how do slot games actually work? Slots use a number of reels that display symbols. The number of reels and symbols varies from slot to slot, with a typical structure set around five reels with three symbols on each.
Players then spin the reels in the hope of landing combinations of symbols. These can land and match on paylines, which are pre-designated areas across the reels for combinations of wins or through other slot win methods such as cluster pays or 'pay anywhere'.
Slots use random number generators (RNG) to ensure that the outcome of each spin is totally random and fair.
Symbols
Wild
This is probably the most common special symbol you will encounter in an online slot game. A Wild symbol is a symbol that will substitute for other symbols in order to help create a winning combination.
Scatters
Scatter symbols are symbols that can appear anywhere on any spin and can contribute to wins regardless of where they land, hence the name, Scatter. In many cases, these are also used to help launch bonus features in a slot.
Multiplier
Multipliers are symbols that do as their name suggests - they multiply. If you land these as part of a winning combination, they will multiply your win by their specified amount.
Sticky
Sticky symbols are a special type of symbol that stick on the reels. These will remain on the reels for a predetermined amount of time. This could be one more spin or multiple spins. In some cases, Sticky symbols can also be Wild or Scatters.
Bonus Symbols
Bonus symbols are symbols that are used to trigger bonus rounds or provide an extra element to the game. The use of Bonus symbols will vary from slot to slot, and in some cases, games may combine Bonus symbols with Wilds or Scatters.
Paylines and Ways to Win
Paylines are the lines set across a reel that players will need to land combinations across in order to get a win. The number of paylines will vary from slot to slot. The traditional way of how to play slots sees paylines start on the leftmost reels, with players needing to match combinations of three or more of the same symbols across one to win.
As slots have developed, so have the ways that they pay out. A big development has come with different ways to win and mechanics like Megaways. Ways to win are when symbols are not restricted to paylines and instead pay out for landing anywhere on adjacent reels. And it becomes even more exciting with Megaways. This feature changes the number of symbols that can appear on each reel, which provides a significant boost to the number of possible ways to win. Some slots will use a pay-anywhere mechanic. This is when they will pay for matching symbols landing anywhere on the reels, regardless of position.
Finally, another popular payment method is cluster pays. For this, the game will pay out when symbols land in clusters on the grid, touching each other either vertically, horizontally, and in some cases, diagonally.
Slot Volatility: Which Slot Should I Play?
When determining how to play slots and the best ones to play, one of the biggest factors for many players is volatility. The volatility is best viewed as a risk-reward style ratio. Slots that are more volatile tend to have fewer payouts and often require players to spend more money, however, they will offer bigger payouts than other slots. Slots with lower volatility will pay out more frequently but are not likely to have big payouts. So, when making a slot choice based on volatility, think about how long you plan to play and what style you prefer.
Bonus Features
Bonus features are additional games within the slot game or features that help enhance the experience and boost the winning capability of the slot. They come in all sorts of shapes and sizes, with free spins and multipliers being among the most common. Free Spins are exactly what they sound like. They are additional spins that can be won in a game, typically by landing a triggering combination of Bonus or Scatter symbols.
Jackpots
Jackpots are the holy grail of slot games. They come in two different forms - progressive or fixed, each with their own pros and cons.
Fixed jackpots are the more common of the two. This is when a game has a fixed jackpot prize that can be won through a Bonus round or by filling the reels with a specific symbol. This will be a fixed prize and there may be more than one in a game. For example, a slot may offer four jackpots - a Mini worth 200x the player's stake, a Minor worth 400x, a Maxi for 500x, and a Grand worth 1,000x.
Progressive jackpots provide even bigger winning potential for players. These are jackpot prizes that grow the more players spin the reels. Each time a player spins the reels of a particular slot or collection of slot games, a small portion of the stake is taken and contributed to the progressive jackpot. These have been known to reach multi million dollar levels!
Tips for Playing Slot Machines
With so many online slot games to choose from and so many different ways to play, things can feel a little overwhelming. However, if you follow these handy tips, you will be able to get the best out of your online slot experience.
Check RTP and Volatility: The RTP is the 'return to player' percentage. This is a percentage of your money you are likely to see returned to you over a period of time. The higher the RTP, the better chance you have of minimizing your losses. Volatility and this go hand-in-hand and we advise finding a slot with volatility that suits your personal game play style.
Don't chase losses: Playing online slot games is meant to be fun! If you are on a losing streak when spinning a slot game, call it a day and either take a spin another time or take a break in general. This ensures you keep losses at bay and aims to keep game play light and entertaining!
Play for free: Before you take a slot for a spin using real money, why not try it out for free? Most slot games can be played for free in demo mode. In doing so, you get the chance to check out features, bonus rounds, and the theme to see if it's a fit for you before making an investment.
Read the pay table: Finding out how a slot game pays and how you can win is very beneficial. Pay tables explain how the game's payouts work, the value of each symbol, and how to trigger bonus features - all of which can help you out when you are spinning the reels.
Slot FAQ
How do you play slots for the first time?
Slot games are really easy to get started with and quite intuitive. All you need to do is find the slot you want to play, place a wager, and hit the spin button. We recommend checking the pay table of any slot you play, especially for the first time. This will help you better understand how the slot works and what you're looking for on the reels!
How do you play slot games?
Our LeoVegas slots virtual casino floor is full of slot games. Different themes, pay structures, storylines - there's simply no end to the selection! Browse our lobby and simply click on the game box you wish to join. This shall load and launch the game and in just a few seconds, you'll be spinning the reels. Each game interface differs slightly, but they are always intuitive. Usually, the largest button is the Spin button but always check how much you're about to wager per spin before getting started with a click. We recommend taking a slot for a spin for free in demo first, so you can try it out without any risk.
How do you win on slot machines?
Wins on slot machines are secured by landing winning combinations across paylines or ways to win. The outcome of these spins is determined by a random number generator to ensure fairness.
Are slots easy to win?
That's debatable as any click of the Spin button can garner a win, but there is certainly no guarantee you'll win - ever! Slot games are games of pure chance. The outcome of each spin is totally random and as such, there is no way to be 'good' or 'bad' at playing slots.
Is it better to play one slot machine or move around?
There are so many brilliant online slot games available that it would be foolish to not try different ones out. Of course, if you have a favourite slot game you really love, or a style or genre that you feel strongly about, stick with it. But, new games are added weekly so it's always fun to keep an eye on our most popular top games and new slots additions to see what's shaking in slots.
How do you know when a slot machine is ready to pay out?
You don't! There is no way of knowing when a slot machine is ready to pay out despite the many slot myths out there! Slots use random number generators (RNG), meaning that each spin is totally random. There's simply no secret sauce here!
Read more about slot mechanics in our guides: