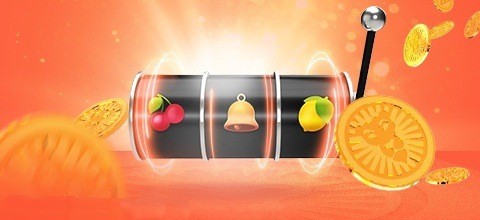 3 Reel Slots at LeoVegas
A 3 Reel slot is a traditional casino game. Retro, vintage, old school, and classic all describe these nostalgic 3 reel slot machines, games that were commonplace in the early days of land based casinos. It's fair to say that these 3 reel slot machines and games are simple to play and while they can send some big wins your way, full disclosure, you can also lose quickly. You'll still find 3 Reel slots in online and brick & mortar casinos, as they have maintained their immense popularity with players who prefer simpler games and great bonuses.
Traditional 3 Reel slots are among the oldest casino games, with the first electric slot machine dating back to the early 1900s. With only 3 reels and a single payline, online slot games have changed the face of these classic games. Compared to 5 Reel slots, 3 Reel plays have lower bets and higher value jackpots, which makes these classic games more appealing even today. This is why casino game developers are constantly working on updating and creating new titles for players who crave nostalgic games on a 3 Reel platform.
How to Play 3 Reel Slots
Online 3 Reel slots are based on the original fruit machine games featuring the classic fruit machines symbols like cherries and lemons. Playing is simple, a basic click and spin situation. In fact, they're very similar to video poker with one major difference in that instead of winning combo attempting to hit a Royal Flush, you're banking on winning combinations of symbols.
Different slot games yield wins and jackpots in different combinations. Usually, the goal is to match three or more identical symbols across a payline – left to right or bottom to top. But, exactly how much you win depends on the specific rules and pay table of each game. Most of slot machines and games are easy to understand and play, but they all yield different rewards and jackpots for different combinations of symbols. For this reason, it's best to have a gander at slots specific payouts before jumping in - plus, it only takes a few seconds. It is best to start with a slot game with simpler rules and combinations required symbols, like 3 and 5 Reel slots, before progressing to more complicated ones although it's not necessary given today's intuitive games.
On the market today, you'll find a myriad of 3 Reel slot choices, especially on our LeoVegas slots casino virtual floor. Classic slot games, most slots have a single playline, but you'll find quite a few 3 Reel slots offering 3 or 5 paylines as well as bonus rounds. There are also enhanced jackpot payouts and progressive 3 Reel slots if you want to go big!
3 Reel Slots Features
Some specific features make 3 Reel slots the preferred choice for many. Let's dive into them:
Single payline: 3 Reel slot games often feature a single payline - simple, right?! In fact, many offer a cash payout for free play, even if only one symbol lands on it.
Free spins: Just as they sound - a spin at no cost to the player. These free slots come in many forms and can be offered as part of a deposit or promotional bonus, or they can be rewarded in-game. Either way, the more free spins you're rewarded, the better your chances are at a win.
Nudging: Imagine a 'nudge' on the slot machine is as fun as it sounds. A nudge of a symbol onto a winning payline or a nudge of a symbol towards a winning combination. Not all slot games have this feature, but it's definitely an exciting and entertaining addition.
Jackpots: Slot games can often come with one jackpot, tiers of many progressive jackpots, or progressive jackpots, which build and build over time until they are eventually won and paid out. Then the whole progressive jackpot build begins again!
3 reel vs Video slots
The main difference between 3 reel slots and video slots is the number of bonus features and scatter pays. Most three reel slots do not have scatter symbols but offer a lot of bonus games variations, focusing on free spins and gamble feature.
3 reel vs 5 reel slots
As you can already guess, the main difference is the number of reels. Five reels slots are considered to be a modern version of slot machines, and most popular slots usually have 5 reels.
Best 3 Reel Slots at LeoVegas
LeoVegas offers a myriad of 3 Reel classic slots to choose from. If you're a little apprehensive, try them in demo mode first. All of the features free games and bonuses will be the same, but you can test run the game without an account or even a deposit under your belt. When you're ready, a few clicks will get you started playing for real money wins. Statistically, the maximum bet greatly increases your chances of winning, although be sure to always set your wager per spin to your own budget.
Our LeoVegas online slots online casino 3-Reel portfolio includes the following hot titles:
Dragon Kingdom Eyes of Fire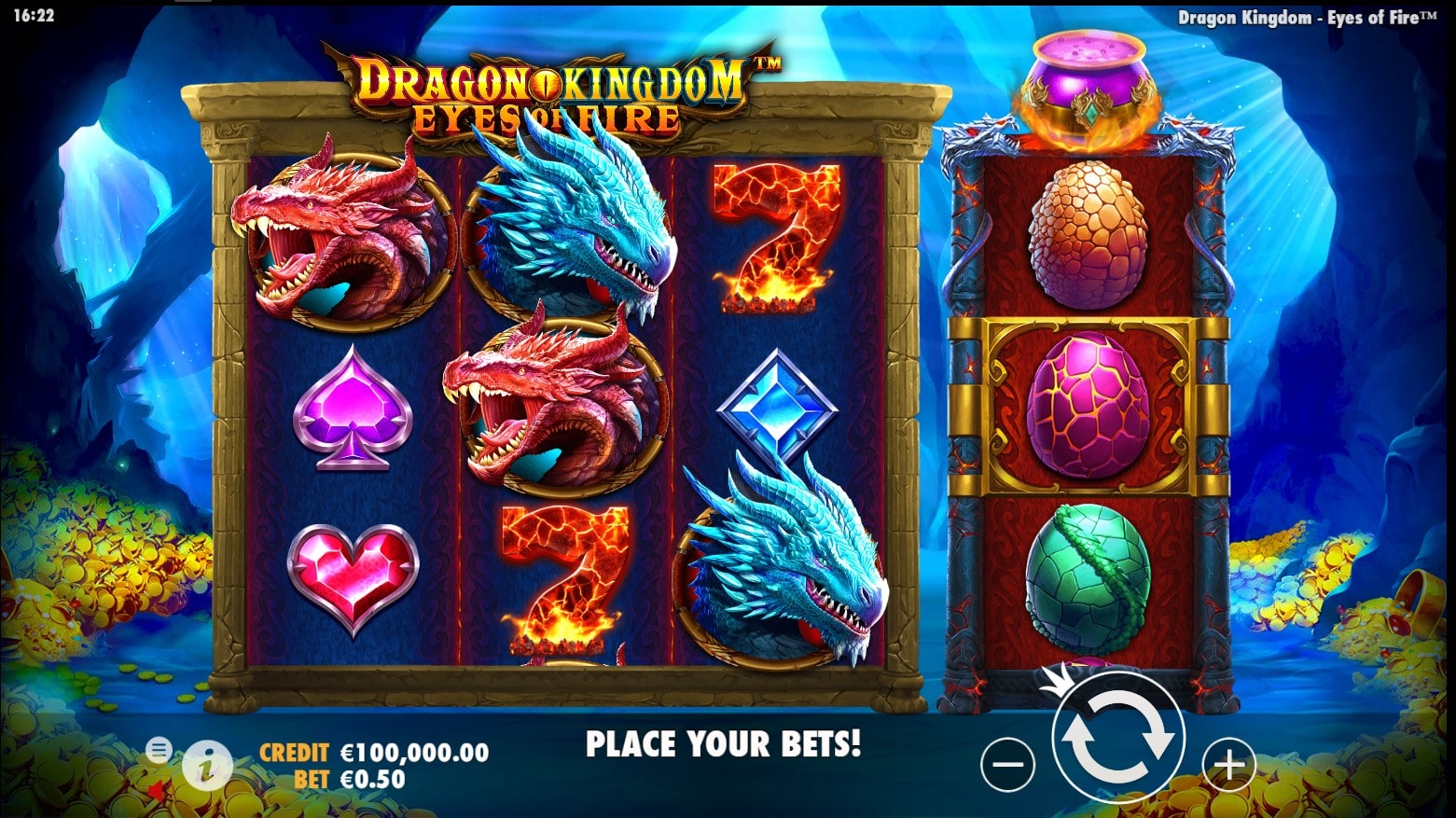 Just as you guessed, Dragon Kingdom Eyes of Fire is a dragon-inspired slot game full of fantasy adventure and magical creatures. Enter a labyrinth of caves adorned with hidden diamonds and jewels spread across a classic 3x3 layout with five paylines. A highlight has to be its progressive feature you can collect on, even with a non-winning spin. In fact, four dead spins in a row activates the rightmost reel, releasing dragon eggs and phat multipliers your way.
888 Dragons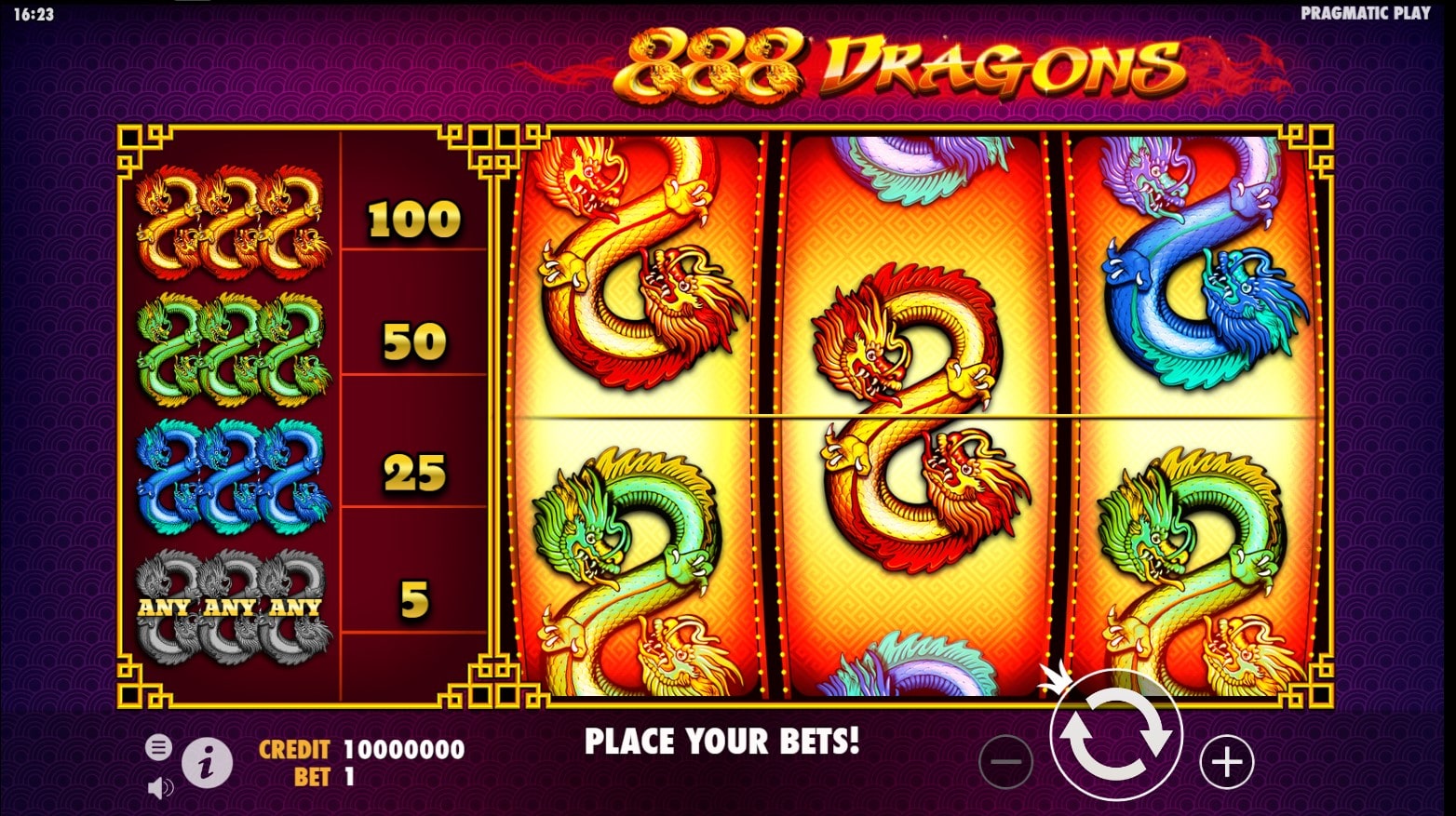 Facing the fiery beasts in 888 Dragons has some great rewards and fantastic prizes. There are three types possible combinations of dragons in this game playing in this order: red, green, and blue. The best part is that you just need three dragons in any combination to win a bonus game.
Fire Joker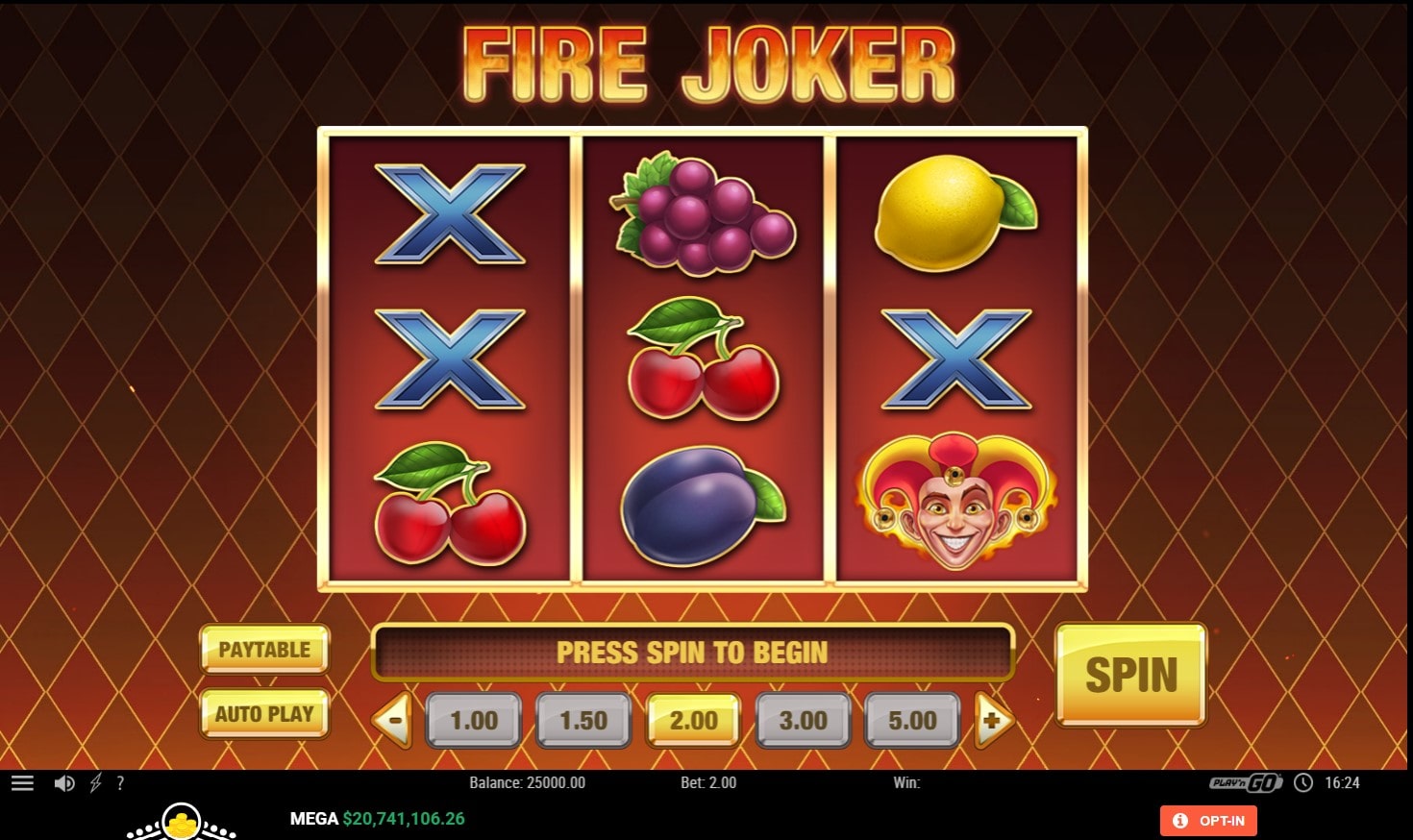 Perhaps one of the hottest and most popular classic slots on the market, Fire Joker is a bonafide 3 Reel hit. It's a classic slot game with a host of new and interesting features full of fiery surprises. Take a spin on the Wheel of Multipliers seeking 2x to 10x blazing multipliers with the ability to sub in the Fire Joker for other symbols to create bigger wins in the base game!
Eye of The Kraken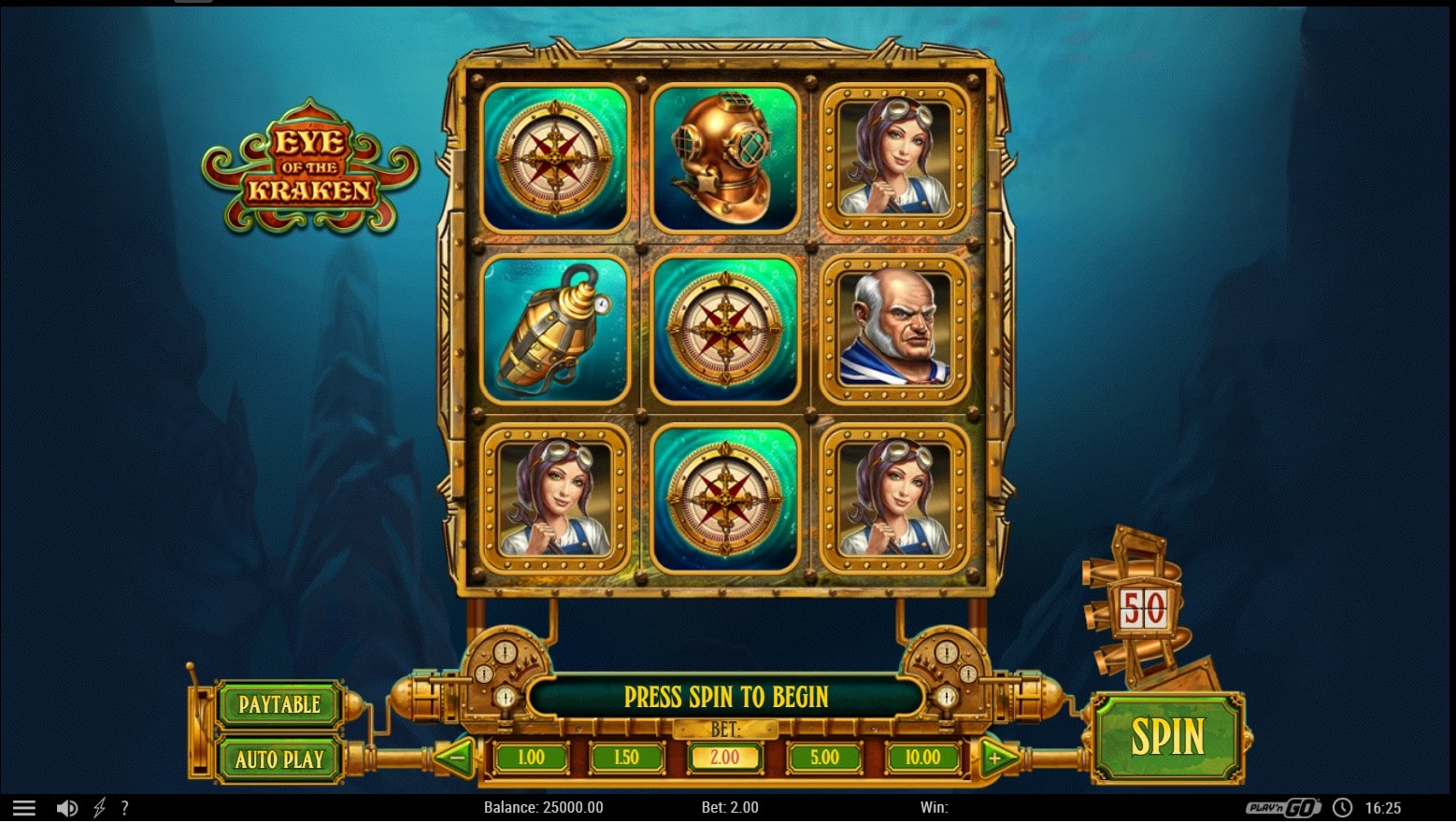 Embark on an undersea adventure to defeat the sea beast in Eye of the Kraken. Your goal is to collect 50 torpedoes to battle the Kraken across 3 reels and 8 paylines. Diving Helmets can kick start Dive Mode, granting free spins and free spin bonuses scattering treasure chests full of rewards all about. Top prize you ask? Up to 500x your wager.
Wacky Panda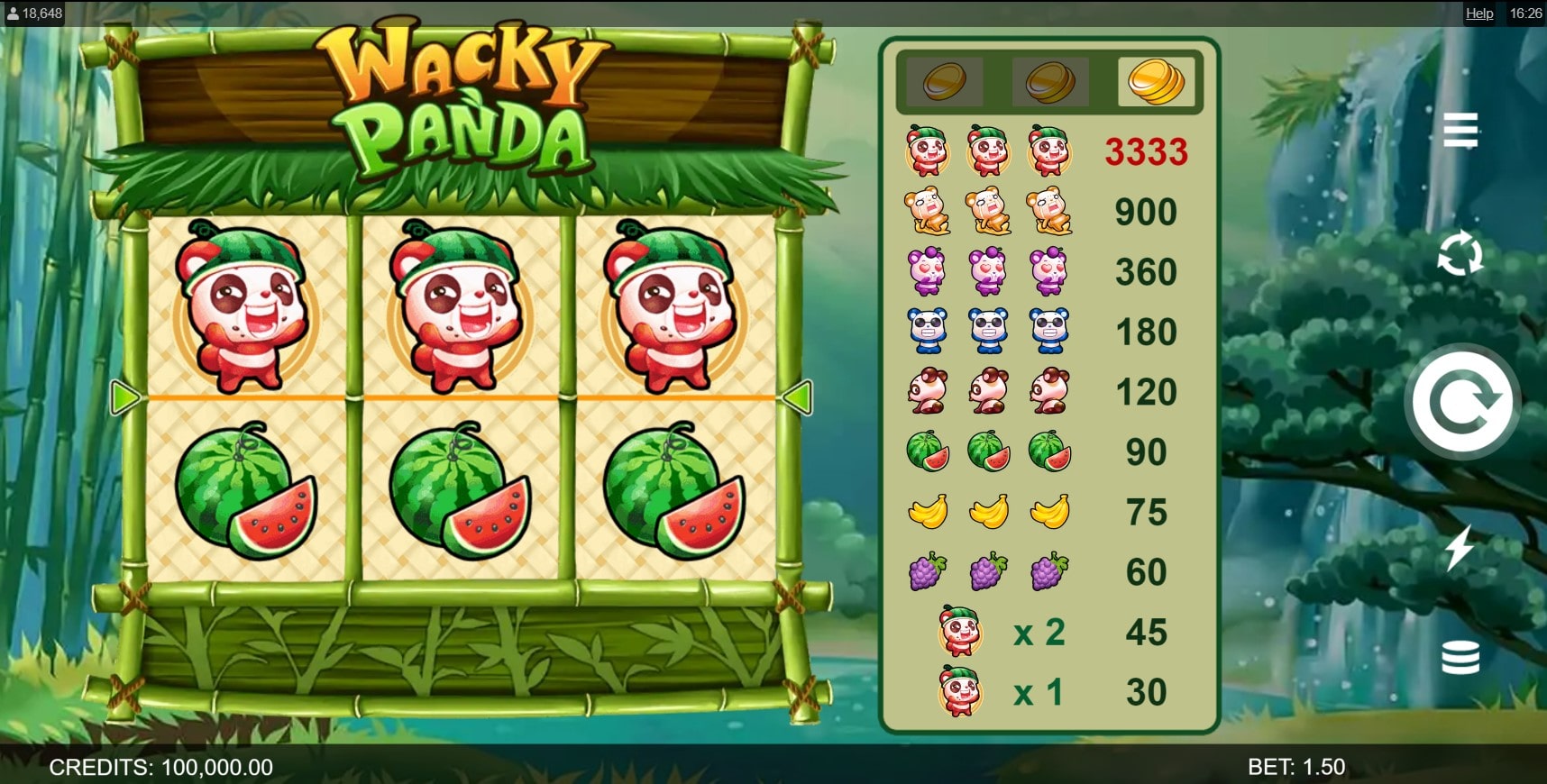 Who doesn't love adorable panda bears? This Wacky Panda online slot is all about these highly huggable creatures in the jungle as they spin around, slip on banana peels, and more. Wade through bamboo in search of tasty fruits or crazy panda cubs in a single payline. The cubs are top payers and come in five colours: red, blue, yellow, brown, and purple. Each coloured cub yields various degrees of wackiness and rewards. A great beginner's game with simple, yet lovable features.
Fire 88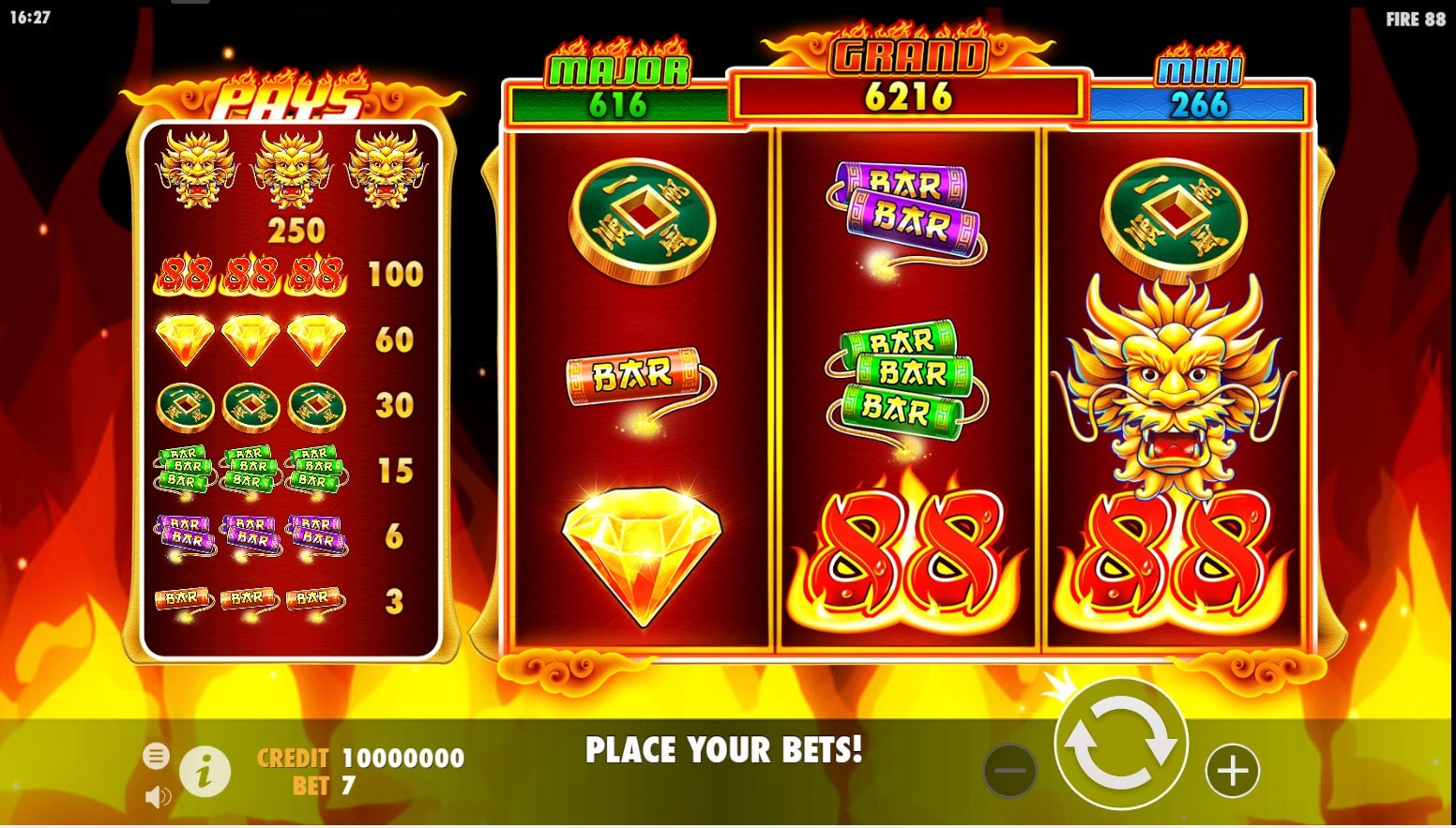 Jump into this roaring, flaming Asian-themed slot game featuring wilds, respins, and multiple jackpots up for grabs! With 7 paylines, Fire 88 has everything – lucky Chinese symbols, golden dragons, and firecrackers with winning potential reaching 902x your bet. The best part about this slot game is the Wild Dragon, an iconic red and gold character that appears only twice, granting extra chances to win. Sit back and enjoy chimes, roaring dragons, and the beautiful flaming animation of this classic play.
Big Win Cat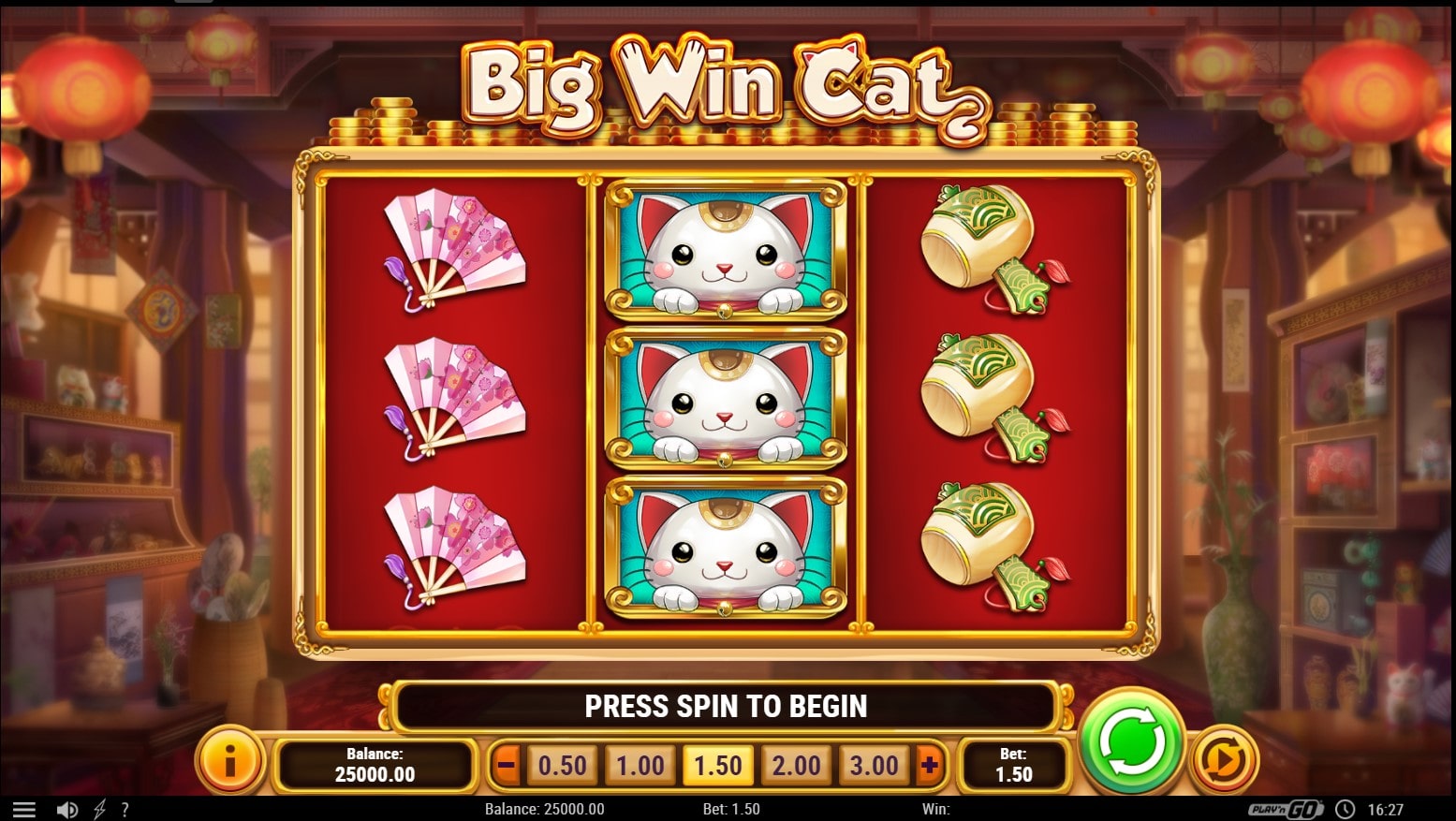 Big Win Cat is the purrfect 3x3, 5 payline slot machine for feline lovers, and one of the easiest online penny slots ever to play. A Chinese cabinet full of curiosities and artefacts awaits. Wins are granted for simply matching three symbols on a payline and can potentially pay 800x your bet. Other key bonus features include Respins of Luck and Wheels of Multipliers that can morph wins by up to 10x. Be on the lookout for the Maneki-Neko cat, the highest-paying Wild symbol of all.
9 Lions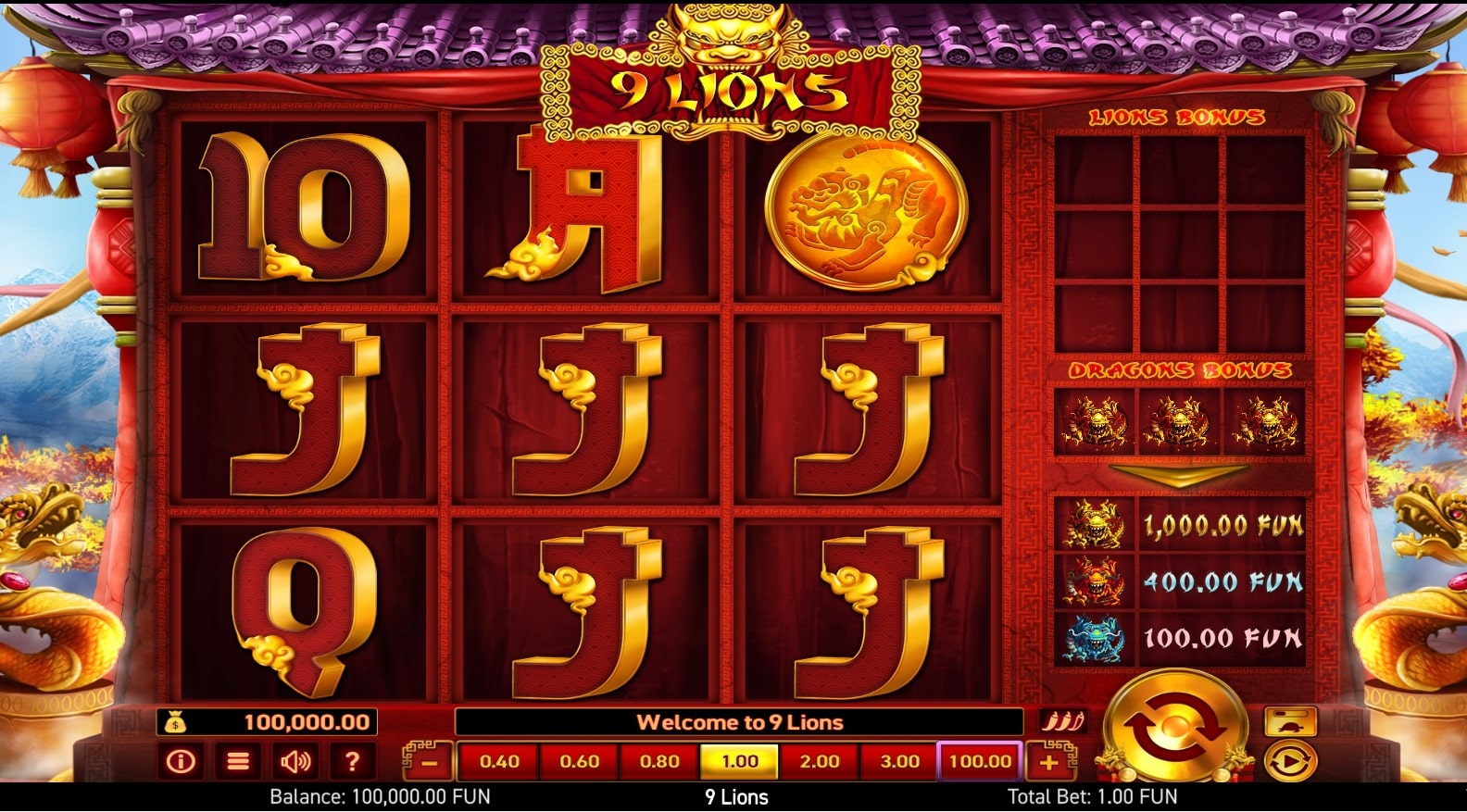 The very best of lions and dragons can be found in 9 Lions slot game. This magnum opus sees Wazdan taking you through an enchanted Asian garden. As you stroll along, attempt to get triple dragons or land a line of dragons in the middle of three reels, to launch the Dragon Bonus. Or, seek three Lion symbols to trigger Free Spins. An intriguing Lion Bonus can also be triggered by collecting nine Lions. Once achieved, the three initial symbols remain blocked, but every new lion joining them can provide massive payouts worthy of the King of the Jungle!
9 Coins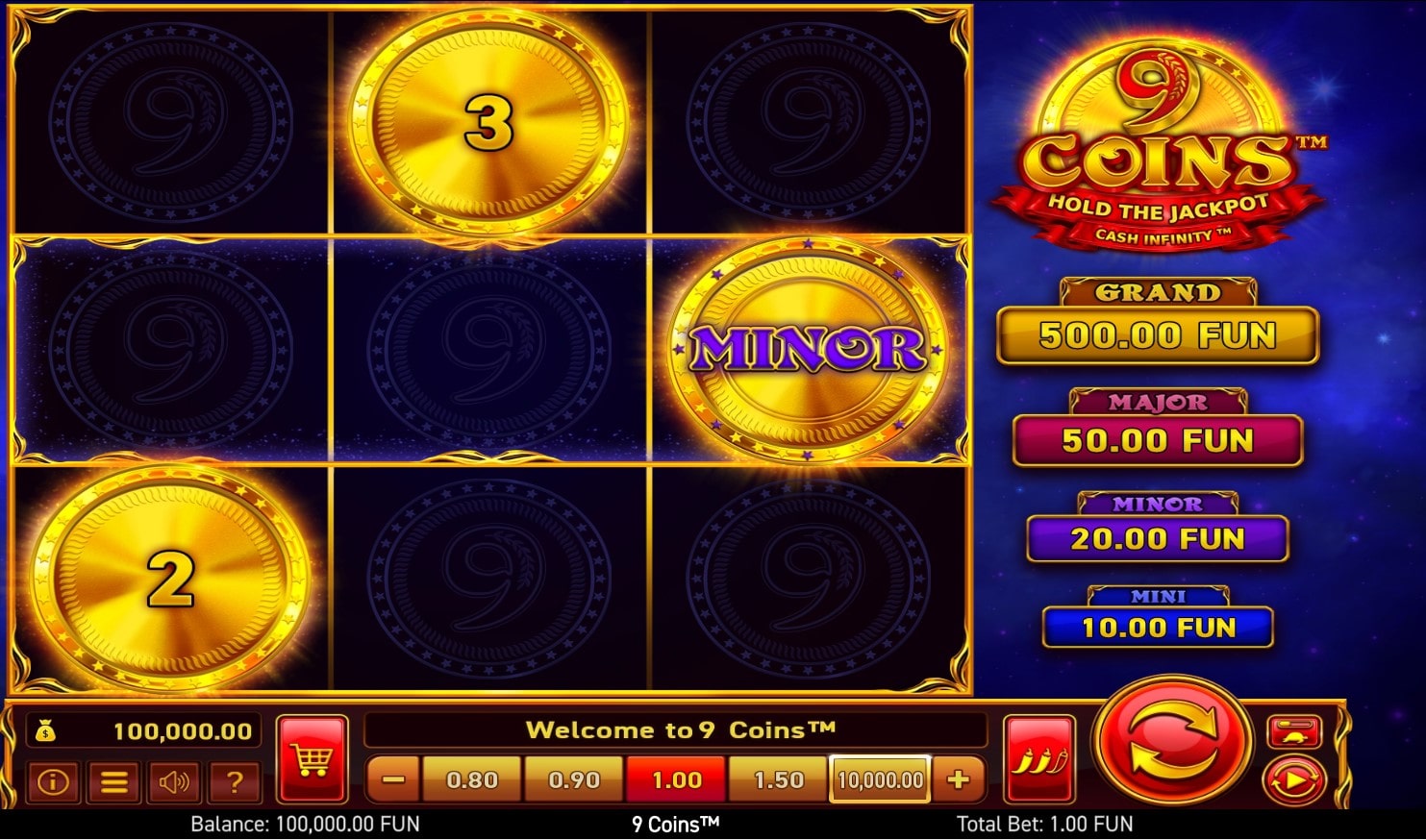 Simple, beautiful, and most definitely golden, 9 Coins is a traditional slot machine experience sure to delight, especially if you favour Asian-themed slot games. With an ambience that oozes luck, red and gold adorned reels showcase golden coins on a simple 3 Reel gaming grid. To the right, your eyes focus on four tiers of jackpots with the Grand being the top claim. It's a beautiful game, complete with a relaxing Asian soundtrack to sooth you as you sail through spins.
Tree of Riches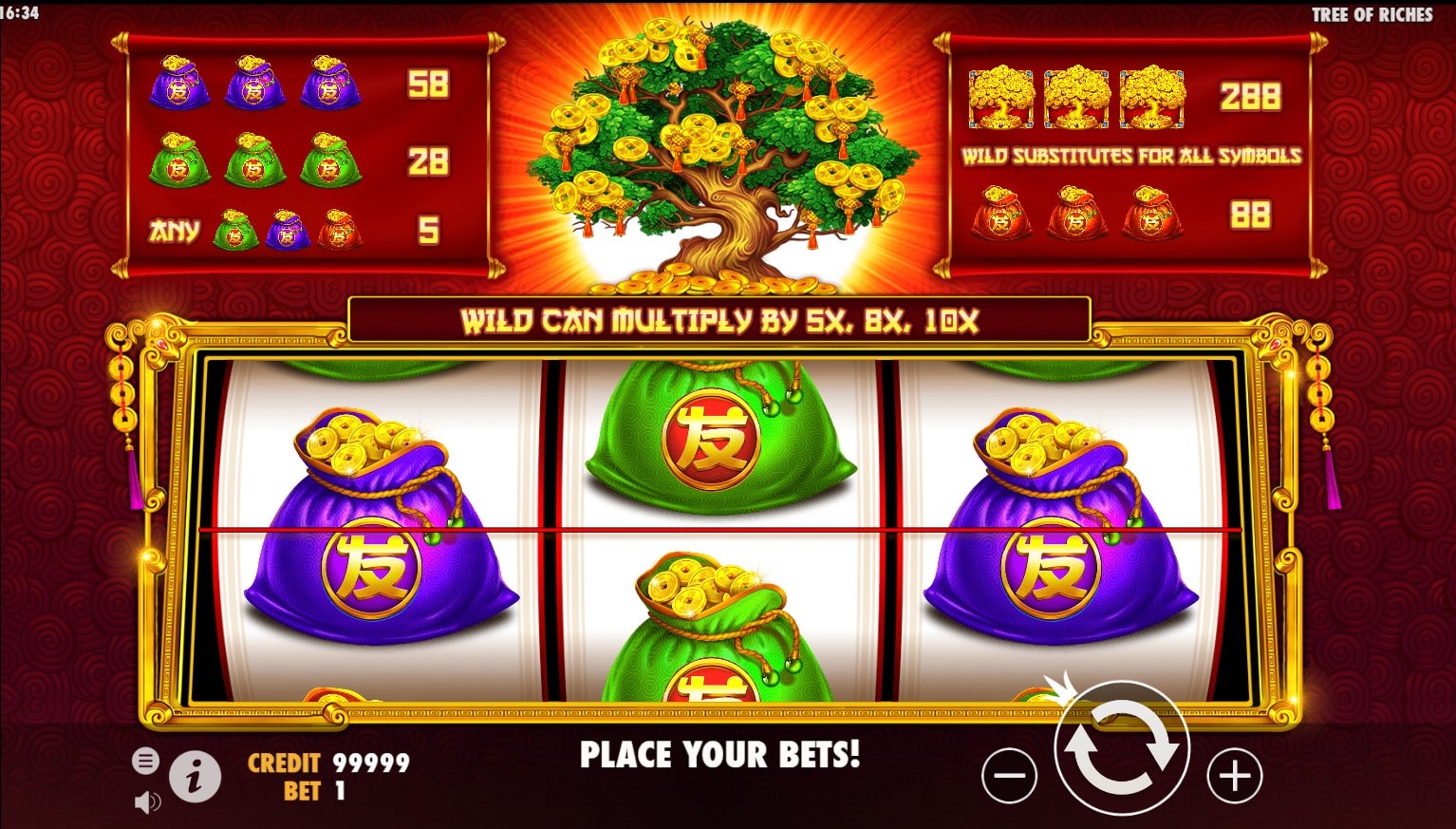 Pragmatic Play never disappoints when it comes to animation and graphics. Asian-themed and adorned in lucky red and gold, you'll simply be immersed in this classic casino game from the get-go. This mesmerising slot guarantees a double diamond win on the third reel when you land just two Wilds and with just one payline, the chances of winning are truly good. A random multiplier can also earn you double diamond, up to x10 when a Wild is part of your winning combination. It's safe to say that in Tree of Riches, money really does grow on trees!
3 Reel Slots FAQ
How many symbols on a slot machine reel?
Classic slots usually have 60 symbols in total or 20 per reel.
Are there Wild symbols in 3 reel slots?
Yes, some 3 reel slots have Wild symbols, for example, Tree of Riches.
Are three reel slots better?
Three reel slots tend to have low volatility and award players more frequent small wins.
Check out more various slots in our lists: