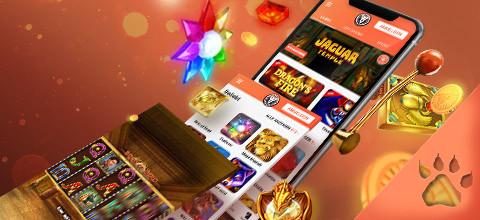 Best Push Gaming Slots at LeoVegas Casino
What is Push Gaming?
Push Gaming is a casino game developer originally founded in the UK in 2010, although its major base of operations is based in Malta. They work exclusively in HTML5. Push Gaming is a small but fast growing company in the online casino world.
Push Gaming Slots Features
Unlike some developers who zero in on specific features, topics or themes to their slots, the Push Gaming library is a mixture of all types of games, including both reel and cluster slots, Egyptian slots, Viking slots, and so many more. Their games tend to be on the higher end of the volatility scale, while they also offer a few low-volatility games.
Push Gaming isn't famed for making jackpot games and they do not have a shared, built-in jackpot across titles. They are known for extremely high production values and quality in terms of graphics and music.
Best Push Gaming Online Slots
Wild Swarm
Themed around bees and a hive, Wild Swarm comes with three completely different bonus features. First there is a standard free spins mode which is triggered in the standard way of landing three or more scatters at once. There is also an instant cash feature whenever a hive symbol appears.
The other bonus feature, called Swarm Mode, is activated after more than 5 bee symbols are collected. In the Swarm Mode, there are 10 free spins and a few sticky wilds on the reels to start, while any new wilds in play become sticky for all the spins.
Blaze of Ra
Push Gaming's own contribution to the list of Egyptian slots out there, Blaze of Ra, has two unique approaches to special features. In the base game, this is the feature known as 'nudging wilds', where the wilds appear in full-reel form. If they land completely on the reel, nothing special happens, but if they only pop up on the upper part of the reel, they will 'nudge' downwards to cover the reel and all other non-wild reels will get an automatic respin.
The bonus round is even more interesting though, as it features not just one but three locked wild reels for the duration of the free spins. That means that basically every spin will be a winner, and although the number of starting free spins can vary, it's possible to get extra ones during the round as well.
Jammin Jars
Out of the entire Push Gaming library, Jammin Jars is probably their most well-known and popular title, serving as something of a flagship for the company. The game is famous for being one of the most colourful and bright cluster slots around, boasting disco themes and plenty of animation to give that feeling of non-stop movement.
The game is played by making groups of the same symbols. However, the fun really kicks off in the bonus mode thanks to the titular jar symbols that move around the board and increase in multiplier value with every new combination they are part of. Moreover, multiple jar symbols can move around the board at once and each one can contain a separate multiplier value, which can combine when they make a match together. It is a perfect example of a simple slot concept polished to perfection.
Razor Shark
While Jammin Jars may be the flagship, Razor Shark is close in terms of popularity. It uses a completely different format in comparison to other games with a more standard 5-reel structure, but below the surface there's a lot of uniqueness. First of all, the base game features seaweed blocks that cover up chunks of the reels and move down between spins, while they also reveal a shared symbol between all of them on every spin.
There are two bonus modes in the game, one of which is a cash reveal game called Razor Reveal, which is triggered by golden sharks under the seaweed. The other one is a free spins mode where the second and fourth reels are always fully mystery seaweed symbols, while an increasing multiplier is available on all spins.
Mystery Museum
With a distinct theme that sets it apart from other slots, Mystery Museum takes players to a world of mystical and bizarre historical artefacts. The game shares a feature with Razor Shark, namely the mystery stacks previously represented by seaweed symbols, which comes in play when three or more of them land at once. The stacks then reveal all the same symbols, meaning that if all reels are mystery symbols, it's a full-board win for the symbol that pops up.
In the free spin mode, those mystery symbols will nudge onto the full reels and then become sticky for the duration of the spins. Bear in mind that the mystery symbols can reveal any symbol on the board (bar the scatter), meaning that it is possible to fill every winning line with the maximum value pharaoh mask.
Joker Troupe
By far the most unique Joker-based game you can find, Joker Troupe comes packed with tricks and wonders. While the base game looks simple, the bonus games are brimming with action. Land 3 Green Joker scatters to spin the wheel and get a potential instant payout of up to 1000x. Blue Joker scatters on the other hand, unlock new rows and increase the multiplier every time.
The most interesting is the Red Joker bonus, which unusually gives 20 seconds of spins with a multiplier that gets charged up with any wins made. It's one of the few cases in the casino world where a feature is based on time instead of on a set number, making it a unique experience even for veteran players.
Big Bamboo
Taking the theme to the Far East now, this is the third game from Push Gaming that offers the Mystery Symbols, although in a more straightforward way. They still reveal the same symbol at the same time on the reels, but they don't nudge down or stick at any point. Similar to Razor Shark, if a Golden Bamboo symbol is revealed, it could result in a multiplier or an instant cash prize mechanism.
To add to this, Big Bamboo is equipped with a free spins mode that is a bit complex. When three bonus scatters land, including a Free Spins prize, it will trigger the mode with the number of spins determined by the numbers on the scatters. This bonus round contains all kinds of extras, such as a progressive symbol converter based on extra scatters that appear, as well as extra spin options.
Giga Jar
If you think Giga Jar has a connection with Jammin Jars, you're absolutely right. It shares much of the general feel of the original, plus a lot of the graphics, while also operating as a cluster slot. Moreover, there are many new features that are not present in the original.
For example, you may randomly trigger features like the ice breaker, which removes low-paying symbols, or the snowball that adds giant 2x2 or 3x3 symbols to the board. The jar symbols still move around and collect multipliers, but now there's a chance to get the giga jar symbol, which works the same way but takes up a 2x2 space that increases the chances of connecting with clusters.
Generous Jack
Generous Jack is easily the most unique slot on this list, because it works differently from any other slot out there. Instead of going for any normal symbols that you would expect, the target is purely multiplier chips ranging from 0x to 9x. When these symbols appear on the same row, they can combine in different ways, with huge total multipliers possible.
On top of that, there is the Generous Jack golden symbol, which not only triggers a respin and creates a new row, but it also adds to the free spins meter on the left. If that meter reaches the level of 3 or higher, free spins will begin after the current spin.
Retro Tapes
Feeling more like Jammin Jars than anything else, Retro Tapes swaps out the cartoony graphics for an 80s vibe. It includes Wild Tapes that build up multipliers like the jars as well. However, there are also set multiplier symbols that can appear, a magnet feature that can create an instant cluster and instant win symbols on top.
You can also unlock the Top Charts feature that carries over everything from the base game, while also adding extra spin symbols and special features, such as instant wins and multiplier symbols. The latter will appear randomly on any empty space during the feature.
Check out more slots from different providers in our lists: