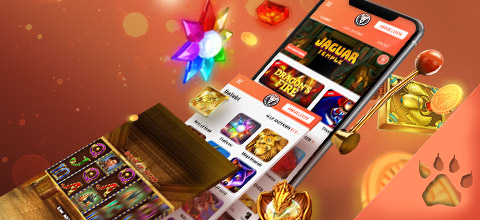 Best Play'n GO Slots at LeoVegas
What is Play'n GO?
Play'n GO is one of the most exciting slot providers in the world. Located in Vaxjo, Sweden, it began in 1997 when the iGaming sector was starting. When it became an independent company in 2004, it had already built a reputation as a respected provider which it has continued to deliver on.
With huge levels of experience, the company concentrates on delivering high-quality slot games as opposed to quantity and thus has a smaller catalogue than other studios. However, each game gets honed to perfection in terms of playability and graphical quality before it is released.
As well as slots, it also provides a wide range of other casino games. Its blackjack selection is world-class, along with a wide variety of poker games and roulette. The best Play'n GO slots are available in over 30 languages, and games can be found around the globe.
Play'n GO Slots Features
The best Play'n GO slots have several features that make them stand out from others. Read on as we discuss the defining factors that make this company unique.
Great Graphics
Play'n' GO take the time and effort to ensure that their slot games look spectacular. They can make games in a range of graphical styles, from the cartoon imagery of Leprechauns Luck to the realism of Cat Wilde and the Pyramids of the Dead.
Not only this, but stunning soundtracks accompany their games, adding cinematic depth to their slot titles. All these combine to create an immersive slot experience.
Mobile Optimization
The company understands the importance of mobile gaming. Its titles are developed with a cellphone or tablet in mind. It has 30 mobile games available for people to experience the best Play'n GO slots on their devices.
Play'n GO has a unique approach to attracting new players. One of these is its small widget games which can insert into web pages, ads, emails, and pop-ups. These small titles fit discreetly into digital media, so people can play mini-games as they encounter them online.
Wide Range of Games
Despite only releasing a few games every year, Play'n GO has a wide and varied back catalog. Games span different types, volatility levels, difficulties, and themes. You can take a journey into mythology with Gates of Troy, then be hopping through time and space with Fortune Rewind.
They also have several slot games from well-known licenses, particularly in the world of music. *NSYNC Pop is a slot game based on the hugely influential boyband. Even cult metal band Saxon has its own title, featuring music and iconography from the band's hard rock history.
Best Play'n GO Online Slots
The Play'n GO repertoire is vast, so you may find yourself slightly lost when it comes to choosing which games to play. Luckily, we are here to help and have collected our selection of the best below.
Book of Dead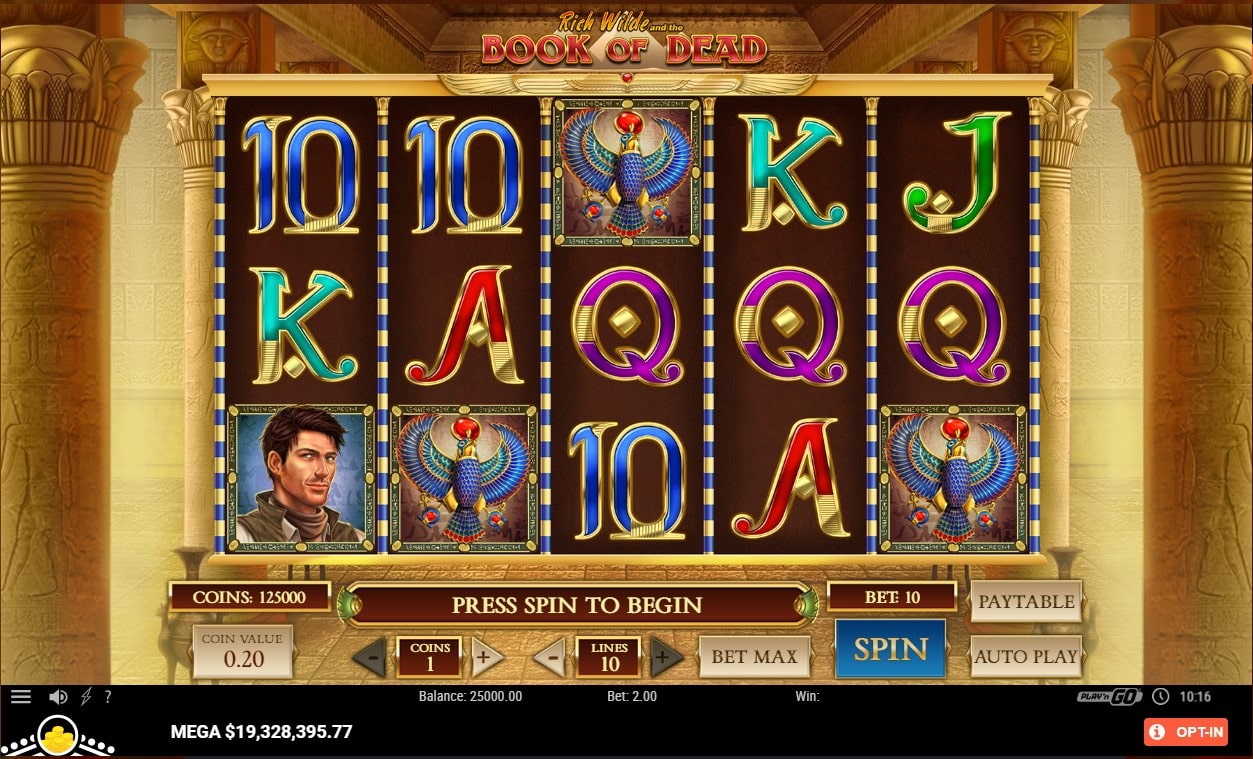 There are many slots focused on ancient Egypt, but Book of Dead was one of the first and remains one of the best. It has stayed popular because of its outstanding graphics and lasting playability. It plays out on a five-reel, three-row system that gives you 10 different ways to win.
To scoop prizes, you need to match three or more symbols. This can provide you with a sizable 5000x your stake if you uncover the fabled Rich Wilde symbol. It is also filled with scatters, free spins, and wilds. Play Book of Dead here at LeoVegas.
Rich Wilde and the Amulet of Dead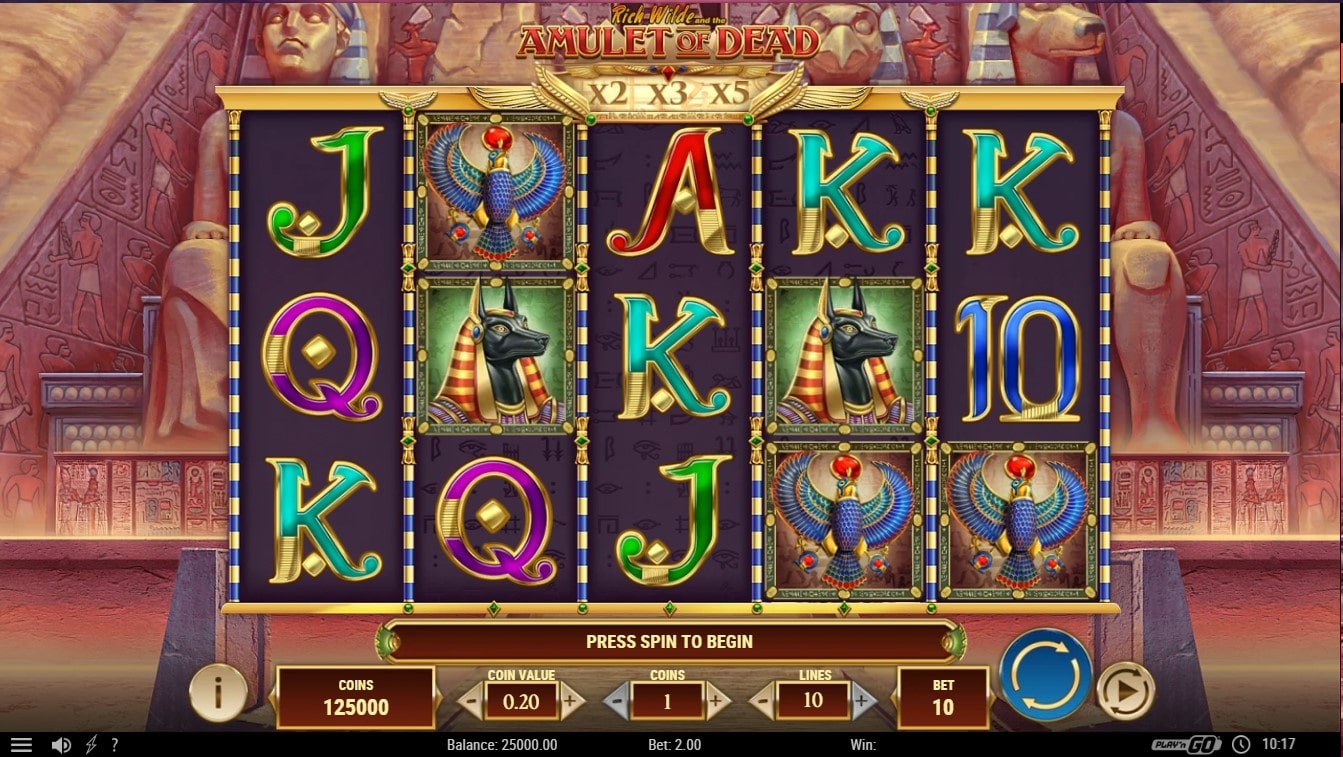 Rich Wilde is Play'n GO's own Indiana Jones and features in several adventurous slot titles. Here, he returns to ancient Egypt in this five-reel, three-row game. With 10 pay lines, the game focuses on the god Thoth and his lavish tombs of treasures.
As Rich Wilde travels between the realms of the dead and living, he encounters large numbers of themed symbols, including scatters and wilds. There are two bonus games, including a multiplier and free spins feature. If the gods favor you, you could win up to 2500x your original stake. Take a trip down the Nile and visit the Temple of Isis by playing Rich Wilde and the Amulet of Dead.
Moon Princess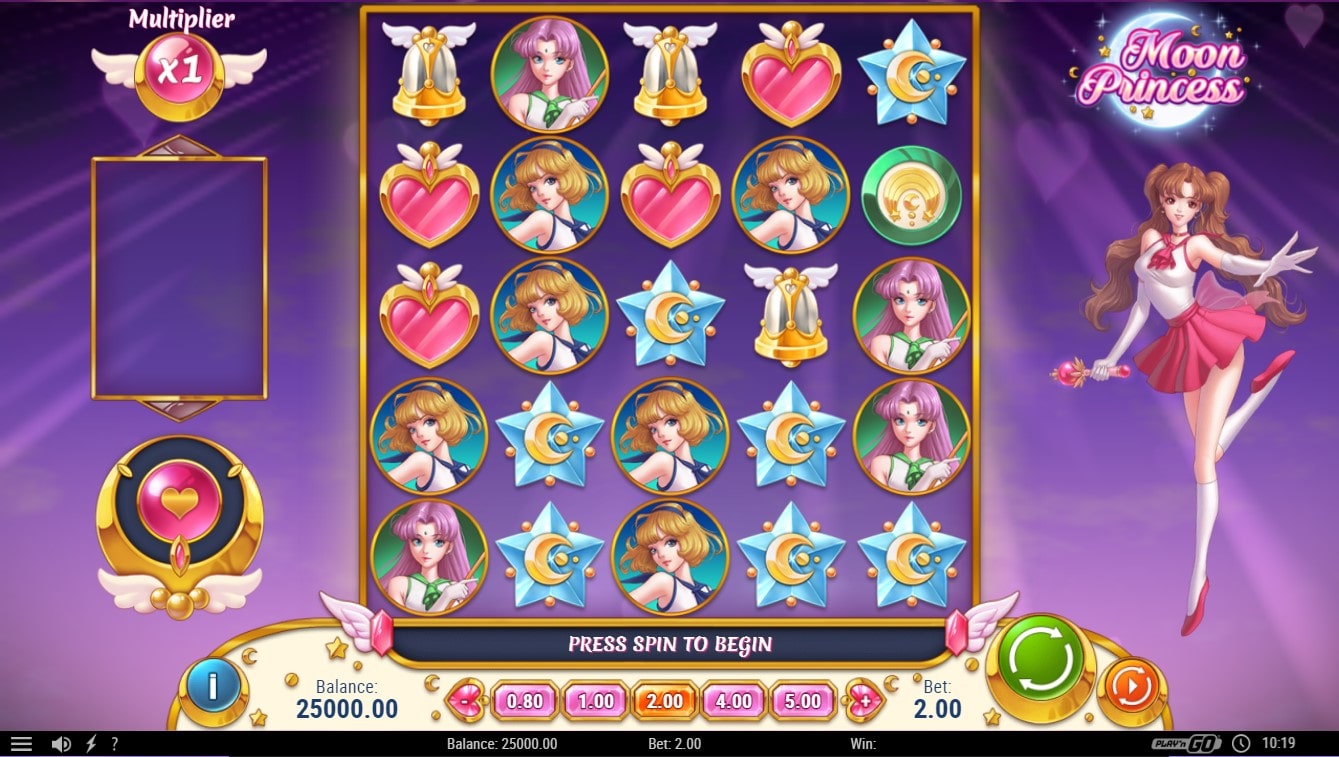 Moon Princess borrows from a well-known Japanese animation of a similar name. It is about three superheroes, who harness the power of the moon to right wrongs. This game has all the imagery you would expect, including stars, glitter, and the frantic volatility inherent in the genre.
There is plenty of features based on the three characters in the game. Random features will appear depending on which character is on screen at the time, switching symbols and adding wilds.
When their powers combine, they provide even more chances to win on this five-reel, a five-row slot with cluster pays. You can harness the power of the moon yourself by playing Moon Princess here.
Reactoonz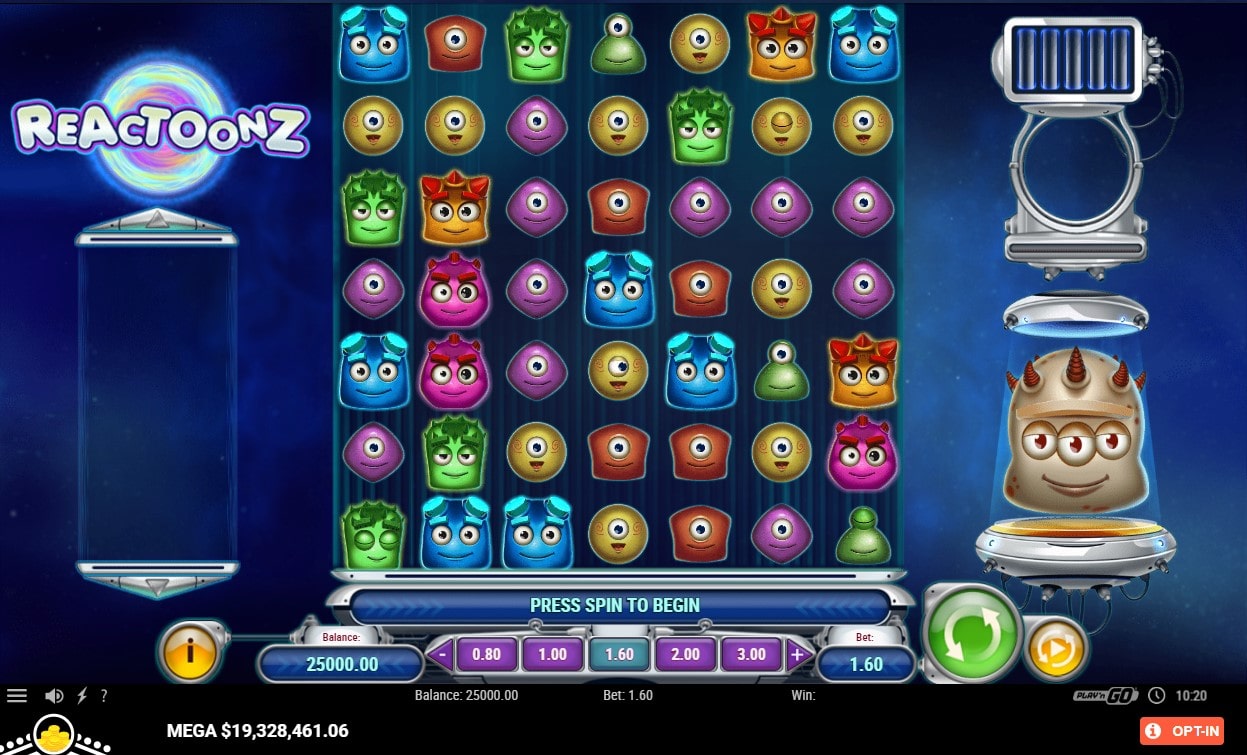 Reactoonz is one of the craziest and most exciting slots you could play. When you see its seven-by-seven grid, it stands out a mile compared to other offerings. Yet when you add the cute aliens known as Reactoonz and their cosmic antics, it gets even more out of this world.
Winning throughout the game you will charge up a Quantum Leap gauge. When charged, they can trigger several special features such as wilds, switching symbols, or unique incision wilds that cleave the grid in half.
For newcomers, the game can be overwhelming, but it soon becomes easy to play and fun to enjoy. Play the Reactoonz slot and join the battle for space today.
House of Doom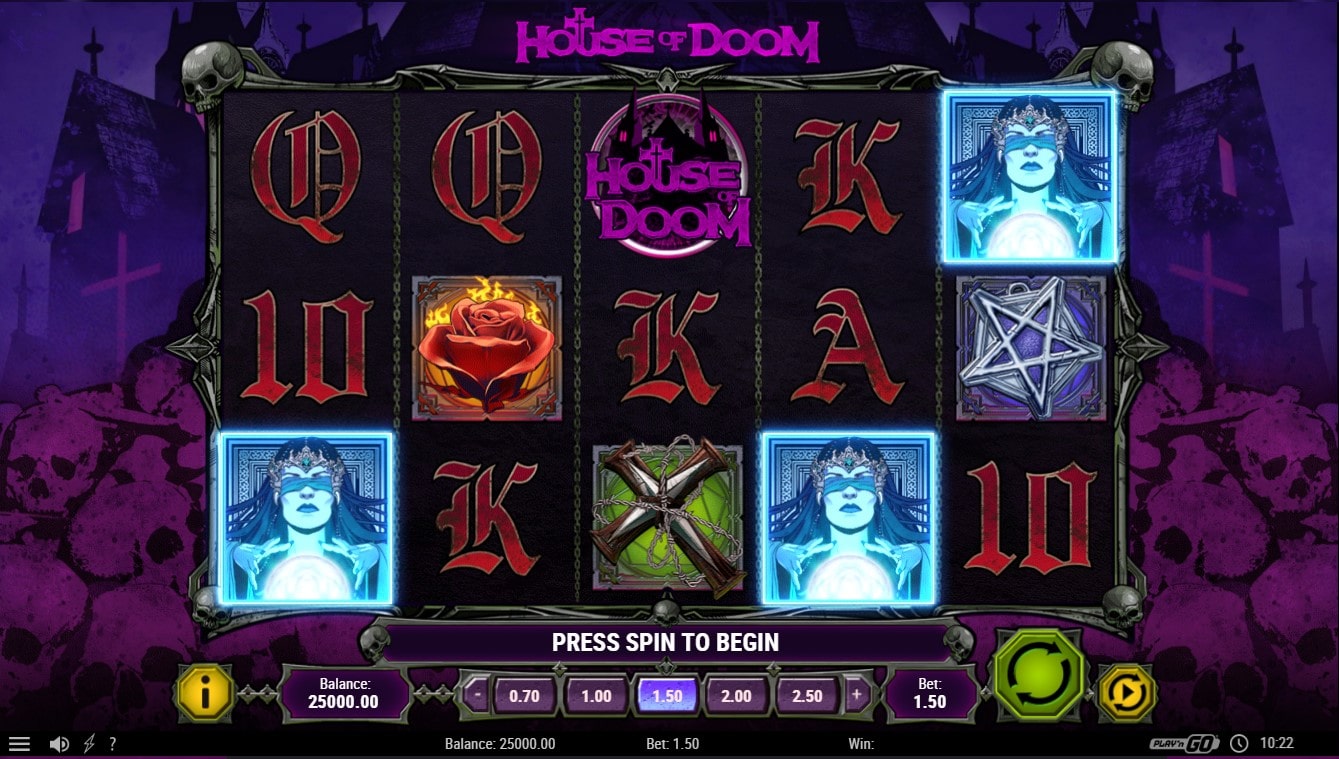 House of Doom focuses on the antics of the Swedish band Candlemass, who bring their unique blend of Scandinavian rock to the slot.
Expect pentagons, ram skulls, and crosses for symbols, which can trigger a range of wilds, bonus games, and free spins. There are five reels and three rows in this volatile slot game. If you like your slots with a touch of hard rock, then House of Doom could be for you.
Merlin's Grimoire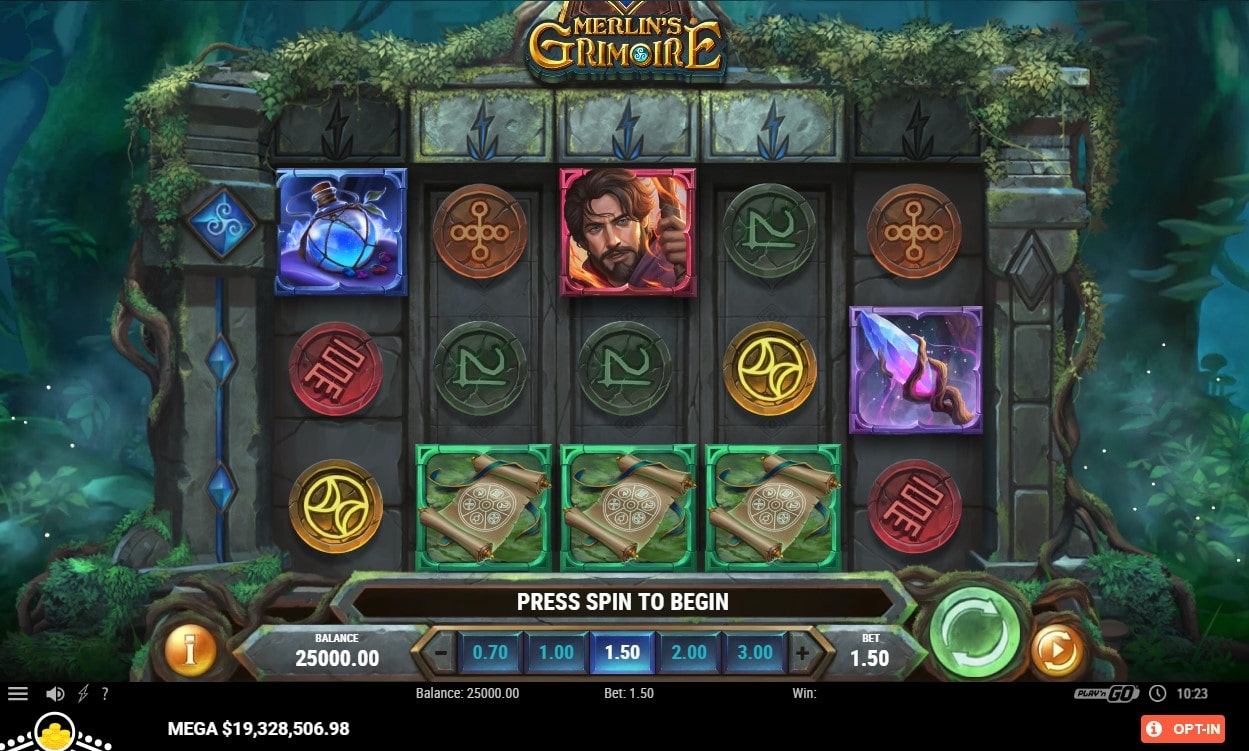 Merlin's Grimoire transports you to the days of Camelot, opening the wizard's personal diary and unlocking its secrets and lore. The design of the slot is a muted stone and greenery-laden affair, which comes to life as you unlock the magic of its five reels and three-row system.
This gives you 243 ways to win, which increases to 7776 as you begin to open up the sorcery hidden beneath. You can play Merlin's Grimoire at LeoVegas.
Dawn of Egypt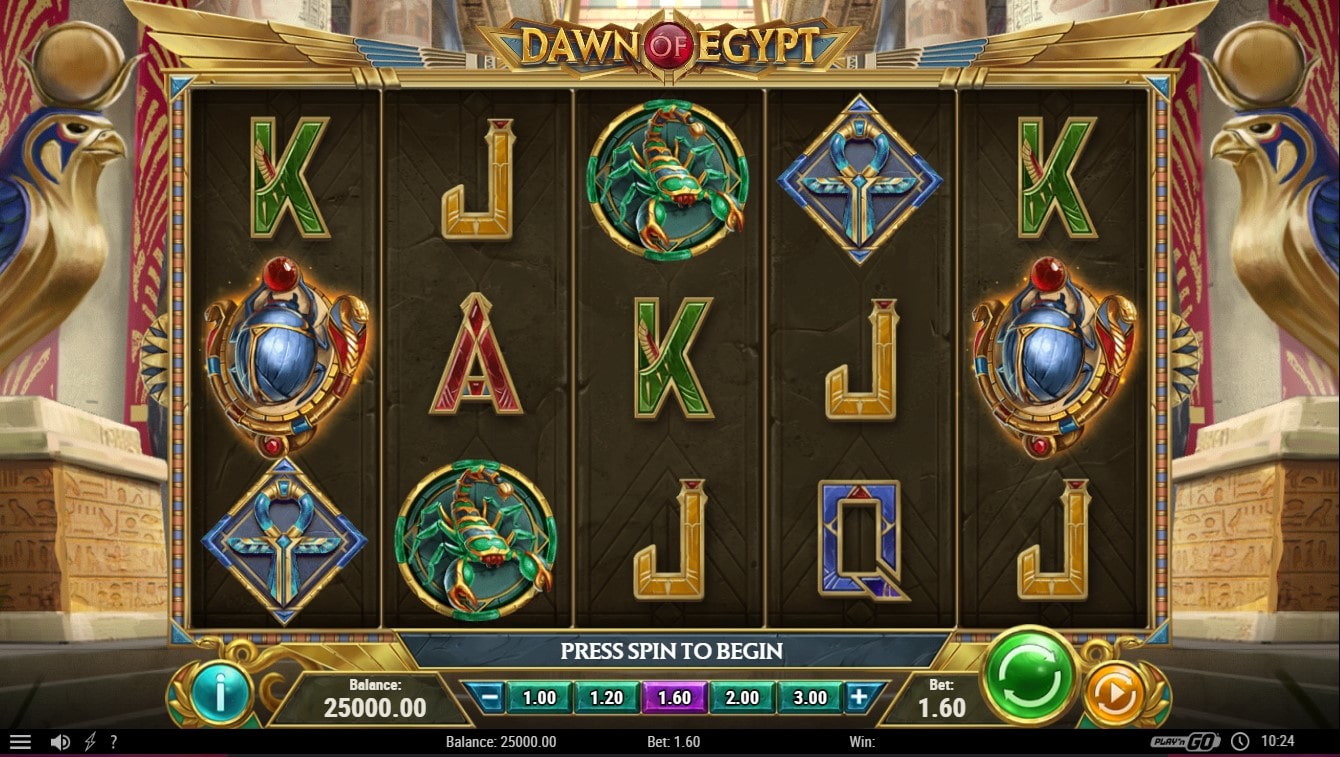 Dawn of Egypt is another classic that delves into the tombs and treasures of the ancient gods. A five-reel three-row matrix provides 10 pay lines. You need to match three symbols for a payout, keeping your eyes open for the gods and serpents that inhabit the reels.
There are lots of features, including two different free spin levels, wilds, scatters, and pyramid spins.
ImmorTails of Egypt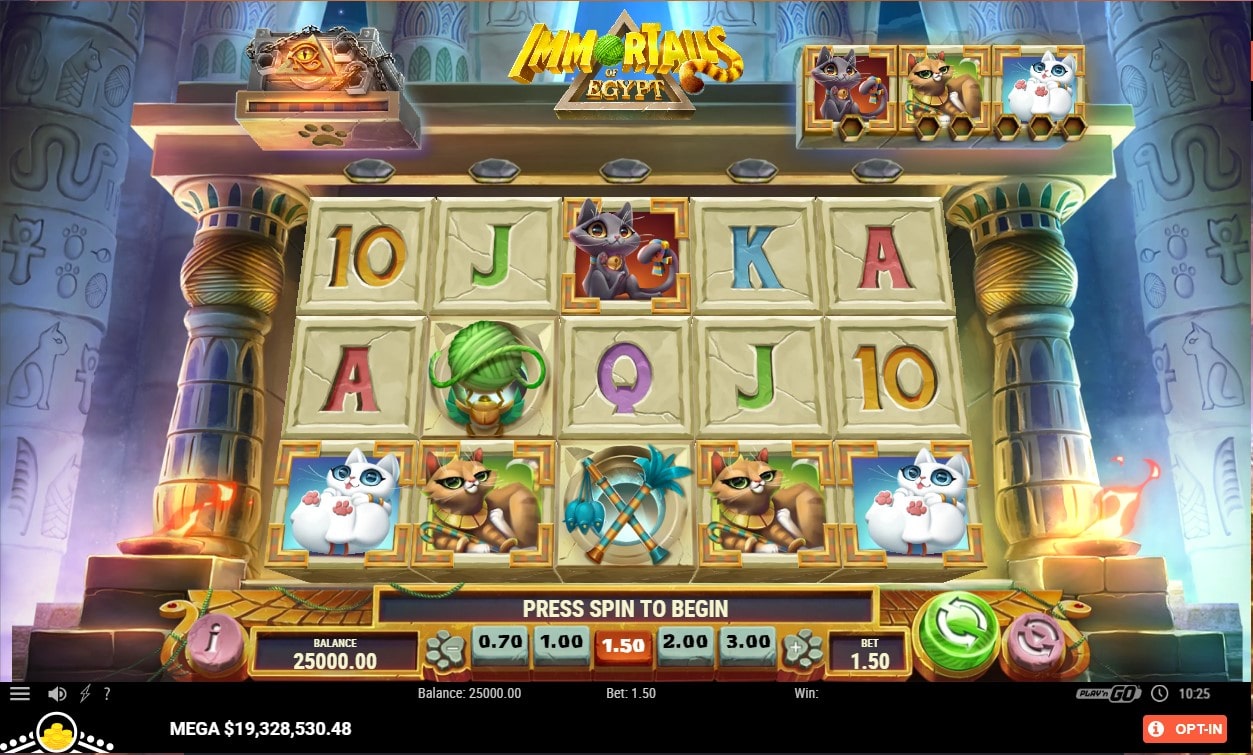 ImmorTails of Egypt breathes new life into the theme by concentrating on the cute and fluffy cats beloved by the pharaohs of old. Symbols of extreme luck, they may cast their eye upon you by delivering free spins, scatters, wilds, and multipliers. When the cat gods appear, they will begin to tumble into a progressive sequence of cats which brings enhanced wild symbols.
The game has five reels, which fluctuate between three and four rows. This produces a series of connecting pay lines, which can deliver up to 10,000x times the original bet. If this sounds like feline fun for you, then experience the ImmorTails game at LeoVegas.
Lady of Fortune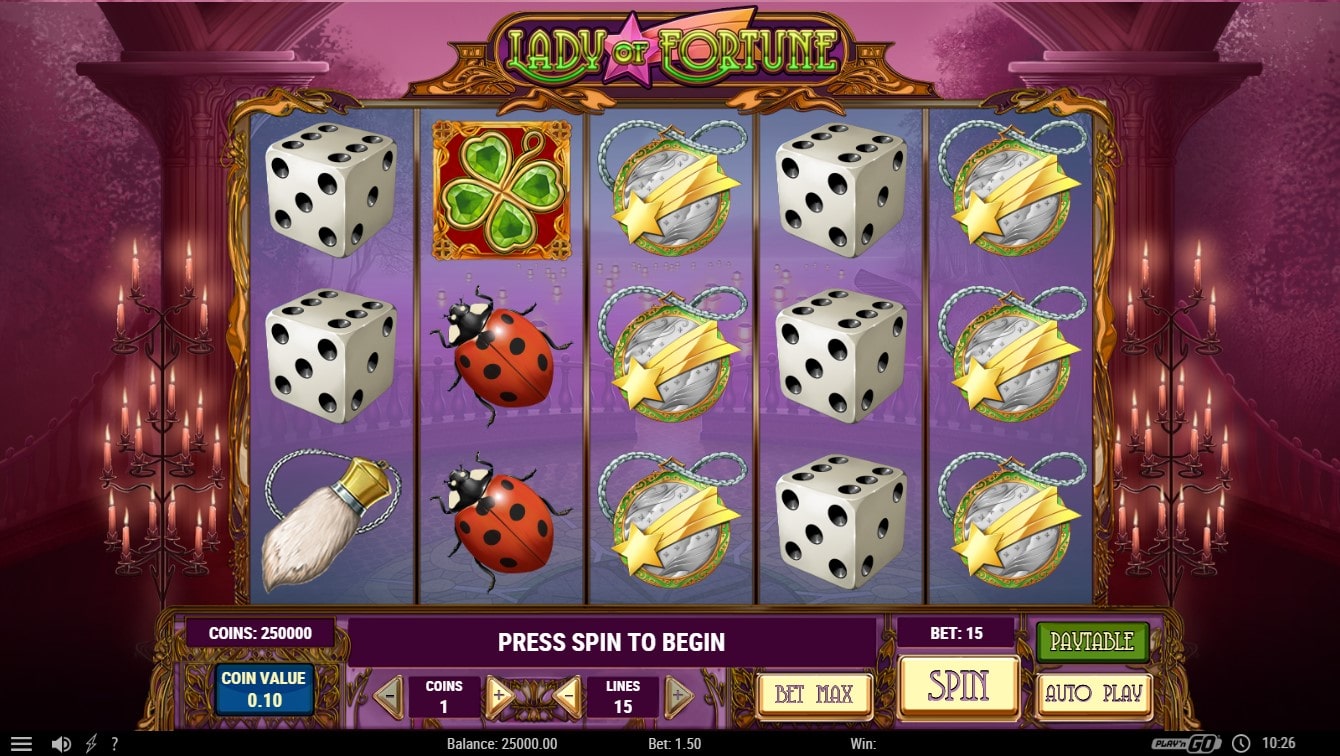 Lady of Fortune takes you into the mystical world of a fortune teller, with her crystal balls and predictions of the future. Played out on a five-reel matrix, fifteen pay lines can produce a win 150x the original stake.
There are a host of special symbols that channel lady luck toward you, including four-leaf clovers, horseshoes, and ladybugs.
The Lady of Fortune herself triggers the bonus feature, where you enter a mini-game in which you select a host of multipliers.
Cat Wilde in the Eclipse of the Sun God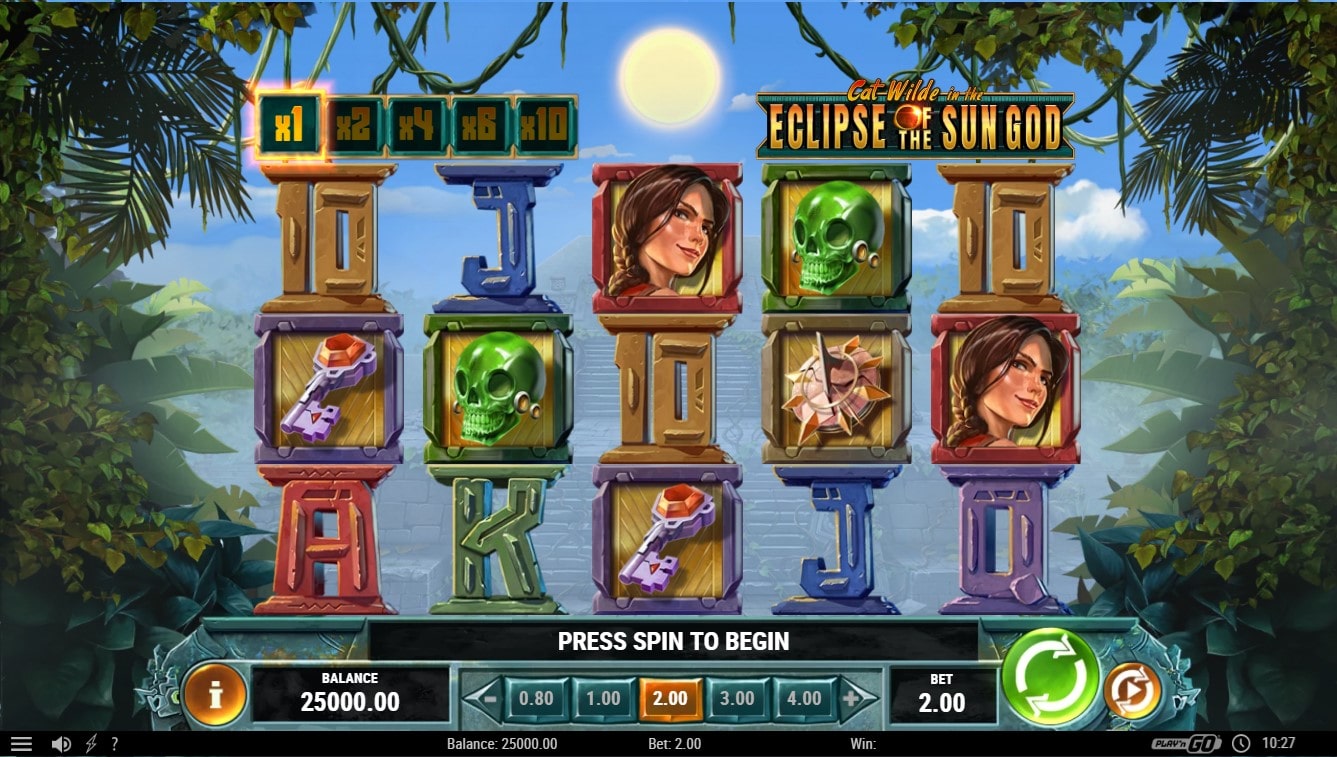 Cat Wilde, the famous explorer, is back and this time she is delving into the jungles of South America. Reels are filled with some beautiful, graphically stunning icons such as tomb keys, sun gods, and crystal skulls.
Spinning its five reels produces 20 pay lines, with a host of features available such as cascading reels, multipliers, and free spins. Play Cat Wilde in the Eclipse of the Sun God and take on the perils of the jungle.
The Faces of Freya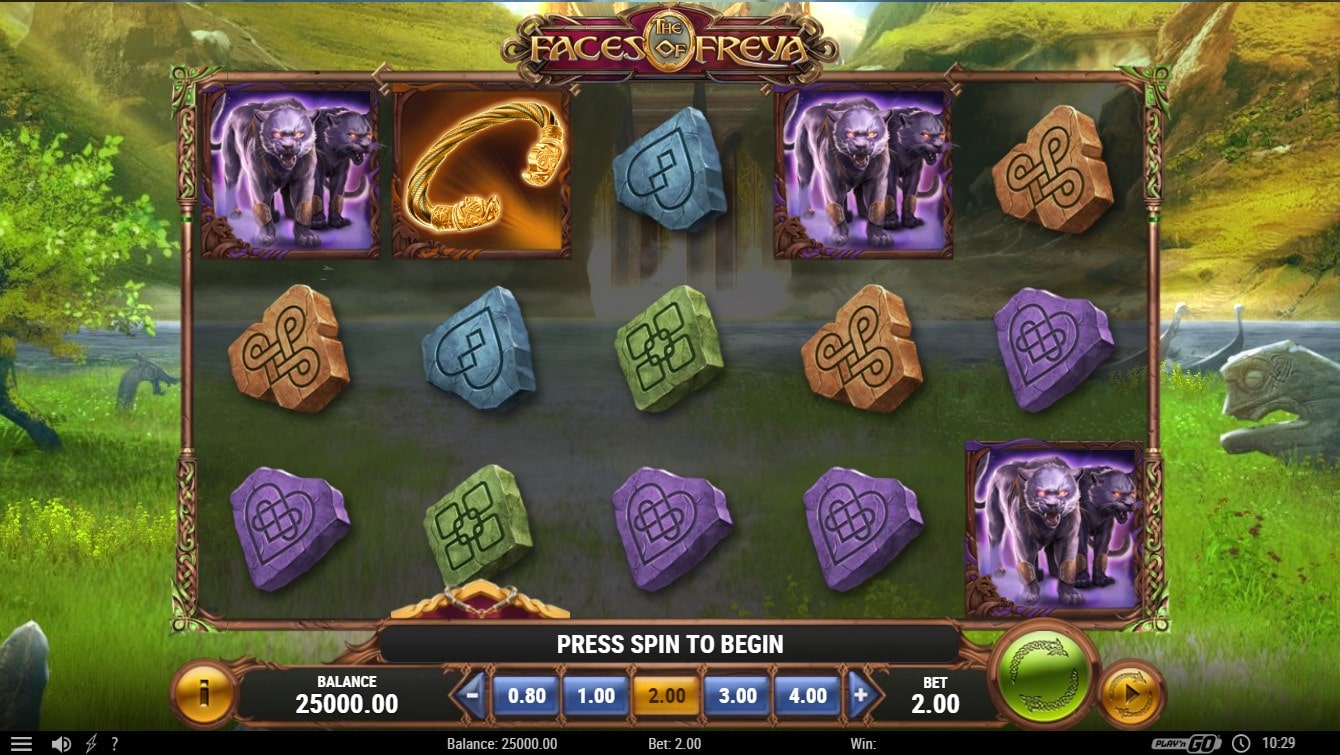 This exciting slot title takes cues from Freya, one of the lesser-known Norse deities. She brings her axes, runes, and mythical beasts as the symbols of her slot game. Played out on five reels with three rows, the game has 20 different pay lines. All this is set out on a beautiful, lush summer-laden valley.
Free spins are the name of the game in this one. There are three rounds, known as war, sorcery, and love and each provides different numbers of free spins.
Surpass these and reach Folkvang, where all previous multipliers and modifiers get reactivated. If you want a journey into the gods of yore, you can play The Faces of Freya.
Check out more slots from different providers in our lists: