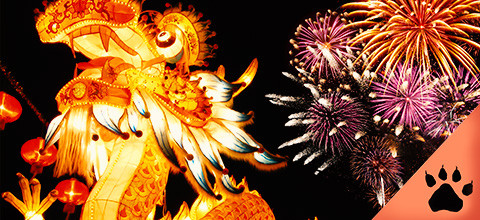 10 Best Chinese Slots at LeoVegas
If you love new ways to explore different cultures, then slot games can provide a great way to immerse yourself into entirely new worlds. Today, we're heading over to China and doing it by visiting the world of Chinese-themed slot games available at LeoVegas. Since it can be tough to choose from the vast range of games available, we've put together a list of our top picks.
The Chinese-themed slots that we've included today have been an absolute hit among players: they not only offer a unique gaming experience, packed full of fun and surprises at every spin, but they also transport you to a world filled with ancient myths, oriental wonders, and lucky charms.
We delve into the details of these games and to showcase what they have the offer.
Our Top 10 Chinese-Themed Slots
Strap in and get ready for a spin-filled ride through the best Chinese-themed slot games available to play at LeoVegas.
Chinese New Year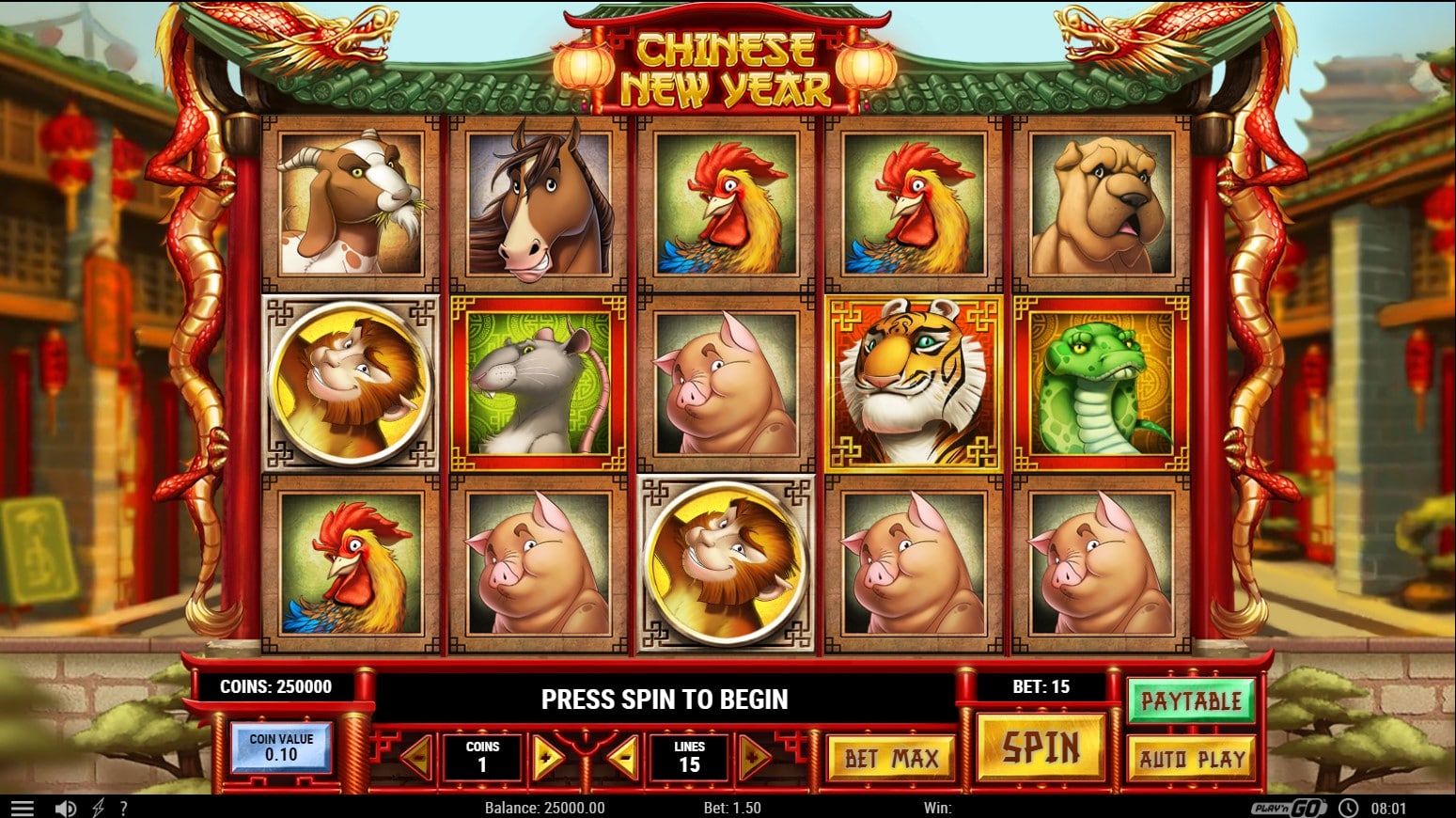 Chinese New Year is one of the biggest celebrations in China and by many Chinese nationals around the world. It also happens to be the name of the first Chinese-themed slot on our list. Chinese New Year is developed by Play'n GO, this game is a five-reel video slot that offers up to 15 pay lines.
As the name may suggest, this game is based on the Chinese lunar calendar and features all 12 animals of the zodiac. Tigers appear as wilds, monkeys award 15 free spins when three appear on the reels in the same spin, while three dragons unlock a bonus game that can reward up to 150x your spin value.
The game has colourful cartoon-style graphics, with traditional Chinese music as the soundtrack, really helping to bring the celebrations of Chinese New Year to life.
Eastern Emeralds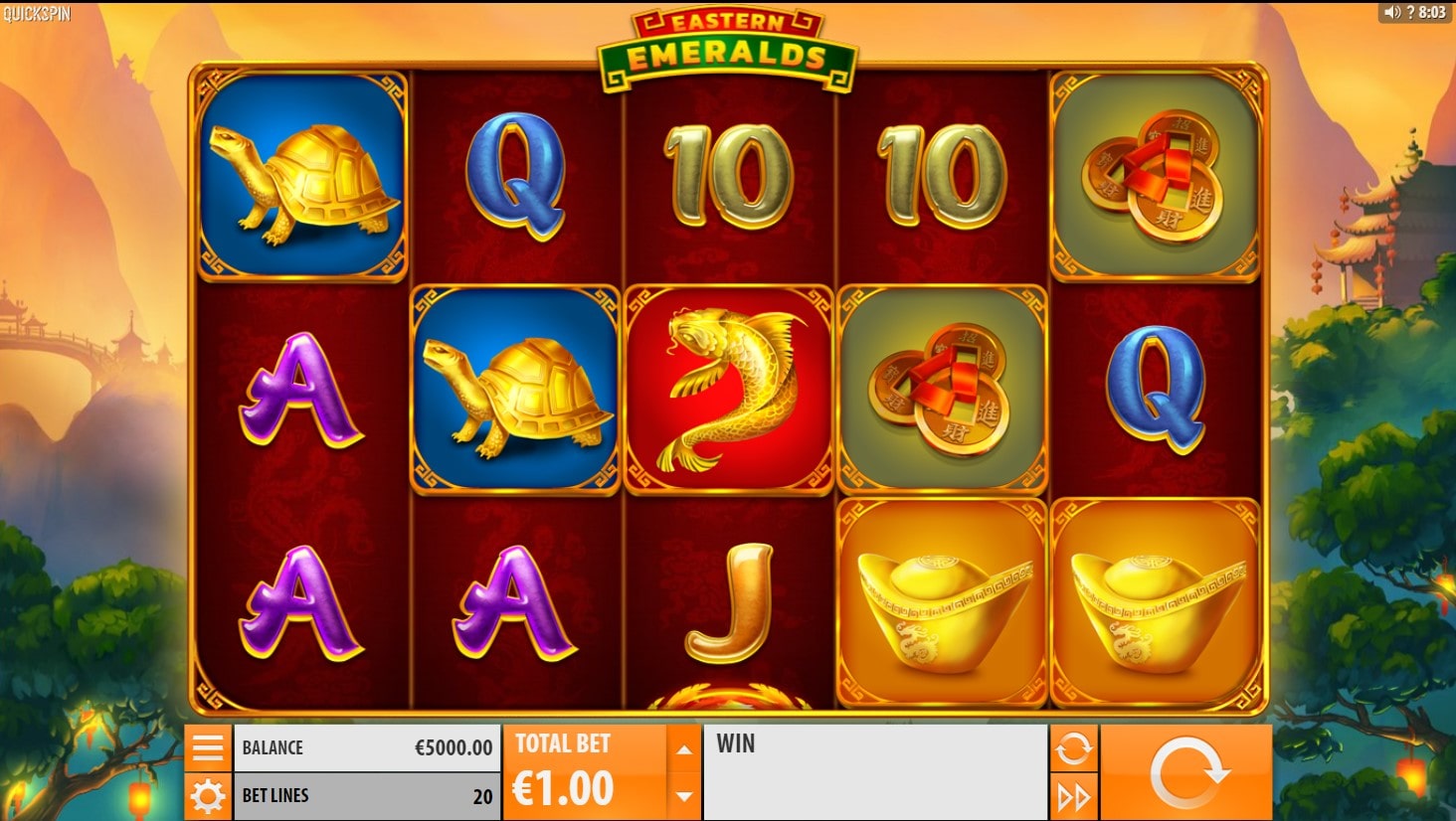 Launched in 2018, Eastern Emeralds is a modern video slot developed by Quickspin. It explores many symbols that are synonymous with Chinese culture including dragons, koi fish, gold coins and more. In addition to some beautiful graphics, the game is mainly known for its features.
One of the standout features of the game is activated when you land three or more Phoenix scatter symbols on the reels, triggering the Destiny bonus. From here, you will be asked to pick one of four options each rewarding a number of free spins and a maximum multiplier that can be awarded.
What we particularly like about the game, though, is how even in the base game, you're still able to get multipliers of up to 8x your spin value with wild symbols.
888 Dragons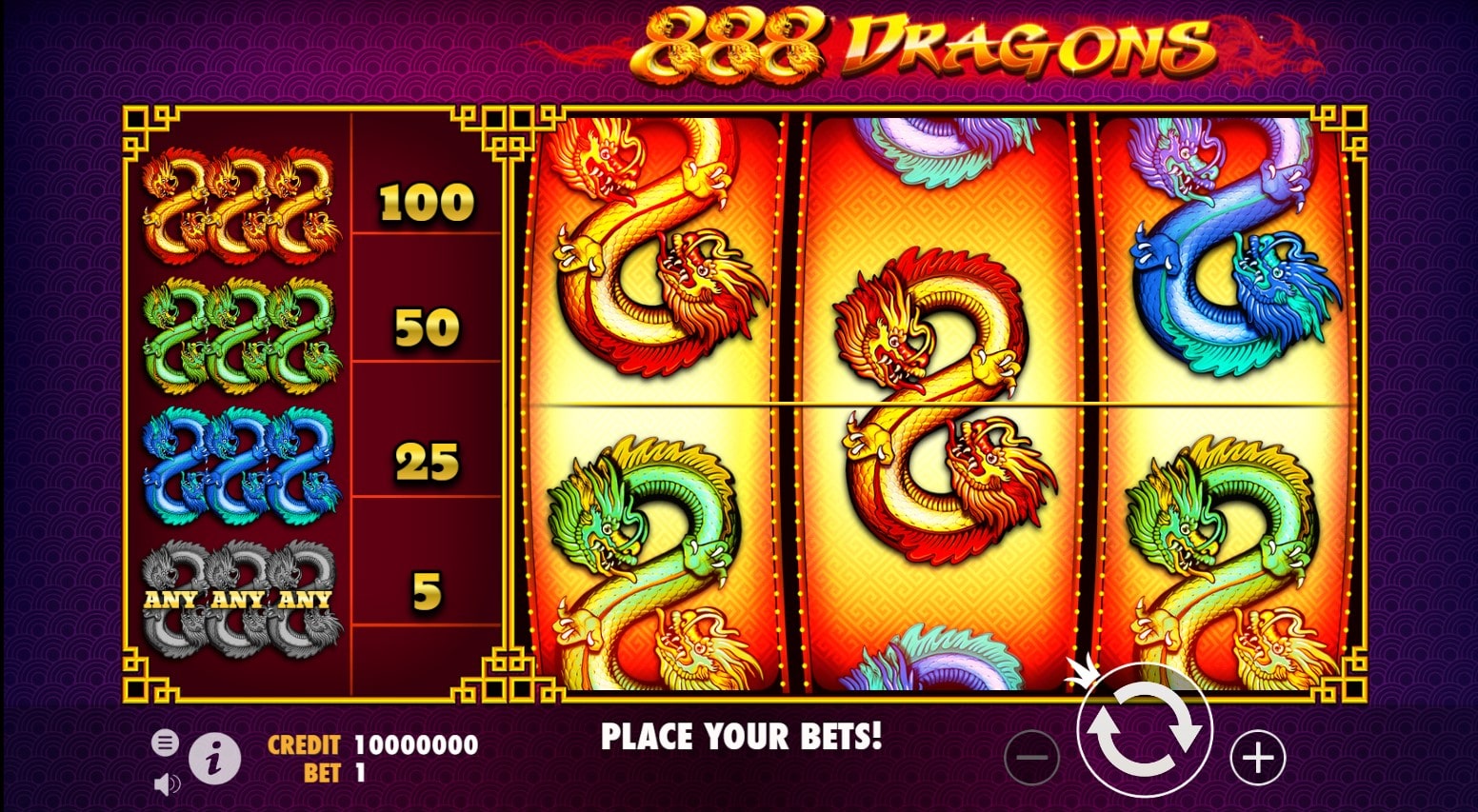 From slot provider Pragmatic Play comes a classic three-reel slot game with just a single win line, 888 Dragons. The game features one of China's most famous mythical creatures, the dragon. Except in this game, there are actually three different dragons, the red dragon, the blue dragon, and the green dragon.
Whilst not confirmed by the developer of the game, we like to think that they pay tribute to the Wu, Wei, and Shu kingdoms of Ancient China. What we can confirm, though, is to trigger a win, all you have to do is match any three symbols on the win line, which will trigger a win worth 5x your bet value.
Matching three of the same colored dragons on the win line triggers bigger wins, with 25x your bet for blue dragons, 50x your bet for green dragons, and 100x for red dragons. There are no other features to this game, which means that it's the perfect option for a beginner looking for simple gameplay.
Fire 88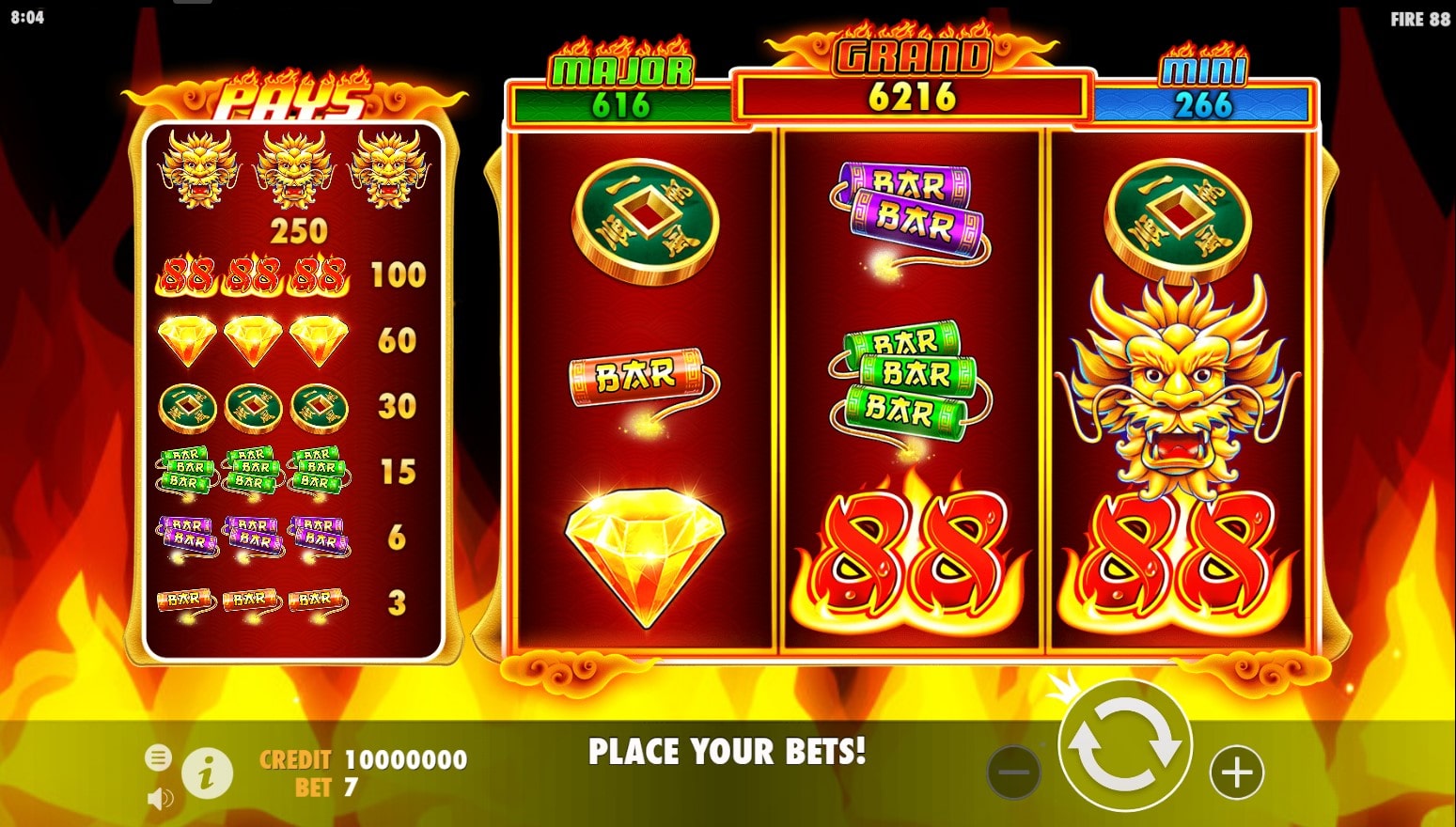 It's time to heat things up in our next Chinese-themed slot game, Fire 88. Another classic three-reel slot from Pragmatic Play, this themed game offers sever pay lines to trigger wins along, and features more dragons that burst to life with the game's animated graphics.
A highlight of Fire 88 is that when two wild symbols land anywhere on the reels, it triggers a free spin. And the possibility is there for more wilds to land afterward so that you can get multiple free spins in a row.
However, what really got our temperature rising with this game is that it has an in-game jackpot, or multiple to be precise. To have a chance of playing for these, you must land three 88 symbols on the reels, then if you match the correct jackpot coins in the bonus game, you can win up to 888x your spin.
Lucky Dragons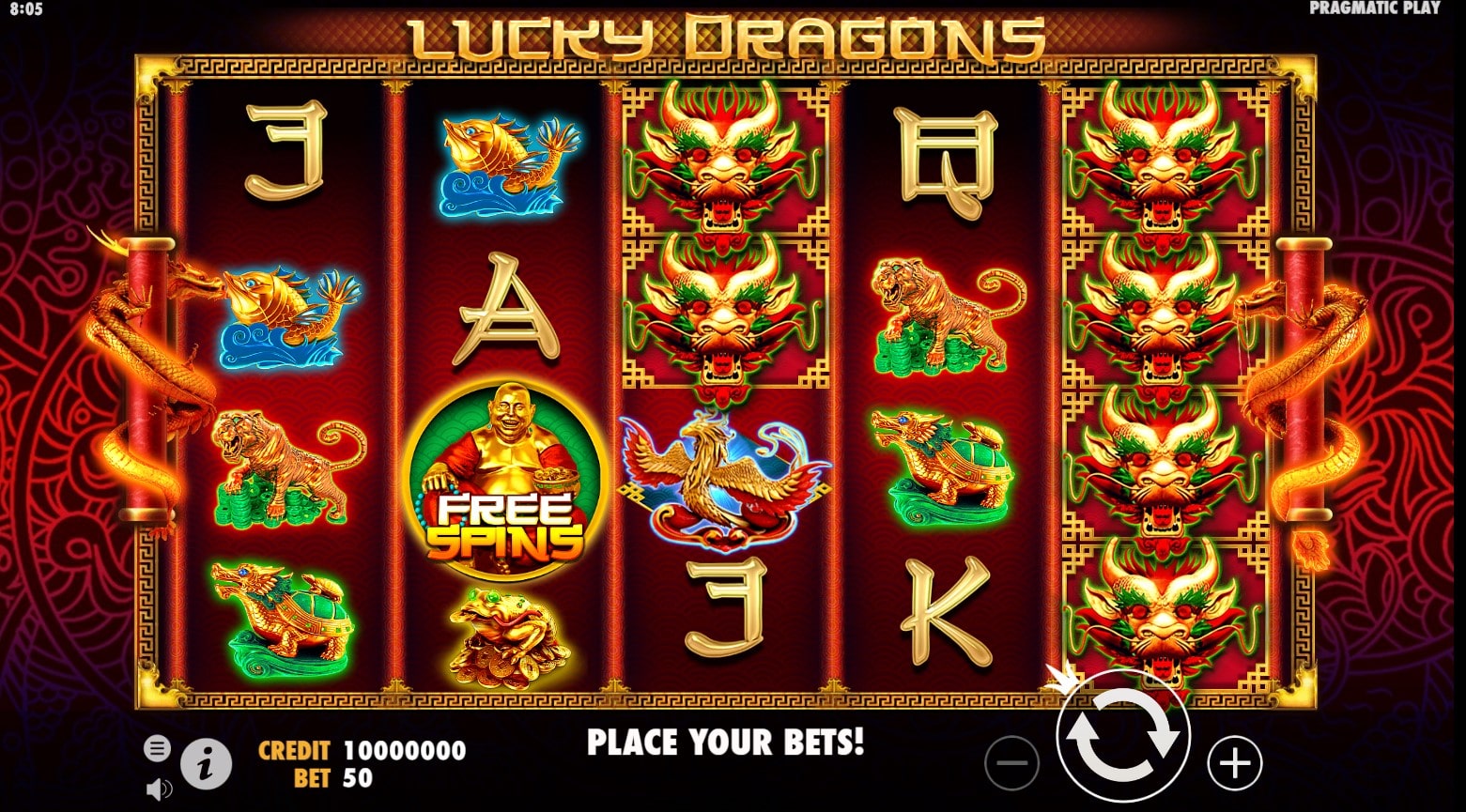 Luck is ingrained throughout Chinese culture whether that be based on specific colors, numbers, or even symbols. This next slot, another from Pragmatic Play, works hard to include odes to Chinese luck through its symbols.
The Lucky Dragons slot, which has five reels and 50 pay lines plays heavily on the theme of luck, featuring both lucky dragons and red envelopes. The latter is particularly significant as these are traditional gifts that wish the recipient good luck and fortune in the new year ahead.
The key feature in this game is a free spins round triggered by collecting scatter symbols on the reels. However, the best part is that you can keep retriggering more during the round to keep the fun going. If that wasn't enough of a reason, there is a maximum win of up to 40,000x your spin value.
Fortunes of Fu Lu Shou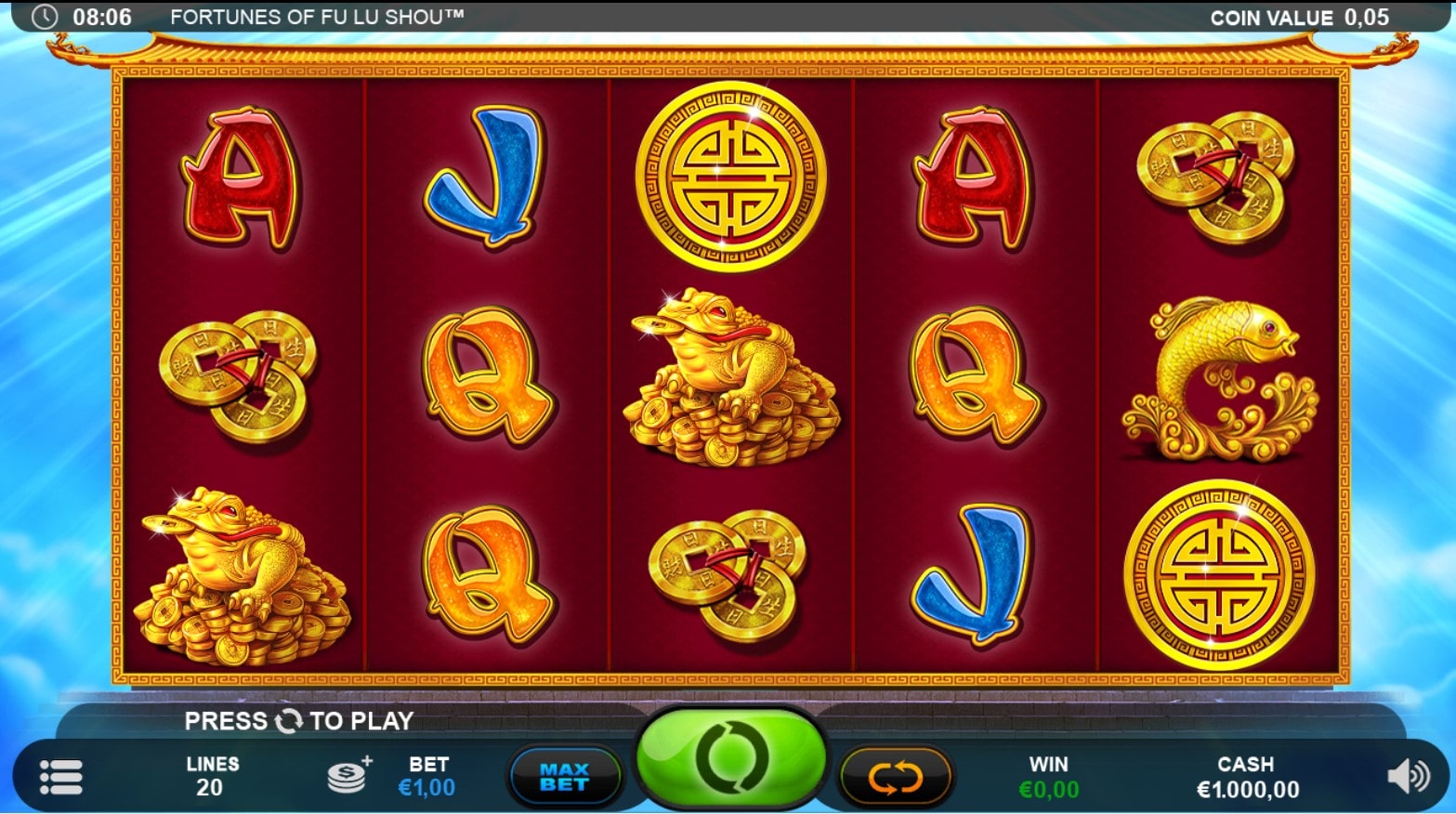 One thing we've not had in our list of slots yet is a game based on any kind of deities and gods, but that changes with Plank Gaming's Fortunes of Fu Lu Shou. Based on the Chinese gods of fortune, prosperity, and longevity, this slot features 25 pay lines across its five reels.
What separates this game from many of the others on the list besides the story behind it, is the fact that if any of the gods appear on the reels, they can help you build winning combinations by acting as wilds. But, they can also trigger a respins round if three land at once, offering an extra bonus.
That's not all either, because you can also lock a free spins bonus round too when you land three or more dragon symbols that offer up to 25 free spins.
Panda Fortune 2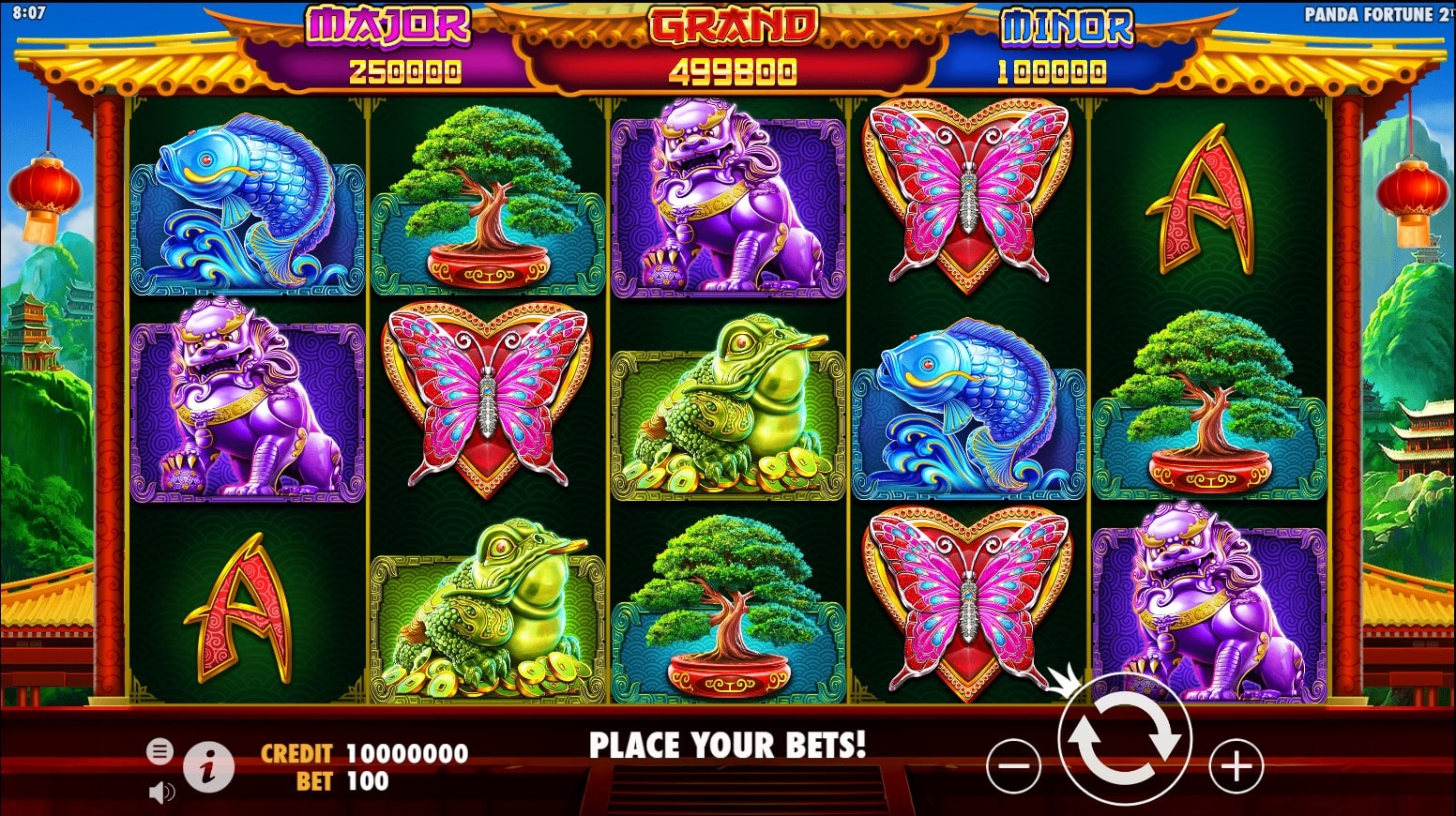 This slot is definitely not just a flash in the pan(da). Pragmatic Play's Panda Fortune 2 is a beautifully designed slot with detailed artwork that celebrates the famous Asian bear that spends most of its time eating bamboo in the forests.
The base game takes place on a five-reel grid with 25 pay lines that can become adorned with symbols of pandas, in addition to other traditional Chinese cultural symbols. If you land three of the game's scatter symbols on the reels, you can trigger 12 respins which can be retriggered time and again.
A unique feature of this game is how each of the standard paying symbols has two forms. The standard variation, and one that is enriched by the Panda's Fortune transforming them into gold variants that can award up to 4,998x your spin value.
Three Star Fortune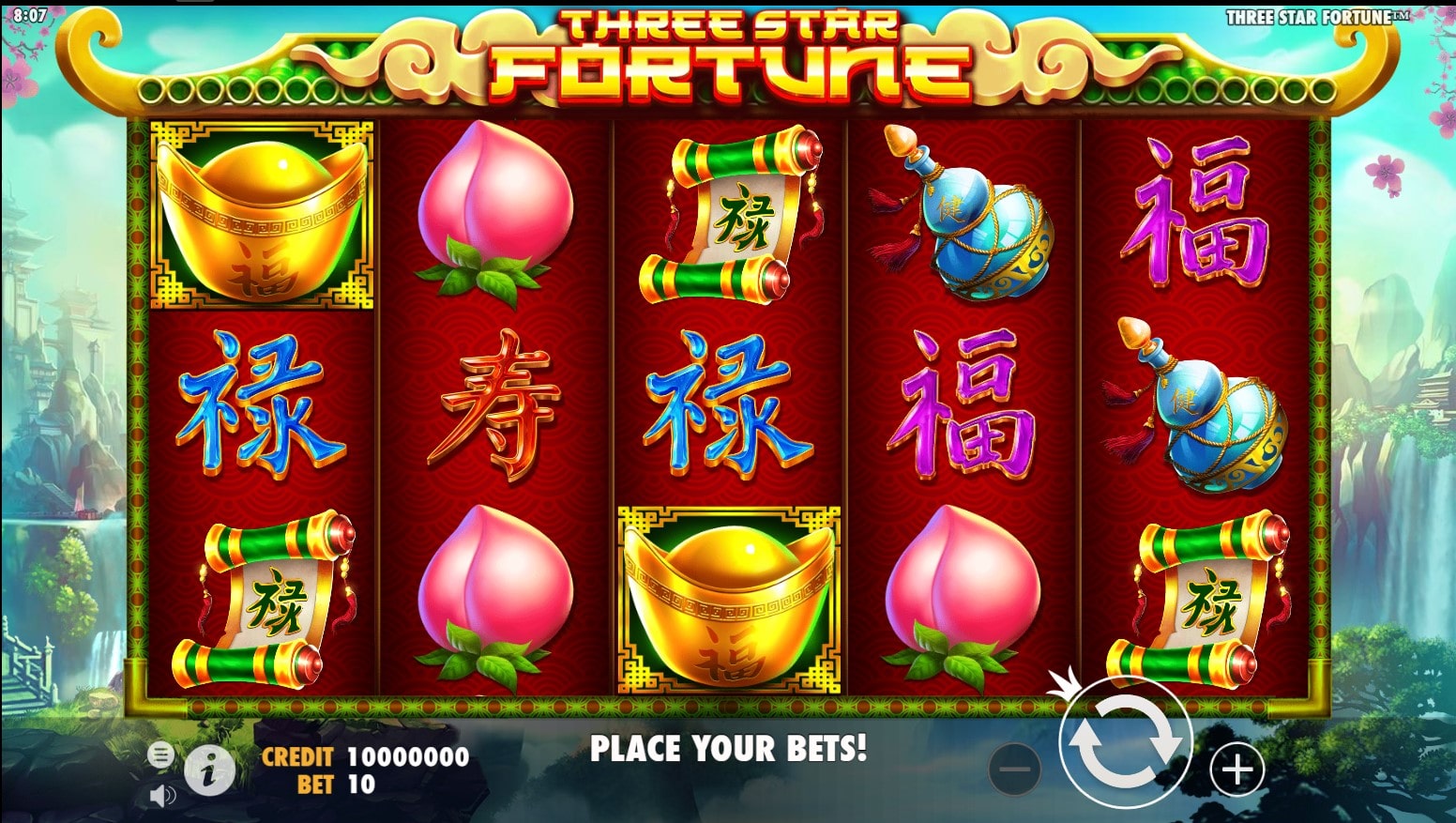 The third game in our list with 'fortune' in its name and we've still not seen any cookies. Sadly, that doesn't change here but what we do have is an excellent Chinese-themed slot called Three Star Fortune from Pragmatic Play, which features five reels and 10 pay lines that pay both ways.
The three stars are not actual stars though, it's the Chinese gods of fortune, prosperity, and longevity, that we met earlier on. And in this game, they act as wilds on reels two through four. If one lands, it sticks and triggers a respin. If another wild follows that, the fun continues.
Lucky New Year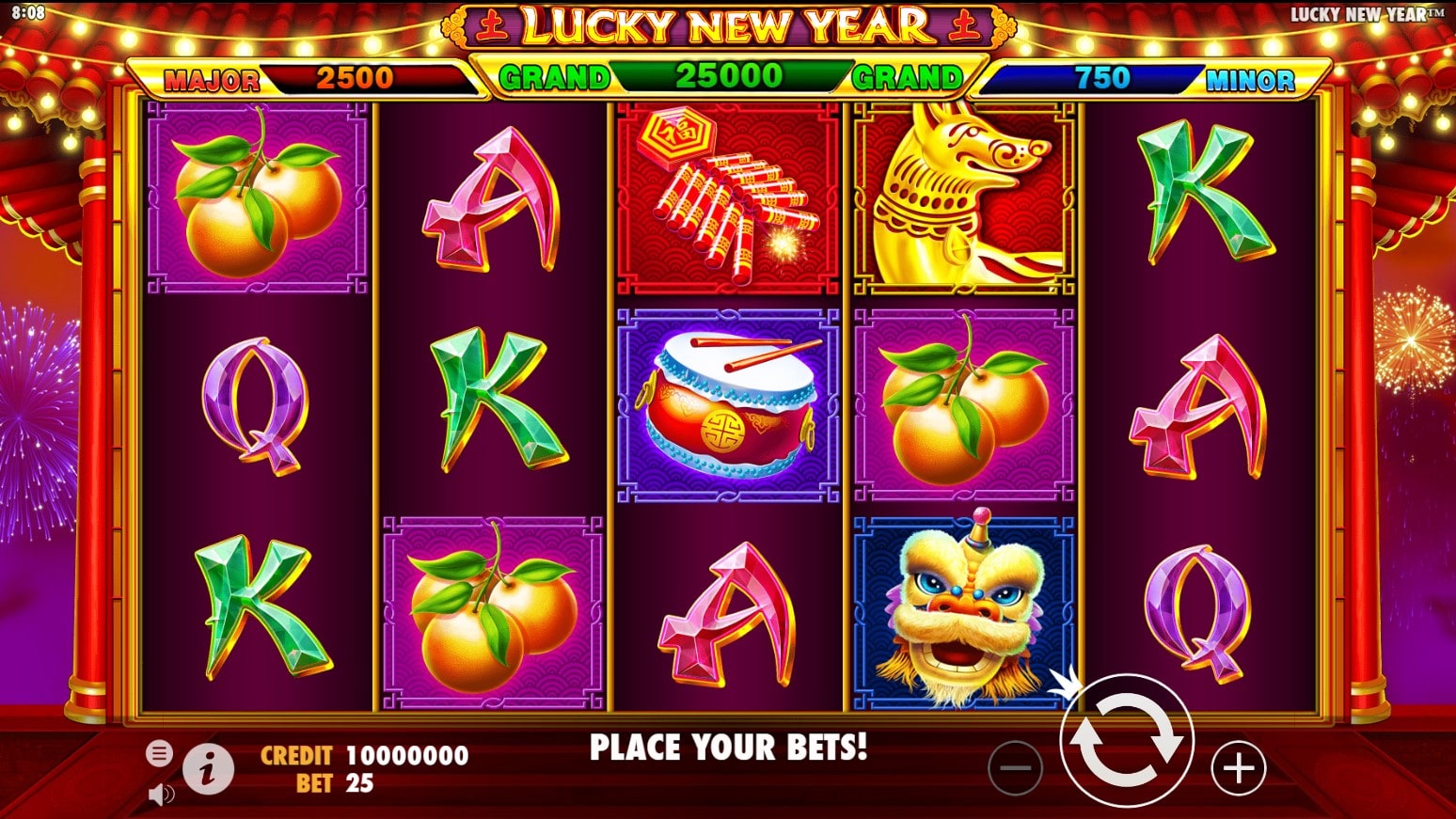 Another slot from Pragmatic Play, and another slot based on the lunar calendar. However, the Lucky New Year slot focuses on the dog zodiac instead of featuring all 12 animals. And the dog aims to bring good luck and fortune by acting as a wild across the game's five reels and 25 win lines.
Chinese lanterns also appear on the reels with cash values on them, and when six or more land, the money respin feature begins. A new grid pops up with your lanterns in place, and you're awarded three respins. If a new lantern appears the spins reset until the grid is full or you receive no more lanterns.
A scatter symbol can also appear on the reels, triggering five free spins on special reels where larger symbols fill the middle three. If more of these scatter symbols appear in this time, you are awarded three more spins, with no limit to the amount you get.
Wacky Panda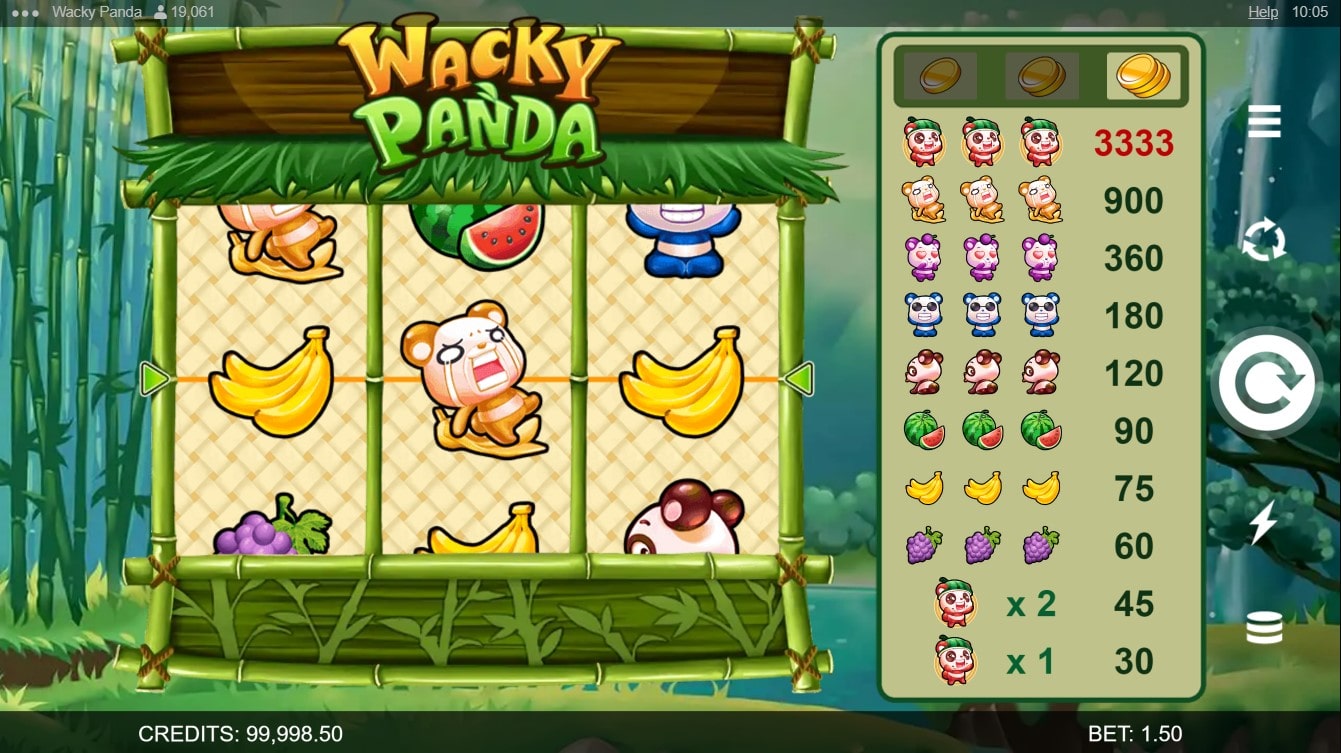 The pandas are back to play in the final slot on our list, Wacky Panda from Microgaming. Far less detailed and artsy than Panda Fortune 2, the game's cartoon style provides a bright and cheery quality to its gameplay.
This three-reel slot with a single pay line shares similarities to 888 Dragons in that it sticks to simple gameplay - you won't find yourself distracted by big flashy features. There is, however, the option to land a scatter symbol (a melon hat-adorning panda) and potentially win some additional coins.
That's it from us! We've seen a range of slots from acclaimed providers all celebrating Chinese culture in varying ways, from ancient gods to lucky symbols, and all with their own unique features. We hope you've enjoyed this comprehensive list and hope you try these titles out sometime, right here at LeoVegas.
Check out various slots in our lists: