Irish Slots at LeoVegas
It isn't hard to see why Irish slots are so charming and the Shamrock Shake is so delicious. While these wee gems really hit a high during St. Paddy's Day celebrations, they have enough charm and winning potential to remain top choice all year long.
Reels adorned with symbols of luck are always welcomed by gamblers. But is the 'luck of the Irish' really a thing? The Irish are known to be quite a resilient bunch and after years of prosperity in the 19th century gold and silver rushes, they became associated with good fortune - hence 'luck of the Irish'. Of course,there's a flip side to that story, whereby the Irish weren't very lucky at all.
Remember the potato famine? There was a time when 'luck of the Irish' meant quite the opposite! We're sticking with luck though, as we're all gamblers here and can make use of any lucky symbolism we can get our hands on.
The contagiousness of Irish slots in LeoVegas Casino is apparent in their popularity. Top gaming producers like Micrograming, Play'n GO and Blueprint have created lucky slots based on Irish themes of finding pots of gold under the rainbow, four-leaf clovers, and green Emerald Isle gamescapes.
Whether you're a true believer or not, you'd be hard pressed to not find joy and entertainment in reels laced with little Leprechauns. We bet you'll even come out of an Irish slot spin session doing a jig of your own! So without further ado, let's see what our clover lickin' Irish slots have to offer you in honour of Saint Paddy.
Best Irish Slots at LeoVegas
Irish Frenzy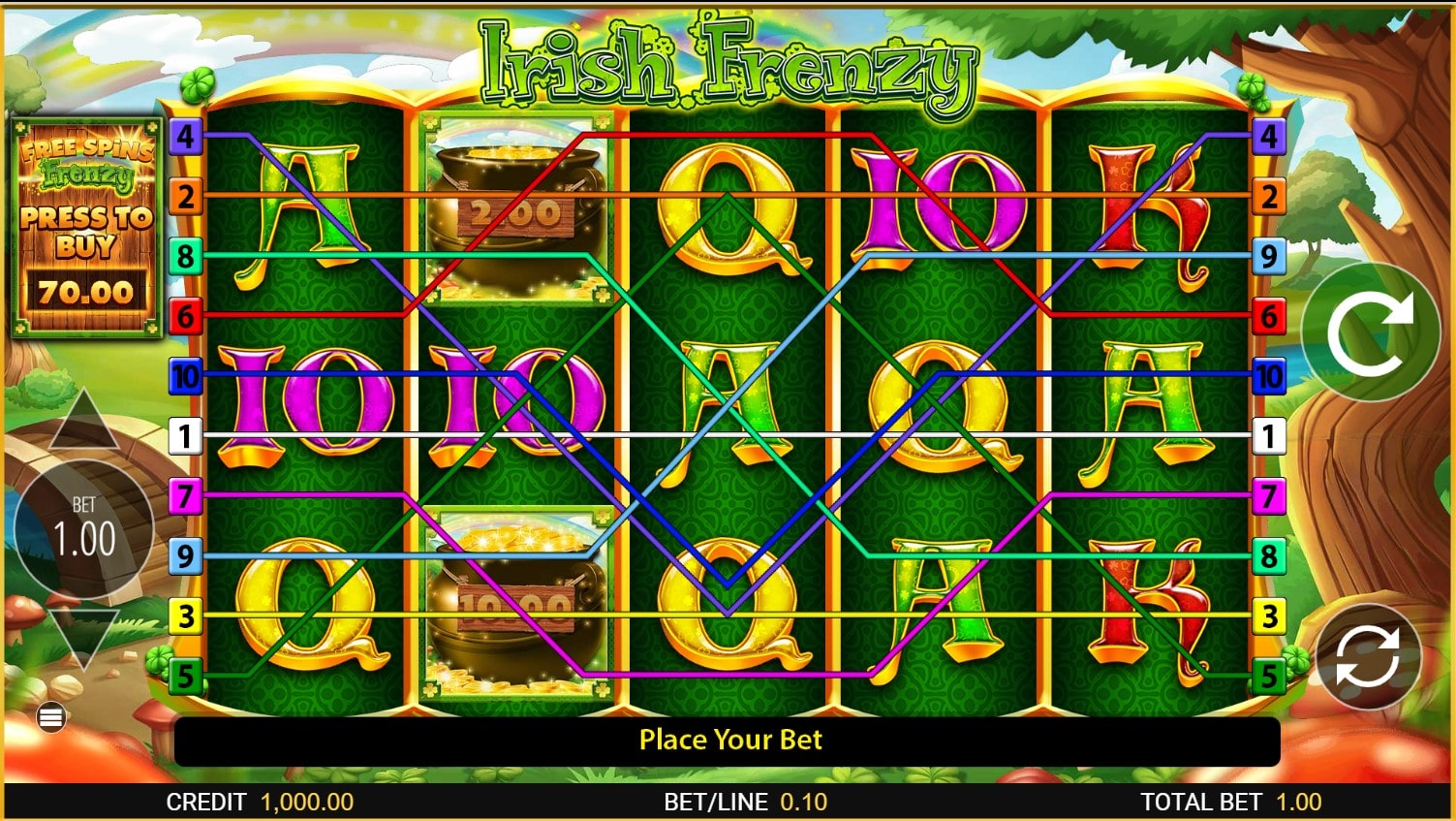 When you first launch into Reel Time Gaming's Irish Frenzy, you're greeted by everything you'd expect to see in a mystical approach to the Emerald Isle. Mainly, a ginger bearded Leprechaun hopping around lucky four-leaf clovers.
Rainbows, pots of gold, and a cheeky wee fellow run the reels with a squeaky voiceover that really sells the scene! But, it doesn't end with pretty scapes and promising golden symbols.
These pots of gold are indeed the end of the rainbow worthy, offering wins of up to x5,000 your bet. Perhaps the real kicker is the rhythmic jiggin' soundtrack that kicks into high gear only when a worthy win is won!
To land a lucky win in Irish Frenzy, you've got to match a minimum of two symbols on the reels. Harps, pints of beer, Smurf-like mushrooms, and of course, pots of gold are what you're looking for. Hitting at least three rainbow pots, the game's Scatter, will trigger up to 20 Free Spins with extra winning potential.
Irish Riches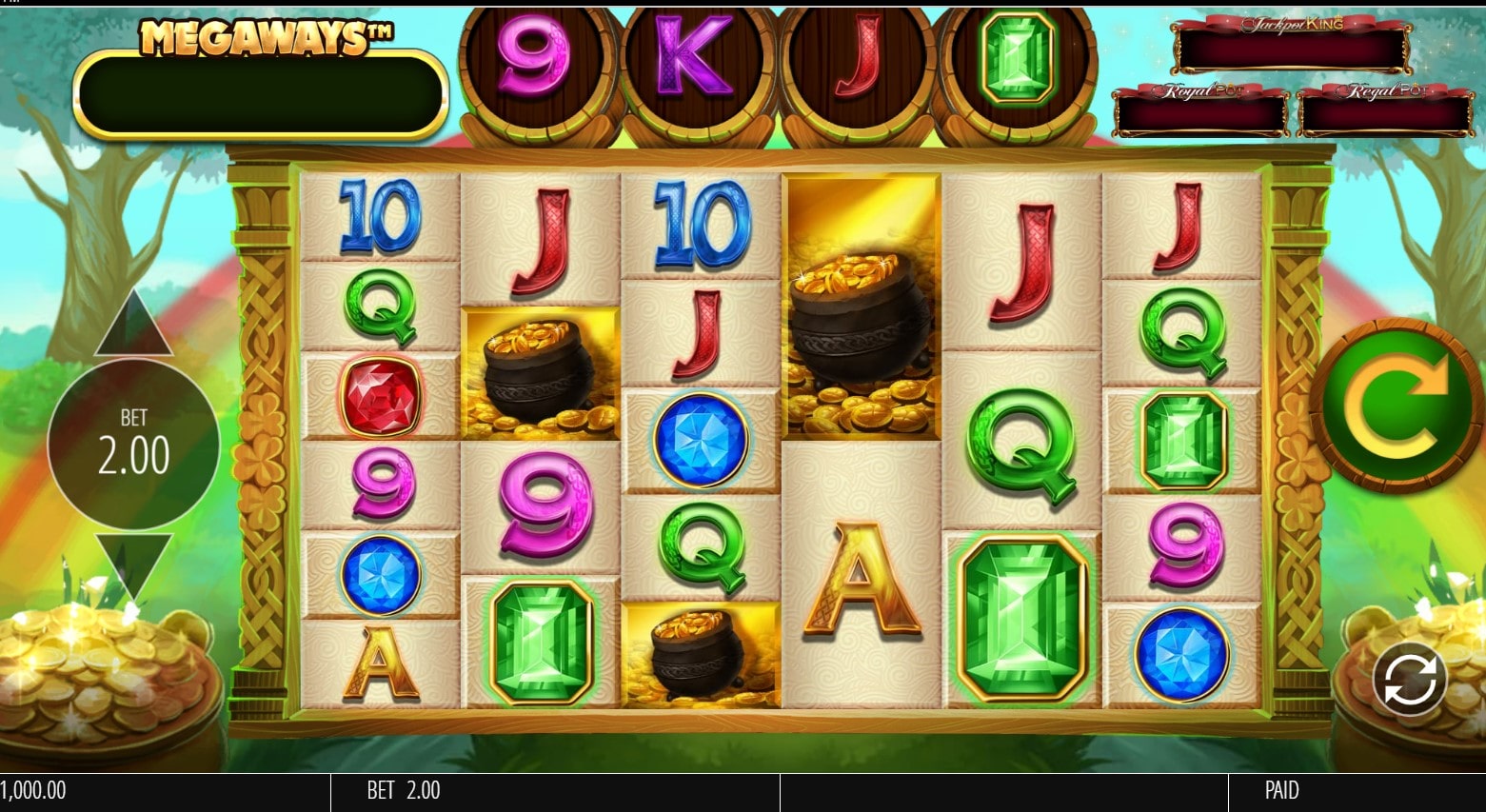 Now, Irish Riches biggest featured payout - x50,000 the bet - may very well be the end of the rainbow! But as they say, the journey is often better than the destination. With 117,649 Megaways to win, this rings true in the form of Free Spins and a lucky 3-leaf clover of jackpots!
Blueprint has designed this Irish slot with everything under the rainbow, but it initially launches with an introduction to Jackpot King. This may be the real pot of gold, as it makes the player privy to three jackpots with the highest often reaching a multi-million dollar cash prize.
A Jackpot King spin can be triggered randomly at any point in the base game, activating a Wheel King bonus round for multipliers and jackpot releases! In the base game, landing 3 Diamonds on the reels could grant you up to 12 Free Spins, with every 4th offering +5 and cascading multipliers.
Immerse yourself in this one and enjoy the Irish soundtrack along the way.
Irish Gold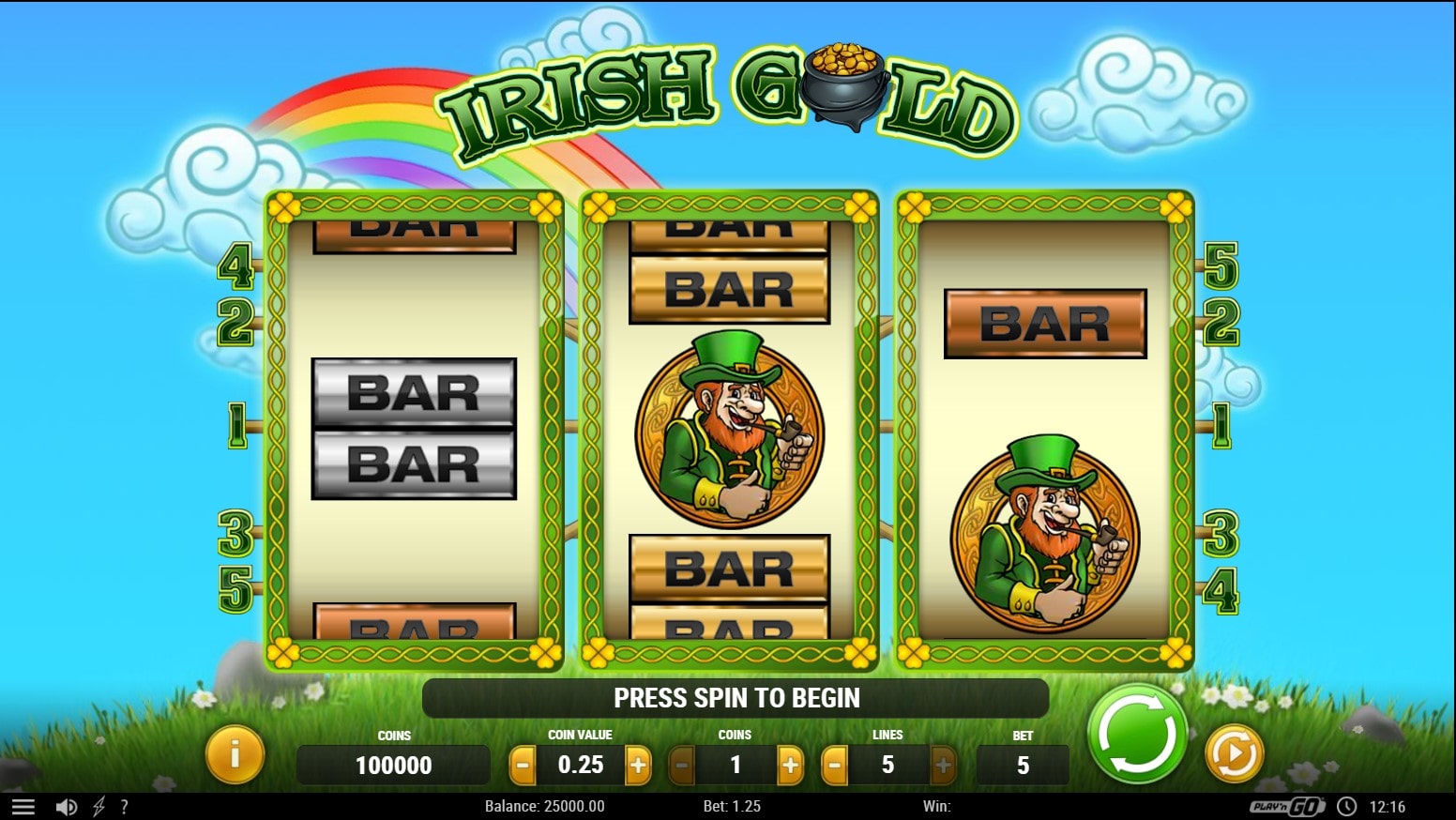 Play'n GO pours a piece of the Irish action with Irish Gold. As the name suggests, this Irish slot is a quest and hunt for that pesky Leprechaun's hidden pot of gold. Played on a pretty basic 3x5 classic reel, the graphics are sharp, crisp, and cartoony.
These nostalgic BAR, pot of gold and clover symbols adorning the reels make for a very simple play and presentation. Landing one pot of gold, the Wild, can boost a win by up to x5, while landing two features a x25 multiplier. If you enjoy an easy, classic play, this one's for you!
Luck O'the Irish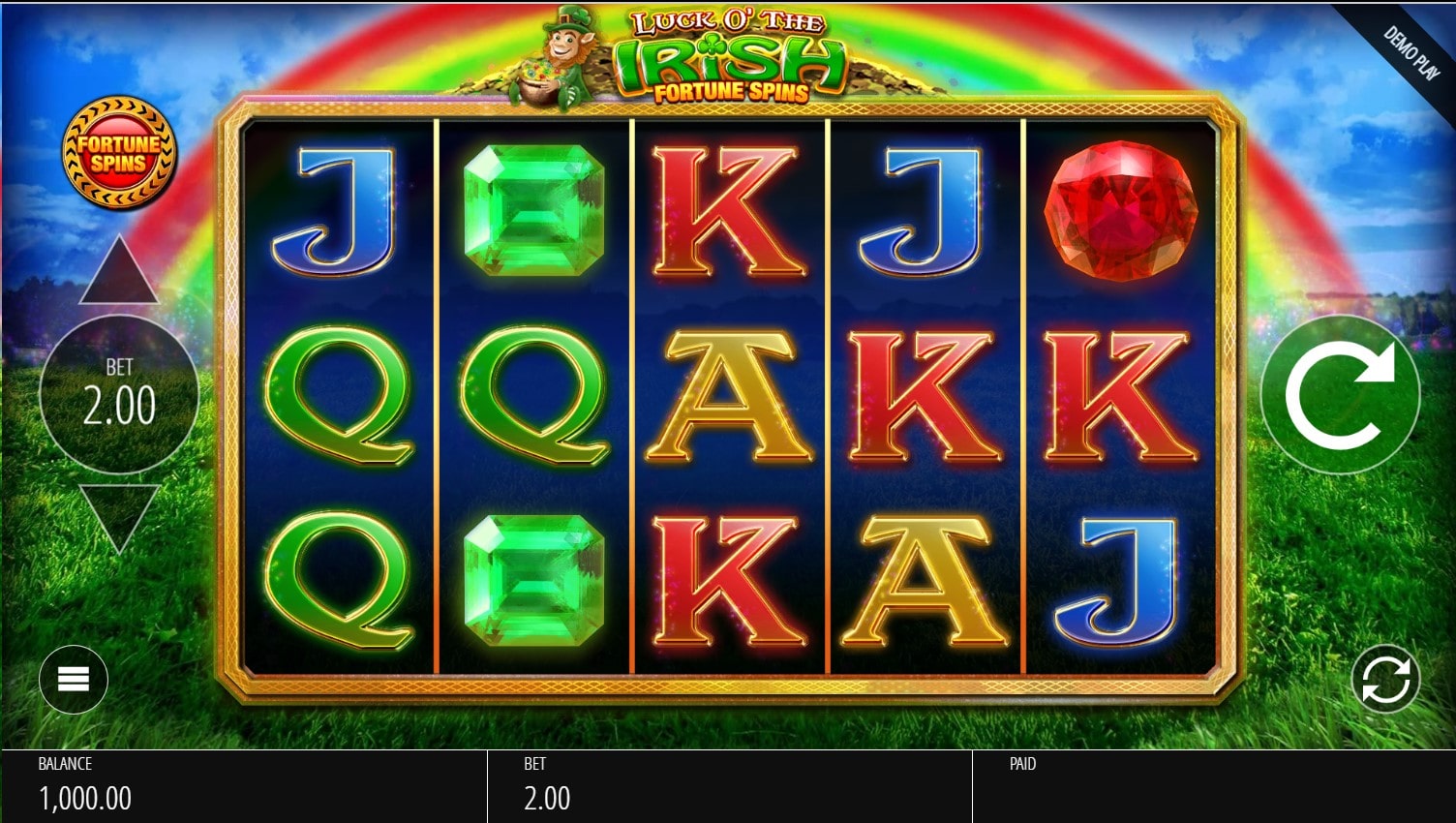 Starting the reels of Blueprint Gaming's Luck O'the Irish will immediately transport you into a mythical world of Leprechauns and the hunt for their hidden pots of gold. Smurf-like mushrooms adorn the reels under a bright rainbow but it's really the soundtrack that may get an Oscar nomination for this Irish slot!
Embark on a magical journey featuring o'so soothing harps as the reels gently spin in a crisp Irish wind. In this game, you're on the hunt to land wins of up to x500 your bet matching five pots of gold. But don't get too relaxed by the soundtrack, there's a lot at stake.
The main bonus feature, Luck of the Irish, can launch you into bigger winning potential and Fortune Spins, which makes the main reel multiple into a four game matrix, offering maximum winning potential that could land you $250,000.
Leprechaun Goes Wild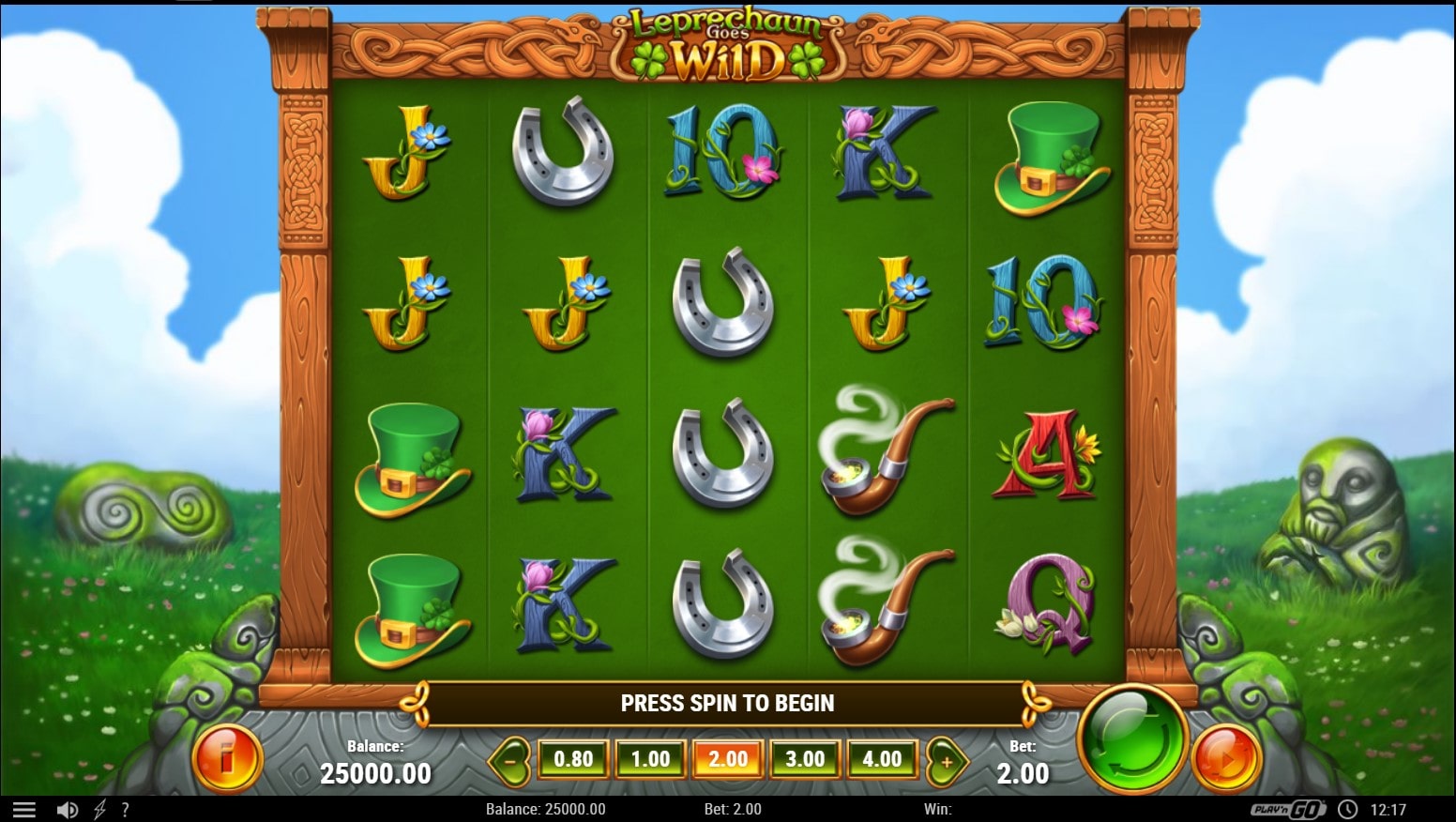 This Irish slot plays on the devious nature of its key character, the mischievous Leprechaun. Play'n GO has named this storyline appropriately and the game plays upon all the troubles this little feller gets into on the reels. Leprechaun Goes Wild](https://www.leovegas.com/en-ca/game/leprechaun-goes-wild) is an incredibly joyful play filled with mystical whimsy.
Be on the hunt for its main feature, the Luck of the Irish, during which the music picks up a notch and 5 Extra Wilds are added to the reels or an additional Scatter to trigger Free Spins. During the Free Spins bonus round, all clovers stick for extra winning potential.
This little devil is up to no good but you can circumvent his Irish charm by landing Scatters and triggering Free Spins and Stickys over classic 3x5 reels and 20 playful playlines. It's these Irish mixes that can serve you wins of up to x10,000 your stake!
All of your staple symbols are on the reels with a more magical and storybook touch than other games in this genre. Overall, an inviting and captivating play.
Leprechaun Hills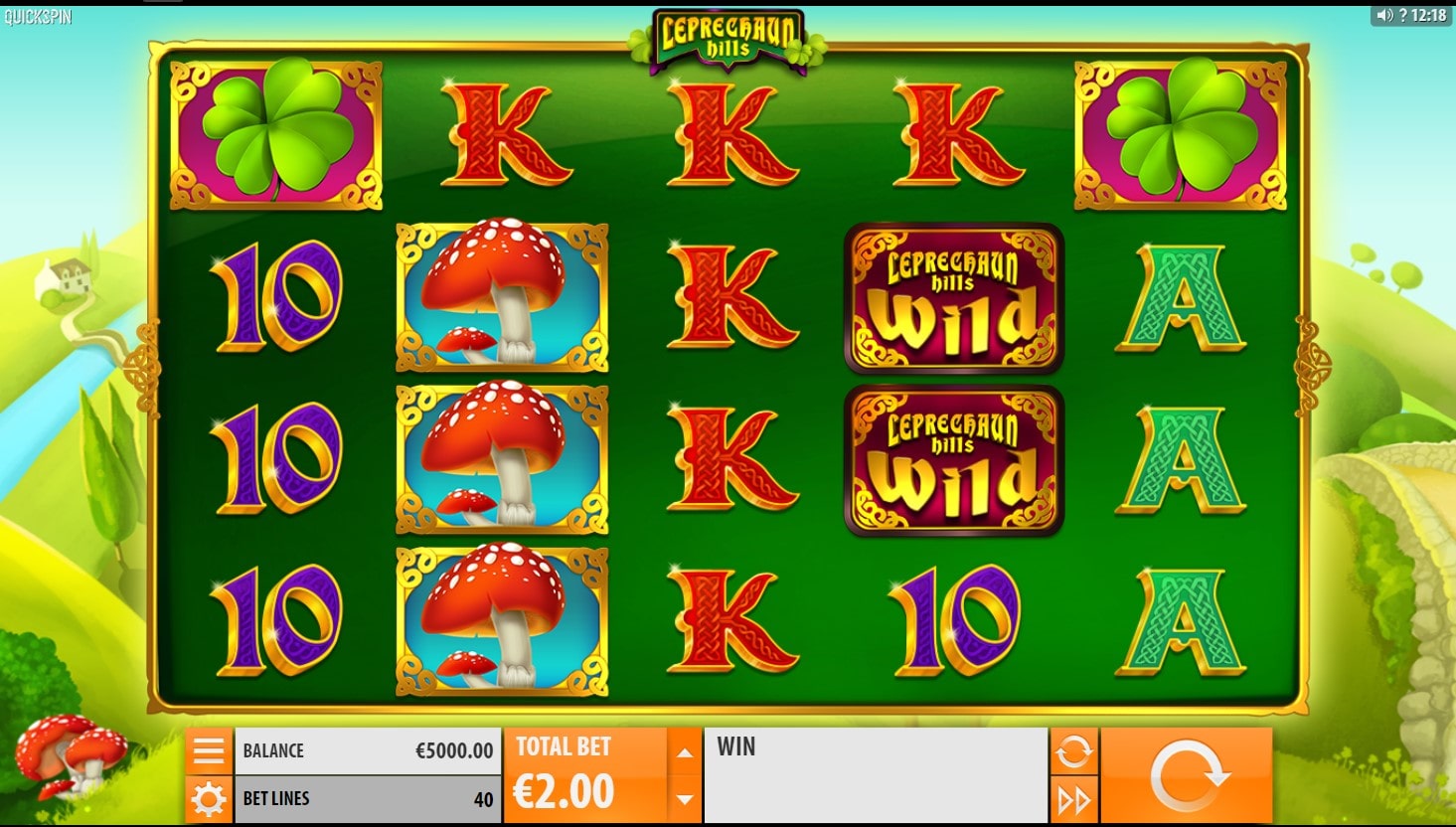 Not quite 90210 Beverly Hills, Leprechaun Hills does have something in common - it's fully stacked! Stacked full of Lucky Respins, Rainbow Bonuses and a ginger faced Leprechaun that's featured on a backdrop of a 5x4 gaming grid with 15 paylines.
You'll be serenaded by relaxing harps and fiddling, just like you're reeling away your worries in an Irish pub. But instead of a breakfast fry up, you're privy to a x50 payday! Let's talk about features. Landing three Bonus symbols launches seven Rainbow Free Spins.
These spins have the potential to feature Mystery symbols, which are notably medium paying ones. Lucky Respins is triggered when a stack of medium symbols hits the paylines. It's a lot of Irish symbolism and a lot of good, clean Irish entertainment.
Leprechaun's Vault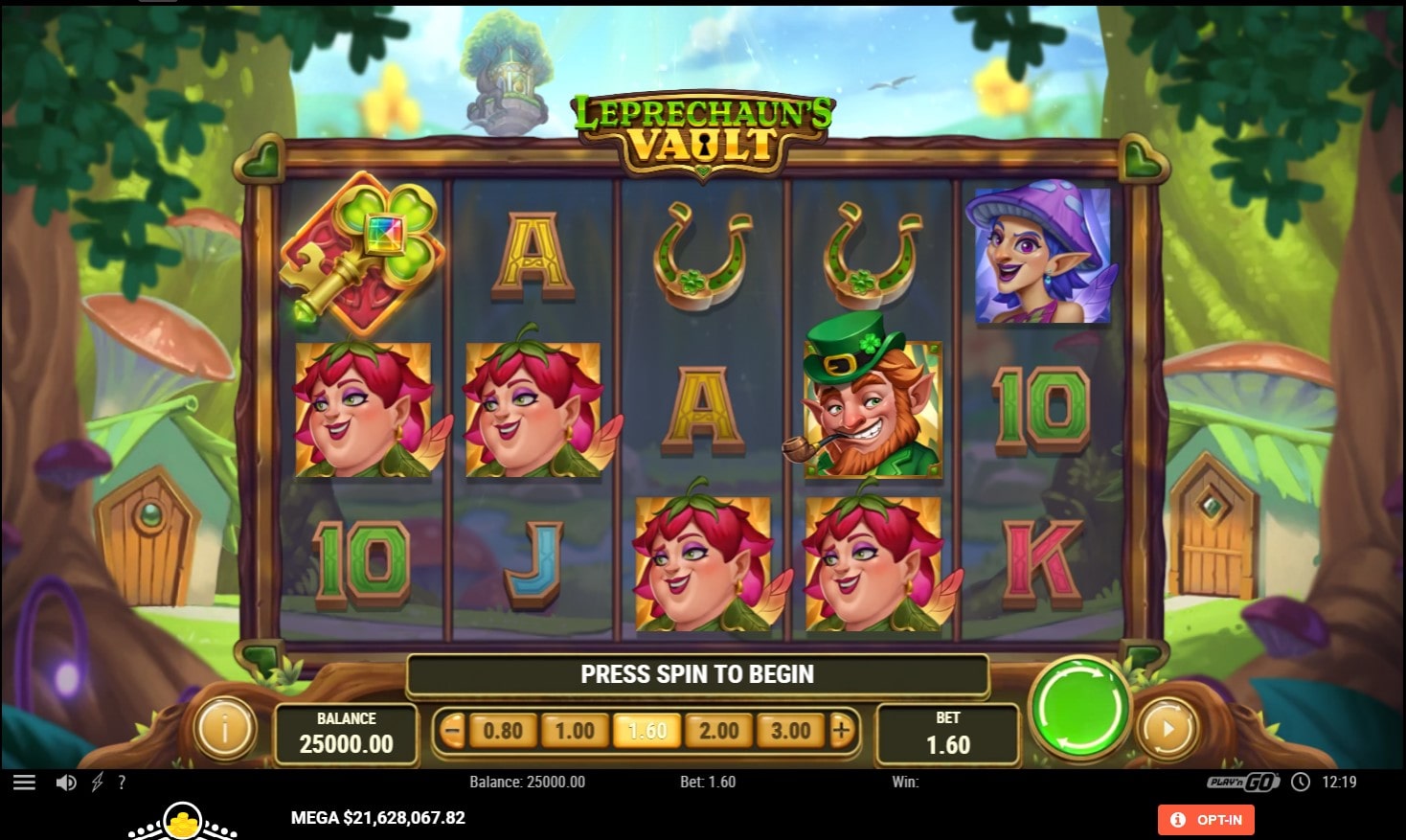 The introduction to Play'n GO's Leprechaun's Vault Irish slot game says it all 'Your fortune awaits inside the Leprechaun's Vault'. Once you're in, this Irish slot begins much like a storybook fable, with a wee Leprechaun dancing across the screen chasing a golden key! This sets the scene for the array of fairy-like characters on the reels, a shimmering Scatter key and lucky charmed symbols.
Landing three Scatter keys will activate Treasure Free Spins - and this is where the vault comes into play. A golden vault is presented front and centre with a combination code. The code number shown reflects how many Free Spins you've been awarded. This can reach a max of 24 and Free Spins are adorned with Sticky Wilds and up to x4 multipliers for bigger paydays. In fact, within this Irish slot, the maximum win is a whopping x9,000 your bet!
Leprechaun Links
Leprechaun Links Microgaming teamed up with Slingshot for this graphically intense and stunning Irish slot. Leprechaun Links leaves no detail untouched and presents its storyline in movie-esque HD quality, unparalleled on Irish slots. Perhaps the most noteworthy point about playing this Irish gig is the 500,000 main prize.
Let's talk about the exhilarating features on this gem. Power Stacks(™) super stacks symbols on all reels while the Link & Win(™) feature can be triggered by six or more coins. These coin symbols come in five levels and can secure up to x2,500 in the base game and x5,000 your stake during a Free Spins round where all wins are doubled. There's just a whole lot of winning potential across these 40 paylines so you best be chiming in to this charmer.
Lucky Leprechaun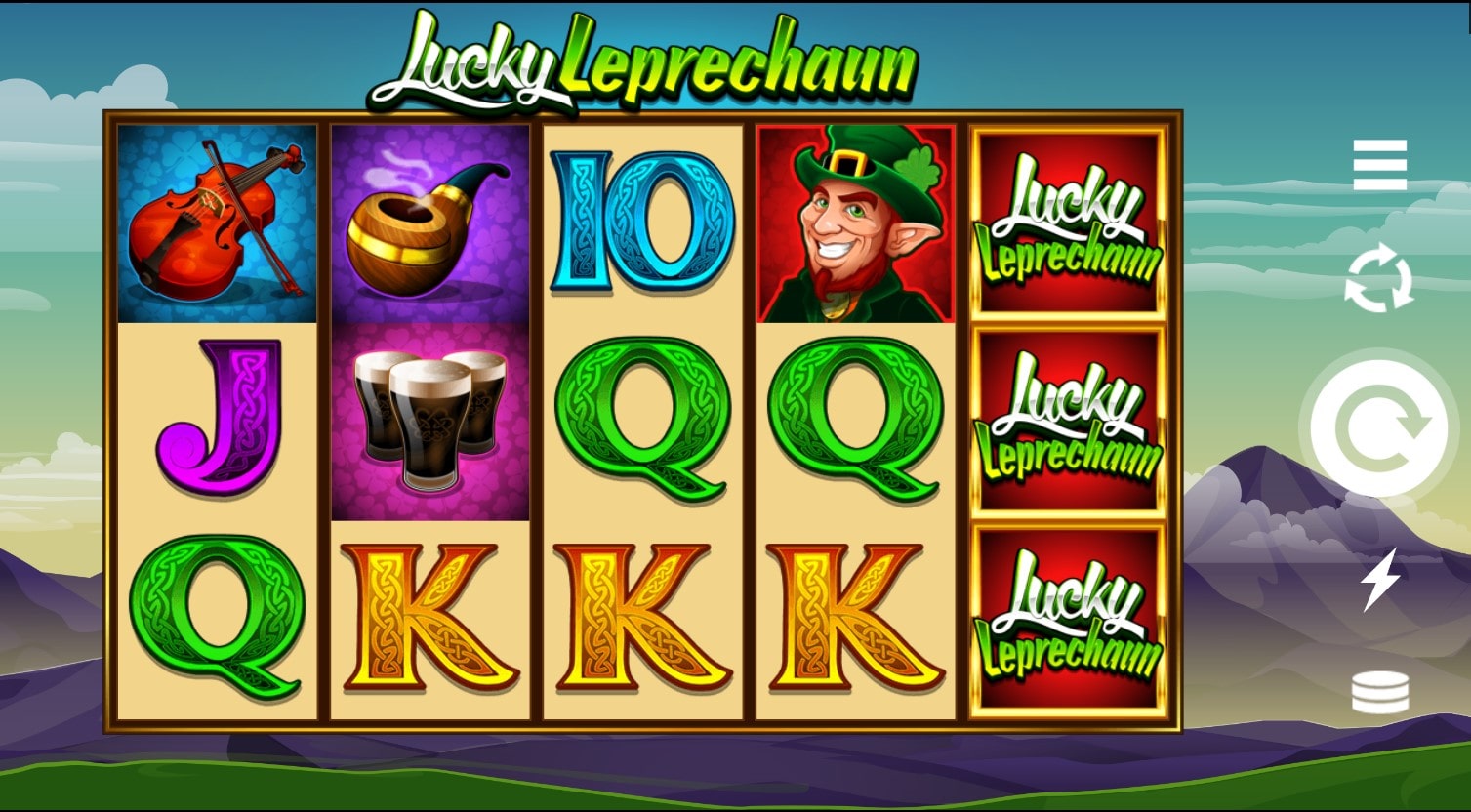 Growing weary of the wee Leprechaun starring in every Irish slot? Don't be. Each seems to have its own personality and role. Let's look at Microgaming's Lucky Leprechaun Irish slot.
Land three Scatters in this game to launch Freaky Free Spins. This changes the Leprechaun into a Wild, who can keep the party rolling by changing symbols, adding respins, and triggering extra spins. But, here's where the Leprechaun really shines - the Trail Of Fortune bonus feature. It starts by spinning a wheel that moves you along the trail. As you advance, you'll encounter multipliers, a Rainbow Bridge, and hidden Emeralds that award extra aspins. The very last square will boost your winnings with an overall bonus multiplier.
9 Pots of Gold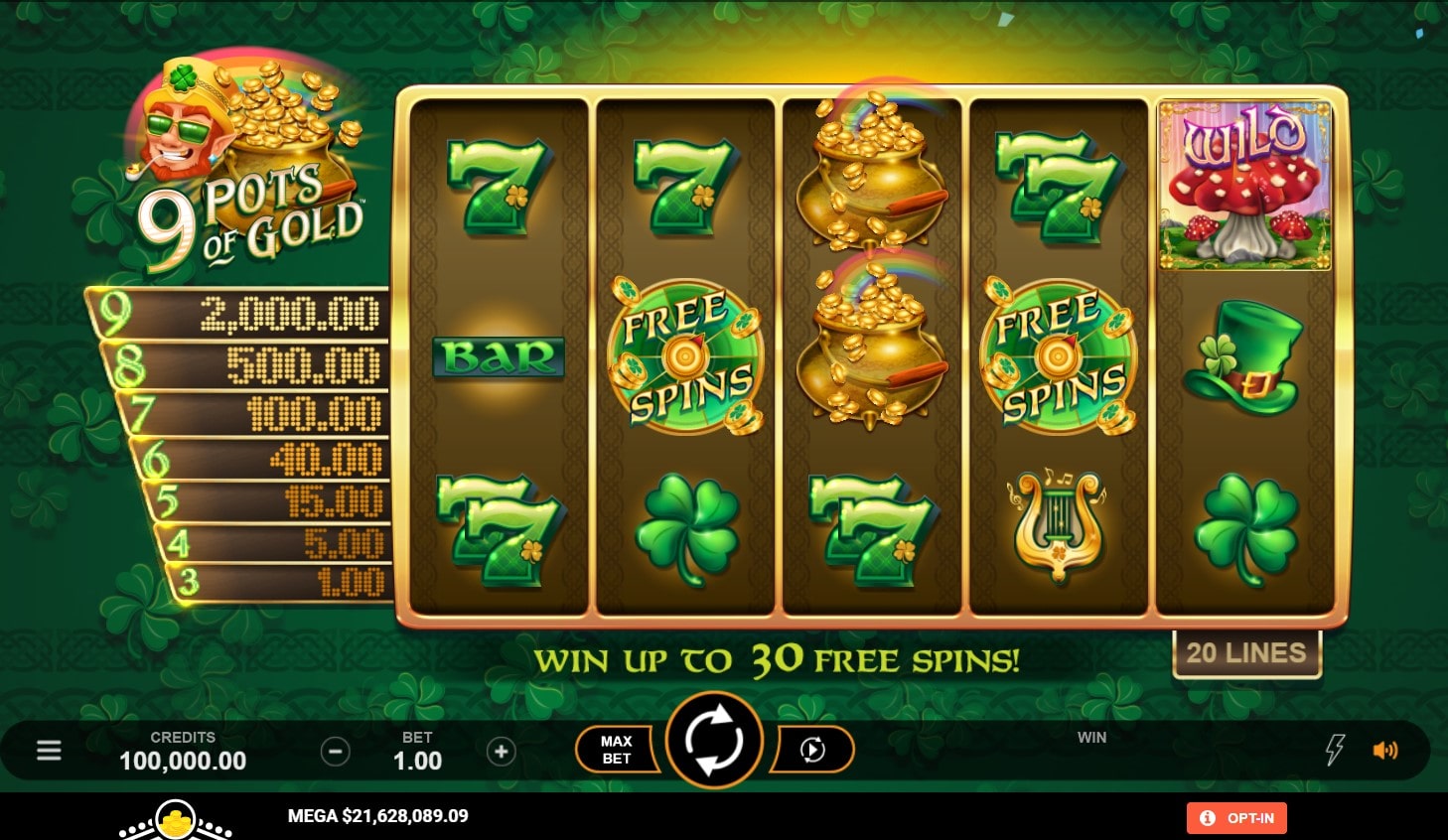 Why settle for one pot of gold when there are nine? Microgaming and Gameburger Studios has upped the ante on rainbow riches in 9 Pots of Gold. And if you've been following along, it's often collaborations like these that really hit top notch creativity! Fill your lungs with crisp Irish air grasping for wins of up to x2,000 your stake, achieved by landing 9 Pot symbols. In fact, you'll see all nine tiers of Pot prizes on the left of the reels in clear view. With 20 paylines and 5 reels, there's a lot going on but it's displayed quite simply with intuitive controls.
Spinners can rejoice as this Irish slot is the first on our list to feature a winning Irish Wheel. Each wedge on the Free Spin Wheel contains both a free spins award and a multiplier that's applied to all wins except for Pot symbol ones. Free Spins can also be retriggered to keep the party flowing. Plus, once a win is under your belt, the Irish soundtrack moves into high gear with a fast-paced jolly soundtrack. If you like reels adorned with luck, from pots of gold to clover sevens, this one's for you.
Fishin Pots of Gold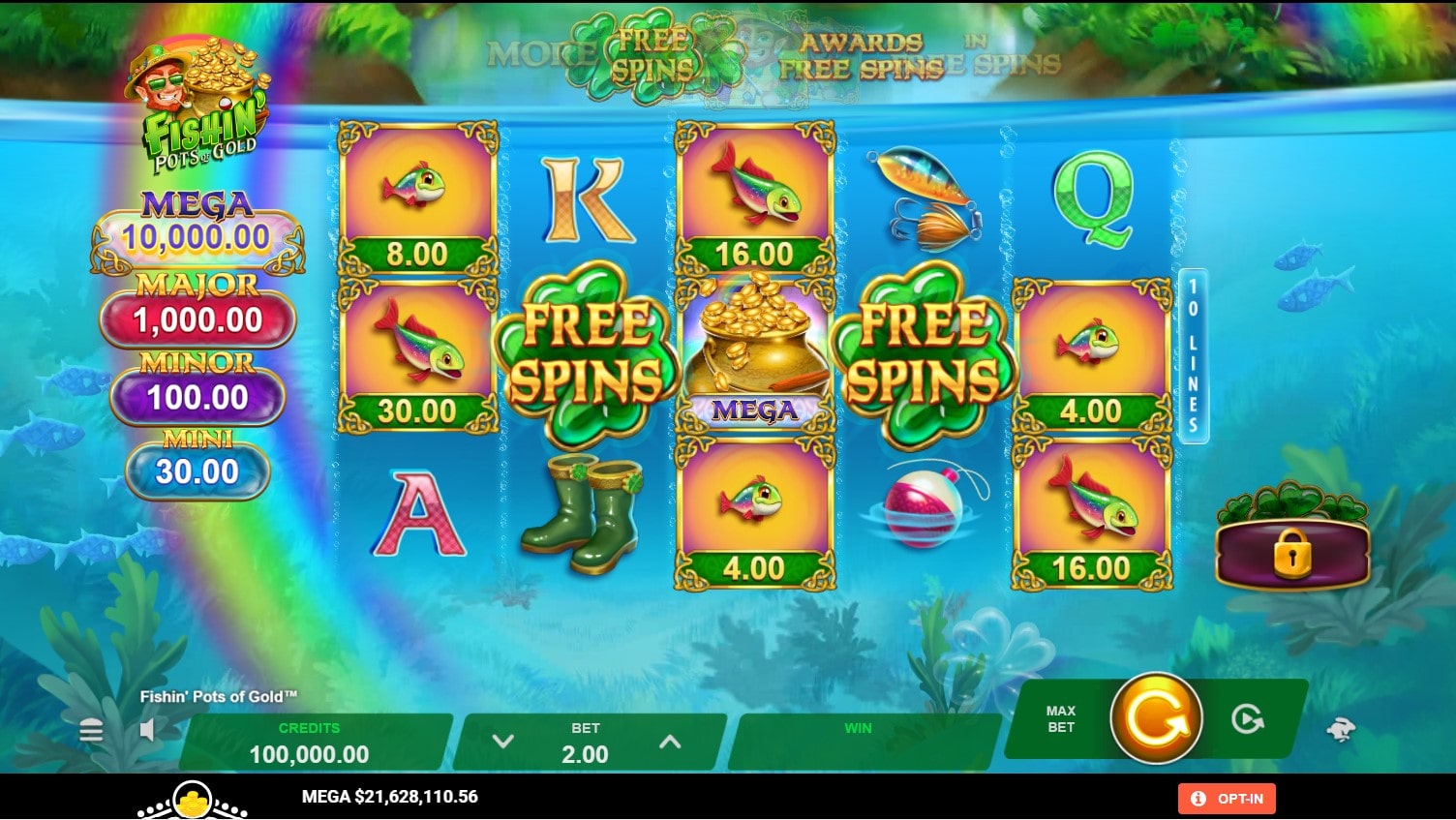 If you're an Irish Canadian that likes to fish - whammo - this has been built specifically for you! Microgaming's Fishin Pots of Gold combines the passion of fishing with the luck of the Irish, a combo that some say is well-suited to each other. Players can reel in wins of up to x5,000, but the most thrilling feature in this crossover theme is its Free Spin rounds and four Jackpots. Hooked yet?
Launch this slot and you'll immediately be taken aback by a screen that you likely just didn't expect. Leprechauns and water - not sure it's been done before - but on the reels, this creative mix makes sense. Green wellies, fish, clovers, and a bubbly Irish harp soundtrack, are all presented in a watery world complete with a rainbow that branches the two worlds together. If you like to fish underwater for lucky wins, catch this Irish slot and see what wins you can release.
Check out various slots in our lists: