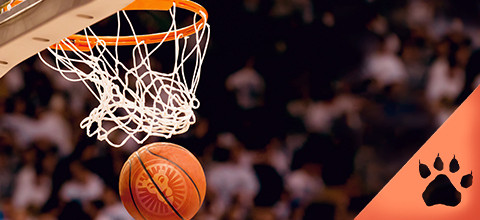 How to Bet on College Basketball (NCAAB): Complete Guide
The National Collegiate Athletic Association Basketball League (NCAAB) is part of the overall NCAA championships that cover a wide range of other popular college sports too. In this College Basketball betting guide, we will help to describe the NCAAB, how it works, explain how to bet on College Basketball, and highlight some College Basketball betting markets.
How to Bet on NCAAB
You can place bets on College Basketball by following these simple steps:
Navigate your way to the sports betting page and select Basketball.
From there, scroll down to the International competitions where you will see NCAAB.
Select this option and you will open up all the available College Basketball sports betting on markets that cover both 'outright' and 'events'.
Select the event or outright bet you want to place
What is NCAA Basketball league?
The NCAA College Basketball tournament, also known as March Madness, is an elimination competition that is played each spring in the USA. Founded in 1939 by the National Association of Basketball Coaches, the college hoops tournament is now one of the biggest annual sporting events in the United States.
UConn are the reigning NCAA Basketball champion after they beat San Diego State in the 2023 final in, by the final score of 76-59.
NCAA Basketball Games
If you watch National Basketball Association (NBA) and National Collegiate Athletic Association Basketball (NCAAB), you will notice there are some clear differences in the rules and the style of play between the two leagues.
Here, we look at the biggest rule differences to aid you in your College Basketball betting.
Game time – in NCAA games, the regulation time is 40 minutes in total, split into two 20-minute halves. In the NBA, the regulation time is 48 minutes, which is split into four quarters of 12 minutes. Overtime periods for both leagues are 5 minutes.
Shot clock – in the NCAAB, teams have 30 seconds to take a shot, with the clock reset to 20 seconds if an attempted shot hits the rim. In the NBA, teams have just 24 seconds to get a shot away, with the clock resetting to 14 seconds if an attempt hits the rim.
Personal, Technical and Team fouls – there are some small but significant differences when it comes to fouls. From players being disqualified for personal fouls, to the number of free throws awarded for technical and team fouls, the rules in NCAAB and NBA are different.
How many teams play in NCAA?
Currently, the NCAAB features 68 College Basketball teams at the Division I level of the NCAA. These include the champions from 32 Division 1 conferences, two teams who are automatic qualifiers, and 36 teams who are awarded At-Large places.
The At-Large teams are chosen by an NCAA selection committee and announced on Selection Sunday. These 68 teams compete over seven elimination rounds with the aim of one team winning the National Championship.
NCAA College Basketball Season
Once the 68 teams are finalised, each are then ranked teams based on regular season and conference tournament performances. The four lowest ranked 'at-large' teams then face the four lowest ranked automatic qualifiers to determine which four teams are first to be eliminated, also known as the First Four.
Here are the seven rounds that make up the NCAAB season:
The First Four
The First Round (64)
The Second Round (32)
The regional semi-finals/Sweet Sixteen
The regional finals/Elie Eight
The national semi-finals/Final Four
The National Championship
NCAA Basketball Teams
Since the competition started in 1939, 37 different teams have won a National Championship, but UCLA can boast the most national champion wins with 11 titles to their name, with 10 coming between 1964 and 1975.
Recent National Championship winners to look out for when betting on college basketball and looking over the NCAAB betting markets include:
2023: UConn
2022: Kansas
2021: Baylor
2019: Virginia
2018: Villanova
2017: North Carolina
2016: Villanova
2015: Duke
What is March Madness?
NCAA March Madness is the branding used for the coverage of the NCAA Basketball competition, which is held each March in the USA. The term March Madness was first used by Henry V. Porter, an Illinois high school official, in 1939. However, it didn't find its way to the NCAA tournament until Brent Musburger, a broadcaster for CBS, used it during coverage of the competition in 1982. The term has stuck ever since and is now synonymous with the branding of the tournament.
College Basketball Odds
You can check the latest odds for college basketball games here.
NCAAB Betting Lines
If you're looking to get involved with some NCAAB betting and want to learn how to bet on many College Basketball games, knowing the betting lines will help. The most popular College Basketball betting line is the outright Championship winner.
When the individual games take place, many College Basketball betting lines will be available. These include moneyline college basketball bets, where you are simply betting on the winner of a game. You can also wager on how many total points will be scored in a college basketball game or point spread.
Totals betting: This market is also known as the over/under, and it involves betting on the total number of points that will be scored in a game.
Prop betting: This type of bet involves wagering on specific events or outcomes within a game. For example, you can bet on which player will score the most points or which team will score first.
Live betting: This is a popular way to bet on college basketball games as it allows bettors to place wagers during the game.
Conference betting: There are 32 conferences that hold tournaments to crown a champion, and each winner automatically qualifies for the NCAA tournament. Bettors can wager on which team will win their conference tournament and earn a spot in the NCAA tournament.
You can explore parlays, which is a bet that combines multiple wagers into one that many bettors make by rolling over the winnings from each individual bet into the next leg of the bettors wager together. Or why not try a teaser bet, which is a type of parlay?
NCAAB Betting Tips
When the 2024 fixtures are known, the events markets will feature some exciting top College Basketball picks and betting lines to get involved with. However, our College Basketball betting tips will focus on the outright winners of the NCAAB National Championship.
Kansas and North Carolina made it to the final last year and could go well again, but Kentucky will provide tough opposition. Star player, Oscar Tshiebwe, has announced his return to boost their hopes, and they also signed the No. 8 and No. 11 from the 2022 recruiting class.
Houston are also among the favourites with the likes of Arizona and last year's finalists.
Our NCAAB betting tip is Houston to lift the National Championship, but College Basketball betting odds can change dramatically based on recruits, NBA draft departures, injury reports upcoming games and rankings.
College basketball bettors also need to consider home court advantage. Home court advantage is a crucial factor in college basketball, and it can provide a significant boost in performance and motivation for the home team.
There are several factors that contribute to home court advantage, including crowd noise, familiarity with the playing surface, and travel fatigue for the visiting team
Explore more online sports betting opportunities with LeoVegas Sports!
College Basketball FAQ
Who is favored in March Madness?
Houston, Alabama and Kansas are favoured to win the March Madness.
Who is favoured to win NCAA 2023?
Houston, Alabama and Kansas are the favourites based on the odds.
Who has the most college wins in basketball?
Kansas has the most wins in NCAAB - 2,357.
How many teams are in March Madness 2023?
68 teams playing in March Madness 2023
Which is the best college basketball team?
Kansas is one of the best college basketball teams playing.
Does NCAA use Spalding?
Unlike NBA, there is no unified brand for college games or NCAAB regular games.
Who are college basketball blue bloods?
Duke, North Carolina, Kansas, Kentucky, Indiana, and UCLA are often considered to be "blue blood", meaning the elite class of players.
Who is the college basketball player of the year?
Naismith College Player of the Year is an annual award named after Dr James Naismith, the inventor of basketball. Oscar Tshiebwe was the player of the year in 2022.
Can college basketball coaches call timeout?
Coaches are permitted to request timeouts during live play, but they are only able to do so while their team has possession of the ball and when there are two minutes or fewer left in regular time or overtime.
How long is ncaa basketball game?
NCAA basketball games have a playing time of 40 minutes, split into two 20-minute halves.
Are NCAA basketballs the same size as NBA ones?
No, NCAA basketballs are not the same size as NBA basketballs, but they are very similar. Both leagues use a basketball with a circumference of 29.5 inches. The official size of the basketball used by the NBA is 29.5 inches in circumference, and that's the same size used throughout men's college basketball leagues.
How many timeouts are in college basketball?
In NCAA basketball, each team has a total of four timeouts per regulation game. Three of these timeouts last for 30 seconds each, and one lasts for 60 seconds
Learn more about sports betting in our guides