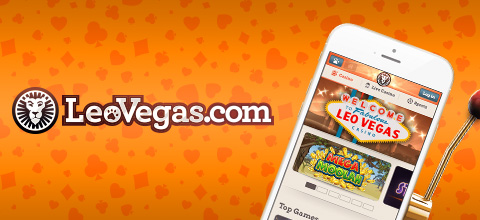 LeoVegas Leading the Way in the World of Mobile Gambling
We're mobile-first at LeoVegas. Our app is designed to give you the greatest gaming experience possible. We focus on smooth transitions, fast loading, and innovative casino tech to bring you top-notch gameplay. With a wide array of games available, LeoVegas NZ mobile casino is your go-to app for gaming on the move.
Understanding Mobile Casino Apps vs. Mobile-Friendly Websites
In the thrilling world of online gaming, where speed and quality reign supreme, the distinction between a Mobile App and a Mobile-Friendly Website holds significant value. While the difference might appear subtle at first glance, the advantages delivered to players can be game-changing.
Mobile Casino Apps are created for players on the move, considering factors like device compatibility, flexibility, and ease of use.
They incorporate regular updates and fresh features to elevate player entertainment and enhance their gaming experience.
On the other hand, Mobile-Friendly Websites are optimized for access through a mobile browser, ensuring a similar level of functionality and quality as the app itself. Both options prioritize delivering a top-notch experience to cater to your preferences.
At LeoVegas, our mobile-first mantra ensures that whether you choose our App or access games via your mobile browser, an exceptional gaming experience awaits.
It's not merely about compatibility; it's about tailoring the perfect platform for your mobile adventure.
Compatible Devices and Operating Systems
The LeoVegas App works like a charm on a wide range of mobile gadgets and operating systems, making sure everyone can easily get in on the action. If you're sporting an iOS or Android device, just visit the App or Google Play Store for a quick installation.
That's not all! The app supports popular device brands and models, from iPhone and iPad to Samsung Galaxy, Huawei and many more.
Advantages of playing online casino on mobile devices
With our phones now becoming a mini-extension of ourselves, it's only natural that platforms, including online casinos, are adapting to offer increased accessibility to their players. The prospect of having an entire library of casino games at your fingertips ushers in a multitude of benefits:
1. Play Anytime, Anywhere: The convenience of accessing casino games from your mobile device means you can enjoy your favourite casino games whenever and wherever you choose.
2. Easy to start playing: Think about it - hassle free gameplay. With intuitive interfaces and streamlined access, you can quickly immerse yourself in gaming action without any complicated set-ups.
3. Intuitive Touch Controls: Mobile gaming leverages touch and swipe interactions, making navigation and gameplay more intuitive than traditional clicking.
Online Mobile Casino Games
So we've been over the benefits of taking your gaming on the go, but what's next once you've embraced the mobile experience?
Imagine a world of Casino games in your pocket thanks to top-class providers such as Yggdrasil, Pragmatic, and Play'n Go, just to name a few! Whether you're seeking out 3-reel classics, heart-pounding bonus rounds, or chasing after jackpot fortunes, we've got you covered. Explore mobile casino gaming with LeoVegas New Zealand!
Mobile Pokies
LeoVegas is home to hundreds of pokies, featuring beloved titles like Book of Dead and 9 Masks of Fire! With a range of themes, pay mechanics, and storylines, the selection knows no bounds. Just head to our lobby, select the game you're eager to join, and with a quick click, the game will load and launch. You'll find yourself spinning the reels in no time.
Playing these games on your mobile device is simple. Once you've found the pokie you wish to enjoy, place your bet, and tap the spin button. We recommend giving the pay table of any new pokie a look, especially if it's your first time. This handy guide will offer insights into the pokie's mechanics and what to keep an eye out for on the reels!
Mobile Jackpots
Looking to turn your spins into more lucrative wins? Look no further than our selection of jackpot pokies, featuring legendary titles like Mega Moolah and Book of Atem WowPot!, along with our very own multi-million LeoJackpot – available when playing many of our latest and most exhilarating games.
Mobile Bingo
This isn't your Nana's Bingo! At LeoVegas, we're proud to host a ballin' Bingo lobby with an array of Bingo games to join; whether it's the fast-paced 30-ball, classic 75-ball, or the good old fashioned 90-ball bingo – we have them all waiting for you to get the ball rolling. For the real action, our Drop Pots room is where the thrills spill, and that's just one of the many options available.
Simply pick your Bingo room and join – and hey, why not invite your friends to join the excitement too?
Mobile Live Casino Games
Why settle for a seat when you can take Vegas on the go? Our mobile live dealer casino games deliver all the excitement and action reminiscent of a brick-and-mortar casino, complete with engaging Live Dealers to guide you through your game of choice, be it Blackjack, Roulette, or Baccarat.
Mobile Blackjack
We've joined forces with the best in the industry to bring you innovative mobile online blackjack games designed for your pleasure, whether on a tablet or smartphone, from any corner of the world. When it comes to the game of 21, the options are endless!
Select from a variety of providers, including Evolution, Authentic Gaming, and OnAir Entertainment. Moreover, we offer an exclusive Blackjack lobby showcasing gems like LeoVegas Speed Blackjack, Exclusive Infinite Blackjack, and much more.
Getting into the action on your mobile device is simple. Just step into our Blackjack lobby, cherry-pick your preferred game, and let the excitement roll. We're confident you'll find our online blackjack choices remarkably user-friendly for placing bets. In most instances, it's as simple as sliding a chip of your chosen denomination into the bet box, catering to players of all levels.
Mobile Roulette
The Roulette wheel embodies glitz, glamour, and the essence of casinos. Now picture that iconic wheel spinning right on your mobile device – during your commute, when you're grabbing your coffee, or just lounging on your couch after a tiring day. Whether you're using an Android or iOS device, you can experience this thrill anywhere you choose, all thanks to our lightning-fast LeoVegas App.
And guess what? The excitement doesn't stop at just one roulette table. With our app, you can indulge in not just one, but multiple roulette tables simultaneously. That's right – from the electrifying Live Lightning Roulette to the classic LeoVegas Live Roulette. It's time to get those wheels spinning!
Mobile Baccarat
The charm of Baccarat lies in its straightforward gameplay. In this captivating game, players are dealt two cards, aiming to reach or come as close as possible to a total of nine. Additionally, players can place bets on whether the Player or the Banker holds the superior value, or even predict a Tie outcome.
If you're new to playing Baccarat on your mobile device, why not begin with enticing options like Live Speed Baccarat or the captivating Golden Wealth Baccarat Live?
How to start playing LeoVegas NZ on your mobile phone?
By now you've probably heard most of what you need to know about playing on your mobile device and you might be wondering about the best approach to dive into the world of LeoVegas.
Playing in Mobile Browser
Step 1: Open the web browser on your mobile device and head to LeoVegas' official website.
Step 2: Once the page loads, you'll be greeted with a responsive design tailored for mobile users. Feel the convenience as the layout adjusts to fit your screen perfectly.
Step 3: Log in or create your LeoVegas account to access the plethora of games and features available.
Step 4: Start exploring! Browse through the array of games, promotions, and offerings, and select your favorite to begin your gaming adventure.
Playing on iOS App
Step 1: If you're an iOS user, visit the App Store on your iPhone or iPad.
Step 2: Search for "LeoVegas" and locate our official app.
Step 3: Download and install the app onto your device.
Step 4: Launch the app, and if you're an existing user, log in. New players can easily create an account within the app.
Step 5: Immerse yourself in the LeoVegas experience! Navigate through the user-friendly interface, explore the diverse game collection, and indulge in the thrills of mobile gaming.
Playing on Android App
Step 1: For Android users, the process is just as straightforward. Visit the Google Play Store on your Android device.
Step 2: Search for "LeoVegas" and locate our official app.
Step 3: Download and install the app onto your device.
Step 4: Launch the app, and whether you're an existing user or a newcomer, you can log in or sign up respectively.
Step 5: Dive into the LeoVegas universe! Navigate seamlessly through the app's interface, explore the extensive game library, and embark on your mobile gaming escapade.
With these three convenient methods at your disposal, you're all set to savor the excitement of LeoVegas NZ on your mobile phone.
Making Mobile Casino Deposits and Withdrawals
We want our players to be able to focus on their gameplay. No need to worry about payment delays or fuss. We've introduced mobile-friendly payment options like Skrill, MuchBetter, and Ecopayz. Now you can keep the fun rolling without any interruptions! Check various mobile casino payment methods on our dedicated payment methods page.
Mobile Casino Bonuses and Promotions
And what's a gaming experience without a fantastic Welcome Bonus? At LeoVegas, we've got a bunch of exciting Welcome Bonuses to amp up your gaming adventure. Take your pick from our Casino, Live Casino, Bingo, and Sports offers.
But hang on tight, because the excitement doesn't end there! From in-house casino promotions to weekly offers, our players' LeoVegas journey is packed with goodies that'll elevate their online casino experience.
Once you've got the app downloaded, get ready to be greeted with these awesome choices. Simply pick your desired Welcome Offer and sign up for your account – it's that easy!
Mobile Casino FAQ
What is a mobile casino, and how does it differ from a traditional casino?
A mobile casino is an online platform that allows you to play casino games on your mobile device, such as smartphones and tablets. It offers the convenience of playing anywhere, anytime, without the need to visit a physical casino. The main difference from traditional casinos lies in the accessibility and convenience factor – mobile casinos bring the thrill of gambling to your fingertips.
What are the most popular mobile casino games?
The most popular mobile casino games include pokies, blackjack, roulette, poker, and baccarat. These games are optimized for mobile play and offer a wide range of variations to suit different preferences.
How do mobile casino bonuses work?
Mobile casino bonuses are rewards offered to players for various actions, like signing up, making deposits, or participating in promotions. These bonuses often come in the form of mobile casino free spins, bonus cash, or match deposit offers. Players need to meet certain terms and conditions, such as wagering requirements, to unlock and withdraw the bonus.
Can I play mobile casino games for free?
Yes, LeoVegas offers the option to play games for free in a demo mode. This is a great way to practice, explore different games, and get a feel without risking real money.
Is it better to play on a mobile casino app for Android or iOS?
Both Android and iOS devices offer excellent mobile casino experiences. The choice depends on personal preference and the device you're more comfortable with. LeoVegas offers apps for both platforms, ensuring a smooth and enjoyable gaming experience regardless of your choice.
Do I need a stable internet connection to play casino games on my mobile phone?
Yes, a stable internet connection is essential for a seamless mobile casino experience. A strong and reliable connection ensures smooth gameplay, quick loading times, and prevents disruptions during your gaming session.
What should I do if I get disconnected during the game?
If you experience a disconnection while playing a mobile casino game, don't worry. LeoVegas has measures in place to handle such situations. Your game progress and wager will be saved, and once you reconnect, you should be able to resume from where you left off. If any issues persist, you can always reach out to our customer support team for assistance.