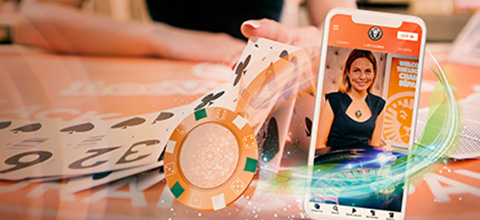 Go Live With up to ₹80,000 in Real Money!
We are proud to bring you one of the largest selections of LIVE games on the market directly to the device of your choice in spectacular HD-quality. Get a taste of this extravagant offering with our threefold Live Casino Welcome Offer.
How to Claim Your Live Casino Welcome Offer:
Click on 'Open Account' at the top of your screen.
Select the 'Live Casino Welcome Offer' and fill in your contact information.
Verify your registration with the Validation Code sent to you by phone and email.
Go to the 'My Offers' page and click 'Deposit' on your Offer Card(s) to activate your Live Casino Welcome Offer(s).
Deposit the amount of money corresponding to your desired payout value.
Wager your deposit amount 30 times in our live casino.
Click 'Claim' on your Offer Card to credit the cash to your account.
The Live Casino Welcome Offer must be activated within 14 days of joining. After that, you have 30 days to wager your offer and claim your reward.
Offer 1 of 3

Offer 2 of 3

Offer 3 of 3

How Does My Live Casino Welcome Offer Work?
Claiming your Live Casino Welcome Offer is a very easy and straightforward process. Once you've completed the sign-up process, your Welcome Offer will appear in your 'My Offers' page. If you notice a green blob alongside the 'Promotions' category at the top of your screen, this is a reminder that you still haven't claimed all of your offers yet.
Your Live Casino Welcome Offer comes in the shape of three Deposit Offers - each giving you REAL MONEY which can either be withdrawn to a bank account or enjoyed in any of our lobbies: Casino, Live Casino or Sportsbook. Right off the bat, you'll receive the first Deposit Offer in your 'My Offers' page. Once the wagering requirement of this offer has been met, the next Deposit Offer will be unlocked and so forth until all three Deposit Offers have been claimed.
What is a Wagering Requirement?
Before you can start reaping the benefits of our Cash Offers, it's important that you first get a clear understanding of what a wagering requirement is as you'll often encounter this term in our Live Casino. To put it simply, a wagering requirement indicates the number of times you must play through your bonus amount in a game before you're able to unlock the respective Cash Reward. You'll find the Wager Bar located at the bottom of your Offer Card especially handy as this will help you keep track of your progress.
For Example: If you receive a 100% Live Casino Bonus giving you up to ₹20,000 with a wagering requirement of 30 times, you must first deposit ₹20,000 to activate your Offer Card and then stake a total of ₹600,000 (20,000 * 30) in any live casino game at LeoVegas to be able to claim your Cash Reward.
That said, you now know everything there's to know about our Live Casino Welcome Offer! Click the button below to claim up to ₹80,000 at LeoVegas!
Wagering requirements and bonus terms, in addition to general terms and conditions, apply.
New Player Live Casino Bonus Terms and General Bonus Terms apply