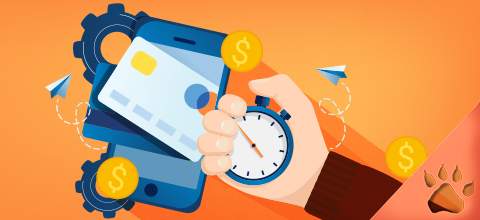 Canadian Payment Methods For Deposits And Withdrawals
When it comes to choosing the ideal online casino for you, the choice doesn't simply boil down to what looks interesting but also what kind of payment methods the casino has on offer.
At LeoVegas, we don't expect you to do the digging! In this article, we'll list all the payment methods available to our Canadian players so that you can skip right to the fun part - playing! So let's get started straight away.
Deposit & Withdrawal Methods
MuchBetter
Offering the lowest e-wallet fees on the market, MuchBetter warrants its name, providing a better way of depositing and withdrawing from your favourite casino. This award-winning payment app can be downloaded from the iOS App Store or Google Play Store. Top up your account directly from your chosen payment option for quick and easy payments - against no charge whatsoever. What's more, this app rewards you with loyalty points for your transactions, rewarding you for every $10 you deposit on our site. Every Monday, your points are added to a prize draw for a chance to win a cash prize! Once you're happy to withdraw your winnings, MuchBetter will also act as a mediator for this process, transferring your cash to your bank within approximately 5 days.
iDebit
iDebit is your classic Canadian solution - perfect for placing your payments at LeoVegas. This method works without a credit card, enabling you to carry out your deposits directly through their online platform in real time. iDebit has no hidden fees so everything is quite straightforward about the process. It costs just $1.50 to place a deposit and $2.00 to withdraw your funds directly from LeoVegas to your bank account. The wonderful thing about this online payment method is that, at any point, you can sign in to your iDebit account in order to view your transaction history and balance - allowing you to keep track of your spendings. This is only possible if you carry out your transactions as a returning user. On the other hand, if you wish to place your deposit without having to create an account, iDebit allows you to check out as a guest for a more efficient experience.
*Withdrawals to MuchBetter and iDebit are unlocked only after an initial deposit has been made using the same method.
*The minimum withdrawal value at LeoVegas is $20.
Deposit Only Methods
Interac2Pay & Interact E-Transfer
Interac is a simple way to send money across Canada. Integrated into all the major banks in the country, Interac works as an add-on to your mobile banking, allowing you to place a deposit directly from your phone. Use the 'Online Banking' feature to transfer money from your bank account to your casino balance in a matter of seconds for just up to $1.50 per payment. But before you can complete any transaction, Interac will send a verification code to your registered number in order to validate your request. This acts as an added layer of security for all your online purchases. What's more, Interac is a debit payment service, which means it does not allow you to exceed your wallet limit - perfect for keeping track of your spending in a responsible manner.
PaySafeCard
PaySafeCard is a global market leader in online prepaid payment methods, allowing you to place deposits at your online casino from the comfort of your mobile phone. Unlike other payment methods, PaySafeCard doesn't require you to associate a bank account or credit card to your profile. PaySafe vouchers vary from $5 to $100 and can be bought from your nearest retailer without any hidden costs. Alternatively, you may choose to set up a PaySafeCard wallet which allows you to store all your vouchers in one place. Each PaySafe voucher comes with a unique 16-digit code. Simply input the voucher number on our payment portal to carry out your deposit.
*Although PaySafeCards start from $5, the minimum deposit value at LeoVegas is $20. So please, keep this in mind when purchasing your voucher.
Credit Cards (Visa & MasterCard)
The most classic method of depositing money online is probably still credit cards. To this day, credit cards are still a very popular payment method as they allow you to save your information for future transactions. For those players who do not wish to download extra apps or use third parties for their transfers, the old honest credit card is the perfect way to go!
*Unfortunately, it is not possible to withdraw your funds to Interac, PaySafe or Credit Cards. In such instances, your winnings would have to be collected via Bank Transfer.
Bank Restrictions
When it comes to making your withdrawals, please be advised that you may run into some issues if you have a bank account with any of the following banks:
Royal Bank of Canada
Canadian Imperial Bank of Commerce
Connexus
Santander
TD Canada Trust
Bank of Nova Scotia
Tangerine Bank
Unfortunately, these banks do not accept funds from online casinos. In order to circumvent this, we highly suggest you use an alternative bank or rather make use of iDebit as an intermediate for your transactions.
As you may see, there's a lot of payment options to use at LeoVegas. Should you have any questions or concerns about our payment methods, please feel free to visit our Help Center or contact our Customer Support.