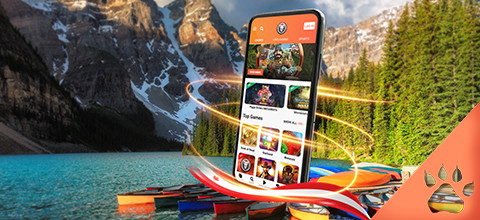 A Rewarding Casino Bonus
Every good story starts with a generous online casino bonus and this Canadian casino knows it best! That's why, every time we get a new sign up, we like to break the ice with a roaring Casino Welcome Offer. If you haven't gotten around to joining LeoVegas yet, keep on reading to find out exactly what's waiting for you on the other end of the 'Open Account' button.
Signing Up to LeoVegas
Venturing into uncharted territories can be intimidating, especially when there's no one to guide you but that's not the case with LeoVegas. We're here for you every step of the way, especially at the beginning of your journey.
Signing up to our Casino is as simple as can be. On entering our site, click on 'Open Account' to be prompted to input your contact information. At this point, you'll be given the opportunity to choose your Welcome Offer, but there's no pressure, you can click 'Continue without bonus' at the bottom of the page and come back to this decision after having read this short guide.
Your welcome bonus will be available to claim within 14 days from the time you register, so make sure to go back to the 'My Offers' page before then to choose your welcome offer.
Choosing Your Casino Welcome Offer
At LeoVegas, we cater for all sorts of players. Whether you like to take a spin on one-armed bandits, go wild with your daubers, consider yourself a high roller at a live table or prefer to bet on sports; we've got an online casino bonus best suited for your needs.
Casino - Do you hear the swash of the casino slots yet? Pull the lever on our Casino bonus to get up to $1,000 and 200 cash Free Spins on Book of Dead. Place a minimum deposit of $10 and start playing in our Casino lobby to wager for your matched cash reward and Free Spins.
Bingo - Feel the thrill as you complete lines and get closer to a full house with our Bingo bonus. You could grab up to $1,000 and 200 cash Free Spins on Madame Destiny when depositing and wagering in our Bingo lobby or Casino lobby!
Live Casino - Spin your fate around with our Live Casino bonus. We offer our Live Casino connoisseurs the chance to get up to $1,000 cash and a $20 Golden Chip. All it takes is a minimum deposit of $10 to get started. Deposit, wager and play in our Live Casino to keep the wheel turning with your Matched Cash Offer.
Sports - Calling all sports enthusiasts! Bet on any sports from the NBA to the NHL with a Sports bonus for a matched cash reward of up to $1,000 and a Free Bet of up to $75 when you bet on odds of 1.80 or higher via our Sportsbook. Place your first deposit of $10 to start betting on your favourite sports.
LeoVegas Wagering Requirements
With that being said, you might be wondering what we mean by the word 'wagering'. Wagering is a requirement set on Deposit Offers. This requirement needs to be fulfilled in order to be able to withdraw your matched cash reward. As an example, let's say you receive a Cash Offer for up to $100 - you would need to deposit $100 and play the same amount a set number of times before withdrawing your cash reward. In terms of our Welcome Offer, the following are our wagering requirements:
Casino - 20 times
Bingo - 20 times
Live Casino - 40 times
Sports - 5 times
A Casino Bonus Above the Rest
So why should you sign up with LeoVegas above all other casinos? It's simple, really. Firstly, we've got your best interest at heart. Apart from being strong advocates of responsible gaming, we also pride ourselves in being transparent and trustworthy.
This is wholly reflected in our cash policy which pays out all your winnings from Free Spins and bonuses in cash - meaning that you can choose to withdraw your winnings instantly or continue playing with them in our Casino. And it gets better! Your winnings carry no wagering requirement so you don't have to deposit any additional money in order to withdraw your cash.
So what are you waiting for? Sign up today to start receiving personalized offers and promotions at the palm of your hand!