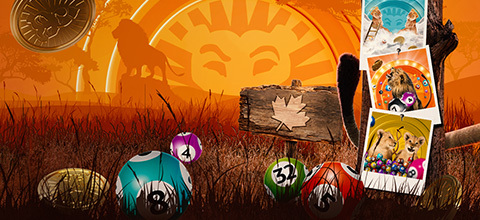 Get Ready to Shout Bingo With up to $500 and 200 Free Spins Extra!
Once upon a time in the mighty savannah, the lion felt like a good time! So he handpicked a Bingo Welcome Offer, giving you up to $500 in real money and up to 200 Free Spins on your first deposit. Keep reading to discover how to grab this roaring offer and have the world by the tail at LeoVegas!
How to Claim Your Bingo Welcome Offer:
Click on 'Open Account' at the top of your screen.

Select the Bingo Welcome Offer' and fill in your contact information.

Go to the 'My Offers' page and click 'Deposit' on your Offer Card to activate your Bingo Welcome Offer.

Deposit the amount of money corresponding to your desired payout value to get your Free Spins instantly.

Wager your deposit amount 10 times in our Bingo Lobby until the bar at the bottom of your Offer Card is full.

Click 'Claim' on your Offer Card to credit the cash to your account.
The Bingo Welcome Offer must be activated within 14 days of joining. After that, you have 7 days to wager your offer and claim your reward.
Deposit and Play For One of the Below Offers:

For Example: If you deposit $10, we'll instantly credit 10 Free Spins to your account. Then wager your deposit amount 10 times in our Bingo Lobby to receive $10 in real money.
Free Spins are only available on Madame Destiny and are worth $0.10 each.
Why You Should Play Bingo Online at LeoVegas
Picture this. You're sitting on your couch after a long day and you feel like immersing yourself in a game of bingo. You reach for your phone, browse the LeoVegas App...et voilà the fun can officially begin! That's how easy enjoying bingo is with our mobile casino! With a user-friendly interface, a speed that excites and various innovative features to experience, the LeoVegas App is the place to be to line up some big bingo wins, wherever and whenever!
Our passion to deliver you the greatest gaming experience goes beyond providing you with a top-quality app that has been built with the latest technology. We know you love variety, so we're giving you variety. Step inside our Bingo Lobby to discover our exotic selection of bingo rooms, taking your online bingo experience to the next level! Varying in terms of the number of balls in the game, the ticket prices and the prizes on offer, our bingo rooms have been created with the player in mind, ensuring you'll find something to suit your every mood! Thrill seekers would be delighted to find out that some of our bingo rooms also come with a whopping jackpot! Now that calls for a Jump and Jive, don't you think, lions?
Just like the lions protect each other in their respective prides, we protect you in our pride to ensure you're having fun in the right way. For this reason, a variety of responsible gaming settings are available in your account to help you enjoy your time with us sensibly and safely. We encourage you to refer to LeoSafePlay for more useful resources on the topic or get in touch with our 24/7 customer support team to resolve any queries or issues you may have!
LeoVegas - A Casino That Keeps on Giving
We get it - bingo just feels better when it comes with an offer, doesn't it? That's why you shouldn't miss out on the chance to get your paws on our Bingo Welcome Offer! But throughout your journey at LeoVegas, we turn 'offer' into 'offers' and 'fun' into 'even greater fun'! Our regular promotions, boasting jaw-dropping prizes, are just one of the many reasons why the fun never stops at LeoVegas!
What's more, unlike some online casinos, here you get the real deal, meaning you play and win real money only! This also means that your Cash Offers are paid out in real money, leaving it up to you whether you want to withdraw your funds straight to your bank account or continue enjoying them at LeoVegas Casino. In fact, besides our bingo corner, our online casino is also home to thousands of slots designed to transport you to a world of pure imagination. Something tells us you're going to love our slot games too! Speaking of slots! Another great thing about our Cash Policy is the fact that when we reward you with Free Spins on any of our slots, there's no kind of wagering required whatsoever - you get them instantly upon depositing.
As the famous bingo nickname for 89 states, you're Nearly There! All you have to do to grab up to $500 and 200 Free Spins with our Bingo Welcome Offer is to Get Up and Run and hit the button (not the floor!) below! We look forward to seeing you in the savannah!
Wagering requirements and bonus terms, in addition to general terms and conditions, apply.
New Player Bingo Bonus Terms and General Bonus Terms apply