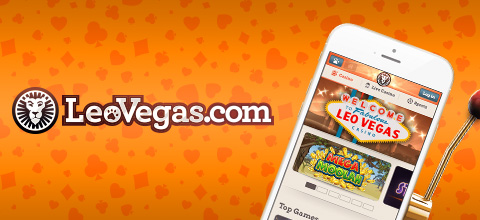 Take your gaming experience on the go with our innovative LeoVegas App! A world of entertainment awaits - and best of all - it fits in your pocket! From LIVE betting action, to a bustling live casino with engaging croupiers, or your favourite slot games at your fingertips - fast, portable and convenient. Start playing with 2021's Online Gaming Operator - LeoVegas!
LeoVegas Online Casino
Access your favourite casino games swiftly with our mobile app. Use Touch or Face ID to open the LeoVegas App where the latest and greatest slots are waiting to be played. Our mantra is player first, which is why our app was designed with a simple interface that adjusts easily to Dark Mode, is sensitive and swift, and as a bonus allows players to choose their next game before they're done from the latest one. Download our action-packed online casino app for iOS HERE and Android HERE!
LeoVegas Live Casino Online
You can take LeoVegas anywhere you go, but in our Live Casino you also get to travel all over the globe! Experience HD streams broadcast from studios across the world. Top class croupiers will show you your virtual seat as you follow multiple tables at the same time. Enjoy the bustle all from the comfort of your home, download our live casino app for iOS HERE and Android HERE!
LeoVegas Sports Betting
Get some skin in the game wherever you are! Efficient, engaging, and easy to navigate, LeoVegas Sports puts you in the action, allowing you to bet on the most anticipated games of the season. Get started for iOS HERE and Android HERE!
LeoVegas On Your Browser
Although LeoVegas is mobile-first, our casino works perfectly via browser - giving players a seamless experience no matter the medium they choose. Navigate our homepage via iPhone, iPad, Android or Windows Phone and tap open whichever game strikes you to experience Vegas-style fun from the palm of your hand!