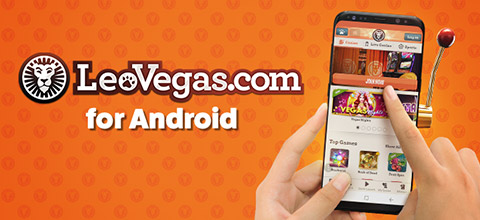 #Discover the LeoVegas Android app
You're rocking an Android device – a bit of a rebellious choice, and we're absolutely loving it. As a casino dedicated to mobile entertainment, we embrace our unique style. Our Android casino app is ready to roll on various Android devices, delivering a treasure trove of slots, live casino excitement, and sports betting to keep the good times rolling, wherever you may be. Ready to jump in and have a blast?
How to Download the LeoVegas Android app
For Android users, getting our LeoVegas casino app is a bit more versatile compared to iOS devices. To ensure a smooth experience, it's important to use a trusted source for all your downloads. We highly recommend sticking with the Google Play Store for added security.
Step 1: Visit the Google Play Store on your Android device.
Step 2: Search for "LeoVegas" and locate our official app.
Step 3: Download and install the app onto your device.
Step 4: Launch the app, and whether you're an existing user or a newcomer, you can log in or sign up respectively.
Step 5: Make a deposit into your LeoVegas account to kickstart the excitement!
Step 6: Immerse yourself in the LeoVegas experience! Navigate through the user-friendly interface, explore the diverse game collection, and indulge in the thrills of mobile gaming.
Play your favourite games in the LeoVegas Casino Android App
After you've set up the LeoVegas App, next up is deciding where to embark on your thrilling adventure. As we've said before, we're mobile-first, meaning our games are optimised for mobile-play – so prepare to dive in and start tapping away!
Juicy Slots to Play on Android
Time to spin those reels! Our slots are perfectly adapted for smaller screens, ensuring a seamless experience. With vibrant visuals and captivating themes, your mobile device becomes a portal to an immersive and thrilling gaming world. Discover your favourite 3-reel classics and chase those exciting bonus rounds for non-stop action. Why not get going on some fan favourites, the likes of 9 Masks of Fire and Book of Dead?
Interactive Live Casino Games for Android
Why limit yourself to a seat when you can access the thrill of Vegas wherever you go? Our mobile Live Casino games bring you the same excitement and action you'd find in a real casino, complete with lively Live Dealers to assist you in your game of preference, whether it's Blackjack, Roulette, or Baccarat.
Android Blackjack Games
Time to deal the cards! This timeless card game is tailor-made for mobile screens. Whether you're a seasoned pro or just getting started, you'll relish the intuitive gameplay, seamless navigation, and the exhilaration of pitting your skills against the dealer – all within the grasp of your hand. So, why not kick things off with a round of LeoVegas Speed Blackjack?
Android Roulette Games
Take every bet and spin to the next level! Our immersive graphics might make you think you're in Las Vegas playing the real deal – and all this within the convenience of the LeoVegas app. Get started with LeoVegas Live Roulette or Mega Fire Blaze Roulette.
Android Poker Games
Inside LeoVegas' Android casino app, we've got poker waiting for you as well. Online bluffing is a skill you can hone, and we provide you with the tools to play strategically. Make swift moves with our pre-action choices for checks, calls, or bets, or crank up the excitement with our live dealer poker games where you can call the shots on the pace. It's all about strategy and keeping your opponents on their toes!
Android Baccarat games
This classic game of chance has been finely tuned for effortless mobile play. Place your bets and savor the thrill of card reveal, all while enjoying the convenience of gaming on your Android device. Dive right into the action with titles like Golden Wealth Baccarat Live and Live Lightning Baccarat.
FAQs
What version of Android do I need for the LeoVegas app?
The LeoVegas app is designed to be compatible with a wide range of Android devices. Generally, it should work well with Android versions 5.0 (Lollipop) and above. However, for the best experience and to ensure full functionality, it's recommended to use the latest Android version available for your device.
Can I make withdrawals from the LeoVegas Android app?
Yes, you can definitely make withdrawals from the LeoVegas Android app. Our app provides a secure and convenient platform for both depositing and withdrawing funds from your LeoVegas account. Simply navigate to the Withdrawal Page within the app to initiate a withdrawal and select your preferred method and amount.
Can I save my favorite games in the LeoVegas app?
Unfortunately, the LeoVegas app does not currently offer a specific feature for saving favorite games. However, you can easily access your preferred games by browsing through our game library. We categorize games by type, popularity, and other criteria to make it easier for you to find and enjoy your favorite titles.