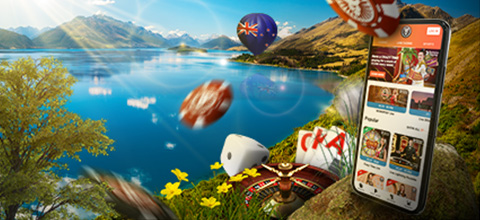 Get the Ball Rolling With up to a 100% Bonus!
Boost your Live Casino experience with a Welcome Offer which rewards you with up to $1,000 on your first deposits. Keep reading to find out how you can get cash all the while playing your favourite table games!
How to Claim Your Live Casino Welcome Offer:
1. Click on 'Open Account' at the top of your screen.
2. Select the 'Live Casino Welcome Offer' and fill in your contact information.
3. Verify your registration with the Validation Code sent to you by phone and email.
4. Go to the 'My Offers' page and click 'Deposit' on your Offer Card(s) to activate your Live Casino Welcome Offer(s).
5. Deposit the amount of money corresponding to your desired payout value.
6. Wager your deposit amount 75 times in our live casino or until the bar at the bottom of your Offer Card is full.
7. Click 'Claim' on your Offer Card to credit the cash to your account.

The Live Casino Welcome Offer must be activated within 14 days of joining. After that, you have 7 days to wager your offers and claim your rewa7. r6.
Offer 1 of 2

Offer 2 of 2

For Example: If you deposit $10 and wager the same amount 75 times in our Live Casino lobby, you will receive $10 in real money.


Why You Should Choose LeoVegas
LeoVegas plunges you to the heart of a casino floor - allowing you to experience the hustle and bustle of LasVegas, Nevada - from the comfort of your home! Don't believe us? Then feast your eyes on our diverse offering of table variants to get a taste of what you've been missing out on. Our fun and friendly live dealers will welcome you with open arms, treating you to one heart-racing moment after another!
And that's not all! We've gone the extra mile to make your experience worthwhile at LeoVegas Live Casino. Our LeoVegas Exclusive Studio is a dedicated environment exclusively created for the LeoVegas player. Here, you can find a great selection of table games, from traditional Live Roulette to more unique Sports Blackjack and Celebrity Blackjack Party.
LeoVegas - Your Real Money Casino
But our offering isn't the only thing we've got going for us! Forget everything you think you know about Bonus Funds because at LeoVegas, we pay all your winnings in real money! That means you can withdraw your funds directly to your bank account or enjoy them in any one of our lobbies, be it: Casino, Live Casino or Sports. And best of all, you don't need to wager a single penny of your winnings! Once your Cash Reward has been credited to your balance, you can do of it as you wish.
So if you're looking to take your Live Casino experience to new heights, click the button below to treat yourself to up to $1,000 in real money!


PLACE YOUR FIRST DEPOSIT

Wagering requirements and bonus terms, in addition to general terms and conditions, apply.
New Player Live Casino Bonus Terms and General Bonus Terms apply