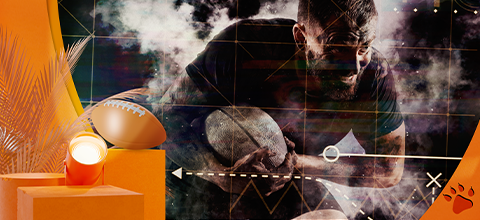 Rugby World Cup Betting Guide
Rugby Union World Cup 2023
France will be a host nation for Rugby Union World Cup in 2023. It is scheduled to take place from 8 September to 28 October 2023.
The Stade de France, in the commune of Saint-Denis, north of Paris, will host the opening match and the final.
The event will take place in the year that marks the 200th anniversary of William Webb Ellis' invention of the sport.
Even if it is still a little bit early, you can still check the odds and bet on the winner of the Rugby World Cup 2023!
Rugby Union World Cup 2023 Schedule
Here is the schedule for all games of the Union World Cup 2023:
FRIDAY, 8 SEPTEMBER
FRANCE v NEW ZEALAND
SATURDAY, 9 SEPTEMBER
ITALY vs NAMIBIA
IRELAND vs ROMANIA
AUSTRALIA vs GEORGIA
ENGLAND vs ARGENTINA
SUNDAY, 10 SEPTEMBER
JAPAN vs CHILE
SOUTH AFRICA vs SCOTLAND
WALES vs FIJI
THURSDAY, 14 SEPTEMBER
FRANCE vs URUGUAY
FRIDAY, 15 SEPTEMBER
NEW ZEALAND vs NAMIBIA
SATURDAY, 16 SEPTEMBER
SAMOA vs CHILE
WALES vs FINAL QUALIFIER WINNER
IRELAND vs TONGA
SUNDAY, 17 SEPTEMBER
SOUTH AFRICA vs ROMANIA
AUSTRALIA vs FIJI
ENGLAND vs JAPAN
WEDNESDAY, 20 SEPTEMBER
ITALY vs URUGUAY
THURSDAY, 21 SEPTEMBER
FRANCE vs NAMIBIA
FRIDAY, 22 SEPTEMBER
ARGENTINA vs SAMOA
SATURDAY, 23 SEPTEMBER
GEORGIA vs FINAL QUALIFIER WINNER
ENGLAND vs CHILE
SOUTH AFRICA vs IRELAND
SUNDAY, 24 SEPTEMBER
SCOTLAND vs TONGA
WALES vs AUSTRALIA
WEDNESDAY, 27 SEPTEMBER
URUGUAY vs NAMIBIA
THURSDAY, 28 SEPTEMBER
JAPAN vs SAMOA
FRIDAY, 29 SEPTEMBER
NEW ZEALAND vs ITALY
SATURDAY, 30 SEPTEMBER
ARGENTINA vs CHILE
FIJI vs GEORGIA
SCOTLAND vs ROMANIA
SUNDAY, 1 OCTOBER
AUSTRALIA vs FINAL QUALIFIER WINNER
SOUTH AFRICA vs TONGA
THURSDAY, 5 OCTOBER
NEW ZEALAND vs URUGUAY
FRIDAY, 6 OCTOBER
FRANCE vs ITALY
SATURDAY, 7 OCTOBER
WALES vs GEORGIA
ENGLAND vs SAMOA
IRELAND vs SCOTLAND
SUNDAY, 8 OCTOBER
JAPAN vs ARGENTINA
TONGA vs ROMANIA
FIJI vs FINAL QUALIFIER WINNER
SATURDAY, 14 OCTOBER
QUARTER-FINAL 1
QUARTER-FINAL 2
SUNDAY, 15 OCTOBER
QUARTER-FINAL 3
QUARTER-FINAL 4
FRIDAY, 20 OCTOBER
SEMI-FINAL 1
SATURDAY, 21 OCTOBER
SEMI-FINAL 2
FRIDAY, 27 OCTOBER
BRONZE FINAL
SATURDAY, 28 OCTOBER
FINAL
Rugby Union World Cup 2023 Betting Odds
The favourites based on odds are France, New Zealand and Ireland. Check the below outright winner odds for the World Cup 2023.
To win the Rugby Union World Cup
France - 3.50

New Zealand - 3.75

Ireland - 5.50

South Africa - 5.50

England - 7.50

Australia - 13.00

Wales - 21.00

Argentina - 29.00

Scotland - 41.00

Fiji - 151.00

Italy - 251.00

Japan - 501.00

Tonga - 501.00

Samoa - 501.00
*Odds are subject to change. Check the latest odds here
Rugby World Championship Betting Lines
When you bet on the Rugby World Cup at LeoVegas Sport, you will have hundreds of expansive and exciting markets to choose from. Below is a list of classic betting opportunities associated with the sport.
Try Scorer
Back a player to get over the line first, last, or at any point in the match.
Total Points
Whether you think it will be a high-scoring affair or a turgid, attritional clash, you can predict the number of points in a game.
Match Winner
Take your pick and predict the team you think will win. There can be no ties in Rugby League - if required, extra time will come into force to help find a clear winner.
Total Tries
Predict the number of times both teams will go over.
Match Events
Find in-game specials - including whether a team will win both halves, the first team to score, and the type of first scoring play.
How to Bet on Rugby Union World Cup
Finding Rugby Union World Cup markets to bet on with LeoVegas is easy - you can find hundreds of betting options in a few simple steps:
Step 1: Search for the Rugby World Cup in the search bar, located in the top right of your desktop or mobile device. Step 2: Type in Rugby World Cup. Step 3: Flick through the available match odds or outright markets.
Rugby World Cup Betting Tips
France and New Zealand are the favourites, and we consider them the most solid picks for the upcoming World Cup. South Africa, the champion of the 2019 World Cup, is another solid option and is known for winning three world cup titles - the same as New Zealand.
Rugby League World Cup History
The Rugby League World Cup has been on the international sporting stage since 1954 - the winners of the inaugural tournament were Great Britain. Australia have since established themselves as international powerhouses, however. The Wallabies have won 11 titles - including six consecutive titles from 1975 until 2000.
Australian halfback Jonathan Thurston holds the record for the most points by an individual player - he has racked up an incredible 124 points - 12 ahead of compatriot Mick Cronin.
The Rugby League World Cup has been the playground of many legendary Rugby League figures, including the aforementioned Thurston, Melbourne Storm stalwart Cameron Smith, and Andrew Johns - a player many would label the greatest to play the game!
Rugby Union World Cup History
The first Rugby Union World Cup was held in 1987. The hosts were Australia and New Zealand. New Zealand and South Africa are the only teams that have won World Cup 3 times, while Australia won 2 trophies. As more rugby-playing nations are invited, the tournament's field of competitors has increased from 16 to 20 teams.
Rugby World Cup FAQ
Who won the World Cup 2022 Rugby League?
Australia is the winner of the Rugby League 2022 World Cup.
Who are favourites to win Rugby World Cup 2023?
Based on current odds, the favourites are France, New Zealand and Ireland.
How often is the Rugby League World Cup?
Rugby League World Cup is organised every four years. The last World Cup was postponed due to COVID-19.
Who will host the 2023 Rugby World Cup?
France will host Rugby Union World Cup in 2023.
Which country will host the 2025 Rugby League World Cup?
France will host both Union World Cup in 2023 and League World Cup in 2025.
What are the odds of England winning the Rugby World Cup?
The current odds for England are 7.50. However, they might change closer to the World Cup in September 2023.