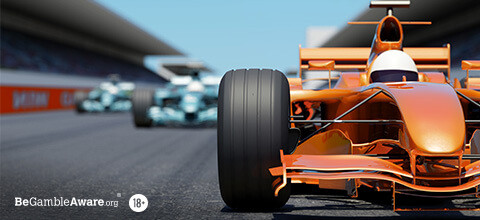 F1 Betting – How to bet on Formula One
F1 betting is one of the best ways to get closer to the action and follow your favourite Formula 1 drivers throughout the season. Whether you're a Lewis Hamilton betting fan, a supporter of Red Bull or love to don the blood-red of Ferrari, placing a Formula 1 bet is a great opportunity to show your loyalty.
These days millions of fans watch F1 around the world – and plenty also wager on the latest Formula 1 odds and markets. Predicting race winners can be tricky but thankfully this sport offers plenty of clues as to who will dominate a grand prix, and who is best to avoid.
If you're new to sports betting or want to know more about betting on Formula 1, then this guide is perfect for you. Read on to learn about the best F1 betting markets, how the odds work, key dates in the F1 calendar and different bet options!
F1 betting markets
There are numerous F1 betting markets available in the LeoVegas sportsbook – and of course they mainly focus on race day. You can bet on the race winner of every grand prix of the season, as well as the overall Drivers' Championship and Constructors' Championship winners.
There are two core variables when betting on the race:
Race Winner – This is where you bet on who will win the grand prix. Be aware that the F1 betting odds will reshuffle over the race weekend, depending on how drivers fare in free practice and Saturday's qualifying sessions.
Podium Place – You can bet on a driver finishing in the top three positions at a grand prix, and thus making it onto the podium. This is usually a smart bet when wagering on outsiders to claim second or third. Usually the podium spots are taken by the Ferraris, Red Bulls and Mercedes.
To bet on Formula 1, first you need to sign up to a LeoVegas account or log into your profile via the LeoVegas app or online today. Make sure your account is charged with funds and then head over to the Formula 1 betting page. From here you can browse the F1 odds, click on the outcome you want to back and place your wager in the bet slip.
Other F1 bet types include:
Performance – Wager on how well teams will do in a race. This can be a bet on both drivers finishing in the podium places, or for a driver to quit partway through.
Safetycar deployed – Bet on whether the safetycar will be used in the race.
Winning team – A wager on which team will win the race.
Fastest lap – There is a bonus point at stake for whoever secures the fastest lap in an F1 race, which makes this market fiercely competitive. Keep an eye on these odds towards the closing stages of a race, particularly if a driver switches onto soft tyres specifically to target the fastest lap
Best F1 odds
Finding the best F1 odds online isn't tricky. Instead, it's all about timing and how much you fancy playing with risk. Here at LeoVegas our F1 race odds are live more than a week before the grand prix starts. This means you have the opportunity to play the odds before free practice and qualifying, and potentially grab a better price before lights out.
Many F1 betting fans play this system when they expect a poorly-priced driver to excel in qualifying. For example, George Russell may be 2/1 to secure a podium finish before the weekend's qualifying session. Should he secure pole in qualifying, his odds will almost certainly drop.
Knowing when to bet and how to exploit big odds is never easy but there are ways to maximise your chances of nailing a good price. For a start, it's always worth following the F1 news throughout the week and watching Friday's free practice sessions to see where the cars are at. There is another practice round before Saturday qualifying, and this is likely to be the best moment to place a grand prix wager and potentially squeeze out the best odds.
As for race day, live F1 betting odds let you play the markets at a time that suits you. The odds are in continuous flux on the Sunday – and this is often where outsiders can suddenly become big favourites to make the podium.
F1 championship betting
If you prefer long-term bets then look no further than F1 championship betting. You can wager on both the F1 Drivers' Championship and the F1 Constructors' Championship each season. Both feature live odds that change throughout the season and both take into account the drama and rivalries that are played out on the track.
Here's a little more about F1 championship betting…
F1 Drivers' Championship betting
When it comes to the Drivers' Championship most punters like to get their bets on early in the season. That's because usually the odds on the biggest drivers narrow as we go through each race day, and eventually there's only one or two remaining who can realistically win the championship.
The 2021 F1 battle of Verstappen vs Hamilton ended a five-year wait for a genuine contest between two cars. It had been even longer since cars from separate teams had fought for the title. These days it's not just Verstappen and Hamilton but also Charles Leclerc in the Ferrari who is seeking race wins. The championship hasn't been this evenly contested since Jenson Button beat Sebastian Vettel and Rubens Barrichello to the trophy in 2009.
F1 Constructors' Championship betting
Another long-term wager is betting on the F1 Constructors' Championship, where the likes of Mercedes, Red Bull and Ferrari are battling it out for the top prize. Fans usually care less about the Constructors' title but it's hugely important to the teams, who get prize money depending on their final position.
And if the teams care, punters should too. Indeed, the Constructors' betting market is one of the best to keep an eye on throughout the season. It can often provide better odds than wagering on a single driver to win the Championship, and the leaderboard can flip much quicker too.
Alfa Romeo
There are no changes for Alfa Romeo this season and Zhou Guanyu will partner Valtteri Bottas next season. Pressure is on the Chinese driver to improve this season after only receiving three points finishes during the season and finishing 18th overall in the Drivers Championship. When Bottas had a poor spell last season between the British Grand Prix and the Mexican Grand Prix, Zhou didn't step up, Bottas secured Romeo 6th position and a good level of funding for next season, if they don't see improvements from Zhou, he could be out the door soon enough.
AlphaTauri
After a poor season, AlphaTauri lost Pierre Gasly to Alpine. They had the second-worst car on the grid last season and struggled to replace him as one of last seasons practice drivers Nyck De Vries who will take the seat partnering Yuki Tsunoda.
Alpine
Esteban Ocon has kept his seat in 2023 after a good performance last season. However, his partner last season Fernando Alonso has been replaced by fellow Frenchman Pierre Gasly. How will the French connection get on next season?
Aston Martin
Aston Martin have lost legendary driver Sebastian Vettel who retired after joining Aston Martin after the Saudi Arabian Grand Prix in 2022. He has been replaced by fellow legendary driver, Fernando Alonso. Meanwhile, Lance Stroll keeps his seat.
Ferrari
Ferrari have had no changes ahead of the 2023 campaign with both Charles Leclerc and Carlos Sainz Jr keeping their places.
Haas
After an exciting season, Kevin Magnussen kept his seat at Haas for the 2023 campaign. His partner, Mick Schumacher, wasn't so lucky, losing his seat to the man that started at Aston Martin last season, Nico Hulkenberg.
McLaren
After years of entertaining fans, Daniel Riccardo lost his seat in Formula One at McLaren, poor performances last season behind Lando Norris, they have recruited the former Alpine reserve driver Oscar Piastri who had a lot of controversy behind his signing this season, will it all be worth it?
Mercedes
Mercedes will maintain their all British partnership of Lewis Hamilton and George Russell for the 2023 season.
Red Bull
Red Bull will also maintain their winning partnership of Max Verstappen and Sergio Perez.
Williams
Alexander Albon remains in the main seat in the Williams with Nicholas Latifi losing his seat to F2 driver Logan Sargeant, who made the cut for the Super License with his final race in F2.
2023 F1 Grand Prix Calendar
| Round | Race Location | Date |
| --- | --- | --- |
| Round 1 | Bahrain Grand Prix | 3-5 March |
| Round 2 | Saudi Arabia Grand Prix | 17-19 March |
| Round 3 | Australian Grand Prix | 31st March -2nd April |
| Round 4 | Chinese Grand Prix | 14-16 April |
| Round 5 | Azerbaijan Grand Prix | 28-30 April |
| Round 6 | Miami Grand Prix | 5-7 May |
| Round 7 | Emilia Romagna Grand Prix | 19-21 May |
| Round 8 | Monaco Grand Prix | 26-28 May |
| Round 9 | Spanish Grand Prix | 2-4 June |
| Round 10 | Canadian Grand Prix | 16-18 June |
| Round 11 | Austrian Grand Prix | 30th June - 2nd July |
| Round 12 | British Grand Prix | 7-9 July |
| Round 13 | Hungarian Grand Prix | 21-23 July |
| Round 14 | Belgian Grand Prix | 28-30 July |
| Round 15 | Dutch Grand Prix | 25-27 August |
| Round 16 | Italian Grand Prix | 1-3 September |
| Round 17 | Singapore Grand Prix | 15-17 September |
| Round 18 | Japanese Grand Prix | 22-24 September |
| Round 19 | Qatar Grand Prix | 6-8 October |
| Round 20 | United States Grand Prix | 20-22 October |
| Round 21 | Mexico City Grand Prix | 27-29 October |
| Round 22 | Sao Paulo Grand Prix | 3-5 November |
| Round 23 | Las Vegas Grand Prix | 16-18 November |
| Round 24 | Abu Dhabi Grand Prix | 24-26 November |
F1 constructors and drivers
The F1 constructors and drivers change each season, as new teams come and go, and contracts for drivers expire. Generally, the 'big boys' are always there, such as Ferrari, Mercedes and Red Bull. But in recent years the likes of Aston Martin, Alpine (rebranded from Ferrari) and AlphaTauri (rebranded from Toro Rosso) have entered the mix.
Here are the current F1 constructors and drivers…
Ferrari – Charles Leclerc and Carlos Sainz Mercedes – Lewis Hamilton and George Russell Red Bull – Max Verstappen and Sergio Perez Alfa Romeo – Zhou Guanyu and Valtteri Bottas Alpha Tauri – Pierre Gasly and Yuki Tsunoda McLaren – Daniel Ricciardo and Lando Norris Alpine – Fernando Alonso and Esteban Ocon Williams – Nicholas Latifi and Alexander Albon Aston Martin – Sebastian Vettel and Lance Stroll Haas – Kevin Magnussen and Mick Schumacher
F1 FAQs
Want to know more about F1 and Formula One betting? Check out these answers below…
Can you bet on F1?
Yes. You can bet on F1 during every grand prix of the season via LeoVegas! We offer extensive sports betting odds on each race, as well as season-long bets.
Where can I bet on F1?
You can bet on F1 with LeoVegas and take advantage of our top sports betting odds. Bet online via our sportsbook or download the LeoVegas app today.
What is an each way bet on Formula 1?
Formula 1 doesn't feature each way betting but you can place something similar to LeoVegas. We offer F1 odds on podium places, meaning you can wager on a driver finishing in the top three of any race throughout the season.
How do you bet on a winner in F1?
You can bet on a race winner by choosing that relevant market on the sportsbook. Simply click on the selection you wish to back, which would then add it to your betslip. Then, choose your stake and click Place Bet.
What is an Each Way bet in F1?
An Each Way bet in Formula 1 is essentially two separate bets: one for the driver to win, the other for the driver to place in any of the place positions offered in that race, which at LeoVegas we pay 3 places. This means you can receive a return on your bet if your driver wins, but also if they place on the podium.
Why is F1 betting suspended?
If you are betting in-play on Formula 1, there may be occasions where the betting is suspended. This is likely to be when something major occurs in the race, and the odds are being adjusted accordingly. The betting odds will likely be available again very soon after.