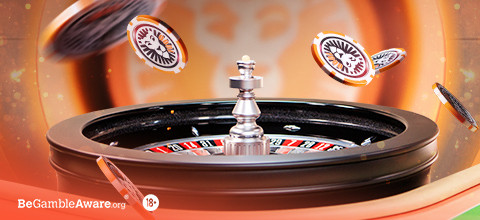 How to Play Roulette
Live casino games are some of the most popular offerings players will find in online casinos. However, the popularity and buzz around these games didn't start online; it all began in a land-based casino setting, where roulette tables have been key fixtures for centuries.
Many roulette games follow different rules and regulations, which means learning how to play roulette can be a crucial part of a casino player's journey as many live roulette games have evolved to include different bets, different wheels and many strategies which can, in turn, influence how a game will take place.
Best Way To Play Roulette
Before you get into the game itself, it's important to get to grips with all of the rules, game play and bets you can place at live roulette tables, as these can vary depending on which versions of the game you choose to place, there may also be specific special bets which apply to a variant, so before taking your seat at a roulette table, making sure you know what will be happening during each spin can be to your advantage.
The Basics of Roulette
As we've mentioned, live online roulette is one of the world's most popular live casino games. While there are different variations, including American and European, ultimately, roulette is a game of chance where the dealer releases the ball, and players will need to guess where the ball will land on the corresponding spin.
The basics of how to play roulette should be easy for many players to follow. Even though there may be a variety of betting options available, the basics of live roulette games will be the same for many who are playing.
After selecting your roulette type, take your seat at the table, and place your chip directly on the number, colour or selection of bet, many of which we've elaborated on below. The gameplay then sees the dealer release the ball around the wheel, where it will then randomly drop into the pocket of a number between 1-36 (zeros are also available). If you choose correctly, you will be paid out a winning bet which corresponds to the stakes you made while playing that round.
How to Place Bets in Live Roulette Games
Whether you choose to play live roulette in your own home or a casino, there are many betting options which you can place, so allow us to dissect some of the types on offer as you play a game of LeoVegas Live Roulette. As you explore how to play roulette at a casino, you will see these range from simple bets, such as red or black, or odd and even, to slightly more complex inside bets, such as street and corner bets. However, we'll explain all you need to know before the next spin of the wheel.
Inside Bets
Straight This is a bet on just one number, which is done by placing your chip within the square that contains your chosen number. This pays at odds of 35/1 and is the highest payout on offer at a roulette table.
Split The Split bet is made on two numbers across a roulette table. These numbers need to be adjacent to each other, and players will place a chip on the dividing line between the two numbers. The bet will offer a payout of 17/1, and the ball will need to land in either of the two numbers to award the winnings.
Street Bet Each row of three numbers in live roulette is referred to as a Street. To place a bet on one of the numbers in the Street, simply place your chips on the outer line of the row. This pays out at odds of 11/1.
Six Line The Six Line is essentially placing a bet on two Streets, which covers six numbers. Chips are placed on the connecting line at the end of the two Streets. This pays out at 5/1.
Corner A corner bet sees the chips placed in the centre of the cross that connects four numbers in a square. This will pay at odds of 8/1.
Outside Bets
Red or Black In Roulette, 18 numbers are Red, and 18 are Black. Place your chips on whichever you think will come up. This pays at 1/1.
Odd or Even Similar to the Red or Black bet, players can choose whether they think the next number the Roulette wheel lands on will be an Odd number or an Even number. This also pays out at 1/1.
High or Low A final bet that pays 1/1 is whether or not you think the following number will be a High number (from 19-36) or a Low one (from 1-18).
Dozens An advancement on the High or Low bet, players can also place their chips on whether they think the next number will be within the bracket of 1-12, 13-24, or 25-36. This pays at 2/1.
Columns Given that a Street is made up of three numbers, there are also three Columns in play. These are also split into groups of 12 but feature different numbers to the Dozens. Chips are placed at the end of the Column you believe the following number will appear in. This also pays at odds of 2/1.
There are a few other special bets that apply to certain variations of Roulette, but as these are not standard bets a wager can be placed upon, players can find out more details about these bets in the casino game information they choose to play.
Variations of Live Online Roulette
When learning how to play roulette at a casino, players will most likely come across many game variants that they can play on screen.
Live Roulette Tables European
European Roulette features 36 numbered pockets and also a single green zero on the wheel. This live roulette game is the most common players will find and includes all the usual bets, including a straight bet.
American Roulette
American Roulette offers a green double-zero in addition to the standard pockets. This means that the house edge is greater in American Roulette, even though the payout of 35/1 for a single number is the same. At LeoVegas, the majority of our Roulette tables feature the standard European version, although those that wish to play American Live Roulette can do so.
Live Auto Roulette
Exactly the same as Live Roulette, Live Auto Roulette is played automatically instead of using a croupier. This is ideal for those players that want to experience the live casino game without distraction.
Live Speed Roulette
Again, Live Speed Roulette follows the European version of the game but is played at a quicker pace than standard games. This is handy for those that wish to complete more rounds in a shorter space of time.
Native Language Tables
As well as many versions of live roulette which players can explore, there are a whole host of games that fall under the category of Native Language Tables, as they will be presented in a specific language or style. These include Live London Roulette for our UK players, Live Spanish Roulette for the Spanish speaking players and Live Arabic Roulette for our Arabic speaking players.
Roulette FAQs
How Do I Win at Roulette? There is no fixed strategy for winning at Roulette, either in a real-life or online casino. This is because the result of each spin is totally random, and there is no way to predict which number the wheel will stop on.
Which is Better, Online Roulette or Land-Based Roulette? Obviously, we're going to be a little bit biased here, but the fact of the matter is they are two different versions of the same game. That said, online Roulette offers players more freedom in choosing when to play, as there is no need to travel. Furthermore, you can switch tables swiftly and play at your own pace with the wide variety of tables available.
What is the Best Bet to Place in Roulette? 'Best' is a subjective term, but if you're after more likely bets, Outside Bets might interest you. This isn't a guarantee, but backing a number to be either Red or Black is much more likely than picking a specific number, although the potential winnings will be less.
What are Hot and Cold Numbers? 'Hot' numbers are those that have appeared most frequently on a specific wheel. 'Cold' numbers are those that have appeared least frequently. This, again, is down to random chance and shouldn't influence your betting. Just because the number 32, for example, has appeared twice in the last ten spins, it doesn't make it any more likely to appear again than any of the other numbers.