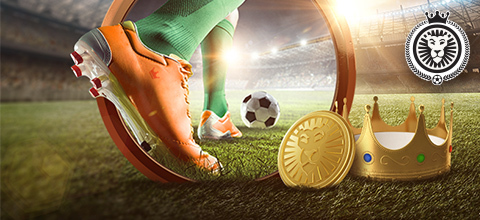 Give your predictions - Win cash!
LeoVegas gives you the chance to test your prediction skills against the rest of the country in Leo King. If you have what it takes to get to the top, you can run off with the entire prize pool of €1,000!
---
To participate in the game, you need to make sure to have 'Yes' ticked under 'campaigns and bonuses' and communication in your account settings. You can do this here .
How to participate
It's completely free to join Leo King. On top of that, it's super simple.
Step 1: Log in

Step 2: Visit Leo King and give yourself a nickname

Step 3: Fill in your predictions

Step 4: Register them

Step 5: Wait for the results!


You can give and edit your predictions all the way until kickoff. As soon as the game starts, your predictions are locked. Every correct prediction earns you 1 point, and with a lot of correct ones, you could end up on the leaderboard a few days later.
Leaderboard with €1,000!
We have a total of €1,000 up for grabs in the prize pool, and the winner takes it all. If more than one participant has the same amount of correct predictions, the prize pool will be shared equally.
The prize pool for this game is €1,000.

The player with the highest point total wins €1,000. If more than one player has the same number of highest point total, the player's with the highest number of points will share the €1,000 equally.

If no players have any correct predictions, there will be no payout.

A complete leaderboard with nicknames will be published in the game itself, and winnings will be paid out within 48 hours after completion of the game.

The game will finish after the last game in the competition finishes.

Prizes from LeoVegas will not be paid out to players who have self excluded, players who reside in a country where LeoVegas do not accept play, or players whose account is suspended.

There is no cash alternative to material gifts, unless specified otherwise.

Generic game rules:

The Free to Play product 'Leo King' is available to anyone with a valid LeoVegas account.

To enter the competition, the player must predict a number of games in the product 'Leo King'.

Participation in 'Leo King' is free.

A player will earn 1 point per correct answer.

The player can edit their predictions until kickoff.

To participate, the player must register a nickname. This must be done before the game starts, but can later be edited under profile settings.

The full list of the prizes will be available on the promotion page.

LeoVegas will use profile information of a player to organize the game.

Predictions entered after the game has started, will not qualify.

LeoVegas will use official results from the governing body, to settle all results within the game.

If a game is postponed or cancelled, the game and prediction will be voided unless it is completed within 24 hours. An exception to this rule, is if there is a known result of the game before it is postponed or cancelled.

The game computer´s record of an entry will be regarded as the entry itself. The promoter and publisher will not be held responsible for entries lost or distorted in transfer. Proof of magnetic transcripts is not accepted as proof of entry.

If Leovegas has reasonable grounds to believe that multiple accounts have been opened by or are under the control of the same person, all such accounts shall be closed and all entries by such player and/or accounts will be disqualified from participating in the Promotion or receiving any prizes.

Entry and participation in the Promotion constitutes permission LeoVegas/or its associated, affiliated and subsidiary companies to use the nicknames and predictions of participants for publishing purposes at its discretion, including but not limited to, leader boards and other display within the Leovegas Website or related applications. All winners may be required to participate in such publicity as Leovegas reasonably requires.

Leovegas does not accept responsibility for network, computer hardware or software failures of any kind, which may restrict or delay the sending or receipt of your entry. Under no circumstances can a user submit their entry via e-mail.

Leovegas decision is final and legally binding on all entrants in relation to all aspects of the Promotion including (without limitation) allocation of the prizes and no correspondence will be entered into. Entries that do not comply in full with the Promotion's rules or terms and conditions will be disqualified and will not be eligible to receive any prizes.

Generic Terms and Conditions:

By participating in the 'Leo King' promotion, you confirm your acceptance of these Terms and Conditions.

It is the participants responsibility to keep their contact information updated. The player must accept bonuses and communication under their profile settings, in order to receive rewards/prizes from LeoVegas. (E-mail and SMS).

If a player's account is suspended or locked within the promotional period, for whatever reason, the player is automatically excluded from all parts of the competition.

These terms and conditions only apply to this campaign.

LeoVegas reserves the right to exclude, cancel or remove extra winnings from accounts that have been deemed to be fraudulent.

LeoVegas retains the right to change or withdraw the promotion at any time.

LeoVegas reserves the right to change any prize in any campaign, if they cannot be delivered due to unforeseen circumstances. LeoVegas will make sure that any new prize is of the same value as the original.

Generic LeoVegas.com terms and conditions apply.

The decision of LeoVegas management is final.

Operator details: LeoVegas Gaming plc, The Plaza Centre, Bisazza Street, SLM 1640, Sliema, Malta.
18+ Gamble Responsibly

Generic Terms and Conditions from LeoVegas.com apply