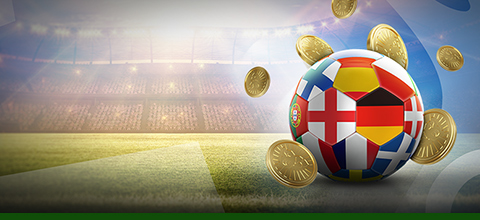 Football Extravaganza
Place a €7 bet on any of the participating countries to win the tournament, and win up to €3,000 extra if you get it right!
---
LeoVegas opens the door for personalised promotions and enviable Cash Offers. Make sure to select 'Yes' to communications in your account settings to be notified about new tournaments on-site. You can do this here.
Here's What You Need to Know
When
Place your bet between 10:00 CEST on Monday the 24th of May 2021 and 14:59 CEST on Saturday the 12th of June 2021.

Where
On an outright winner of the Euro in our Sportsbook.

How
Step 1: Click "Join Now" above or log in to your LeoVegas account.
Step 2: Head to the outright winners market page for Euro 2020.
Step 3: Place a €7 bet on who you think will win the tournament.
Step 4: Should your selected country win, not only will you win your bet but also a share of the €3,000 cash pool!


The 'Football Extravaganza' promotion period runs from 10:00 on Monday the 24th of May 2021 until 14:59 on Saturday the 12th of June 2021.


The time format in this document is CEST.

Bets placed outside the promotion period are not valid.

Gameplay via any device (desktop, mobile, tablet) qualifies for this promotion.

Only real money counts towards this promotion.

The bet amount must be exactly €7.

Bets must be placed on the "outright winner" market.

Bets must be a single selection coupon.

Only the first placed eligible bet will count towards the offer.

Players can select any county to win the Euros.

Cash pool prize is split according to how many other players selected the same outright winner.

Bets that are cashed out at any point will be nulled towards this offer.

Free Bets and Profit Boosts don't count towards this offer.

Bet winnings will not be affected by prize pool funds - they are 2 separate payouts.

Winners will be paid 3 working days after the final has been played.

This offer is available to all LeoVegas players.

General:

Players need to select 'Yes to Communication' in their profile settings in order to be eligible to receive any of the listed components of this promotion.

Any player who contravenes any of our Terms and Conditions and/or if LeoVegas reasonably suspects that a player has acted fraudulently and has abused the promotion, LeoVegas reserves the right to disqualify said player from the promotion and suspend/close the player's account.

Should a player's account become closed for any reason during the promotion, they will automatically be withdrawn from participating in the promotion.

Should a player's account become restricted due to any responsible gambling concerns, before or during the valid dates of this promotion, they will be automatically excluded from any further participation in the promotion, even if they have already begun wagering.

Players must be 18 years or older and only have one membership account open with LeoVegas, as per the general terms and conditions found on site.

Should LeoVegas discover a player with multiple accounts, all winnings will become null and void.

It is the player's responsibility to ensure that it is legal for them to play at LeoVegas, in whichever jurisdiction they are gambling, and to take part in the promotion.

LeoVegas reserves the right to change the terms and conditions and promotional material and structure relating to the promotion at our sole discretion and any decision with regard to the prizes offered to the players is final.

These terms and conditions relate to this campaign only.

General Terms and Conditions at LeoVegas apply.

Please see Terms & Conditions.

By participating in this promotion, you agree to follow its Terms and Conditions.

Promoter details: LeoVegas Gaming plc, The Plaza Centre, Bisazza Street, SLM 1640, Sliema, Malta.