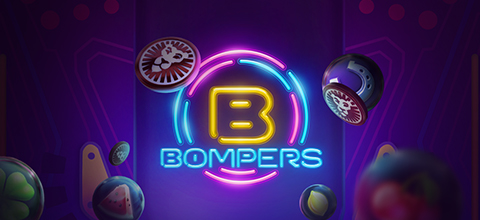 Shooting Stars Tournament
Win a share of €2,500 in our Symbol Multiplier competition happening on Bompers between the 22nd and 25th of February!
---
LeoVegas opens the door for personalised promotions and enviable Cash Offers. Make sure to select 'Yes' to communications in your account settings to be notified about new tournaments on-site. You can do this here.
Collect Symbols in Bompers
Make sure you don't tilt when you play Bompers from 08:00 CET on Monday the 22nd of February until 23:59 CET on Thursday the 25th of February with a minimum bet of €0.40 to be in with a chance of winning a share of €2,500!
Collect the Selected Symbols to Accumulate Points for the Leaderboard:
Trigger shooting star: Double your points
Trigger Mystery Bomb feature: 25 points
Fill bumper: 10 points
Hit bumper: 3 points
Wild symbol: 1 point

Once you hit 25 spins, your accumulated points will reset to zero. Regardless of this, your original score will not be erased from the leaderboard which gives you the opportunity to secure more than one entry in the competition - and as a result, win more than one prize.
Here's What You're Playing for:
1st prize: €1,000
2nd – 6th prize: €100
7th – 16th prize: €50
17th - 36th prize: €25

*The leaderboard for this promotion can be found in-game on Bompers.
The 'Shooting Stars' promotion period runs from 08:00 on Monday the 22nd of February 2021 until 23:59 on Thursday the 25th of February 2021.


The time format in this document is CET.

Gameplay outside the promotion period is not valid.

Gameplay via any device (desktop, mobile, tablet) qualifies for this promotion.

Only real money counts towards this promotion.

In this promotion, players can contribute one (1) point to the leaderboard for each Wild, three (3) points for each Hit Bumper, ten (10) points for each Fill Bumper, twenty-five (25) points for each Mystery Bomb feature triggered, and double their total points for each Shooting Star Trigger.

After every twenty-five (25) spins, the Player's progress is reset to zero.

Players can contribute more than one (1) score to the leaderboard and therefore win more than one (1) prize.

Players need to play with a minimum bet of €0.40 in Bompers to be eligible for the respective tournament.

Players will need to go to their ''My Offers'' page to claim any reward.

Claimed cash prizes have no wagering requirement.

The cash winnings need to be claimed within 7 days of being credited to a player's account and have no wagering requirements.

Cash prizes are credited as follows:

1st prize: €1,000
2nd – 6th prize: €100
7th – 16th prize: €50
17th - 36th prize: €25

The leaderboard is updated in real-time, in-game.

The prizes on the leaderboard will be paid out within 72 hours.

General:

Players need to select 'Yes to Communication' in their profile settings in order to be eligible to receive any of the listed components of this promotion.

Any player who contravenes any of our Terms and Conditions and/or if LeoVegas reasonably suspects that a player has acted fraudulently and has abused the promotion, LeoVegas reserves the right to disqualify said player from the promotion and suspend/close the player's account.

Should a player's account become closed for any reason during the promotion, they will automatically be withdrawn from participating in the promotion.

Should a player's account become restricted due to any responsible gambling concerns, before or during the valid dates of this promotion, they will be automatically excluded from any further participation in the promotion, even if they have already begun wagering.

Players must be 18 years or older and only have one membership account open with LeoVegas, as per the general terms and conditions found on site.

Should LeoVegas discover a player with multiple accounts, all winnings will become null and void.

It is the player's responsibility to ensure that it is legal for them to play at LeoVegas, in whichever jurisdiction they are gambling, and to take part in the promotion.

LeoVegas reserves the right to change the terms and conditions and promotional material and structure relating to the promotion at our sole discretion and any decision with regard to the prizes offered to the players is final.

These terms and conditions relate to this campaign only.

General Terms and Conditions at LeoVegas apply.

Please see Terms & Conditions.

By participating in this promotion, you agree to follow its Terms and Conditions.

Promoter details: LeoVegas Gaming plc, The Plaza Centre, Bisazza Street, SLM 1640, Sliema, Malta.