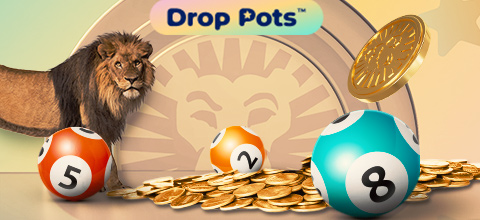 Drop Pots Bingo Room
Start playing in our 90-ball Drop Pots Bingo Room and be in with a chance of winning one of three jackpots when achieving a Full House within a certain number of calls. Read on to find out more!
---
LeoVegas opens the door for personalised promotions and enviable Cash Offers. Make sure to select 'Yes' to communications in your account settings to be notified about new tournaments on-site. You can do this here.
The Jackpots Explained
'Drop Pots' is a multilayer jackpot feature, offering three jackpots with different offerings - the Mini Drop Pot, the Midi Drop Pot and the Maxi Drop Pot. While jackpot contributions from stakes are taken simultaneously, each one of these jackpots is unique since they're won in different ways. Let us delve more into that!

The Mini Drop Pot is expected to be won multiple times a day and your chance to win it increases as the day progresses! This is because while the starting number of ball calls within which one must achieve a Full House to win the jackpot is 30, this number increases by 1 after every game until it is won. Once won, the pot gets re-seeded and starts all over again from the very next game.

So, for example, while in the morning you would need to achieve a Full House within 30 ball calls to win the jackpot, things get easier later in the day as it might be that you would need to achieve a Full House within say 40 ball calls to win the jackpot.

Available: Between 07:00 CEST and 02:00 CEST the next day.

Seeds at: €10

Good news! Even the Midi Drop Pot can be won more than once a day but it's less likely to drop as often as the Mini Drop Pot. This is because the jackpot winning ball index for the Midi Drop Pot starts at 32 calls and goes up by 1 after every three games (may vary) during the promotional period.

Once the ball call increment starts, it stops growing either when the pot is won or when the promotional period ends. Whenever the Midi Drop Pot is not won during the promotional period, the ball index will drop back to the starting ball index of 32, but the fund continues to grow until it is won.

Available: Between 16:00 CEST and 21:00 CEST on the same day.

Seeds at: €300