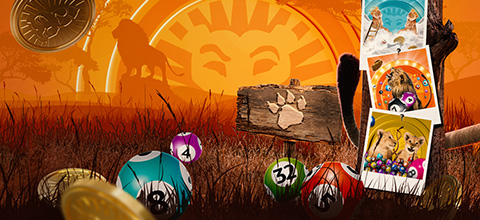 Wave Your Arms and Shout Bingo With up to 50 Free Spins & €250 Extra!
Lions enjoy playing games, and one of our LeoVegas lions loves toying with bingo balls. In fact, he has decided to share the fun with you in our Bingo Welcome Offer, where he's offering up to €250 and 50 Free Spins on your first deposit. Read on to discover more about this roaring offer as you enjoy the fun side of life at LeoVegas!
How to Claim Your Bingo Welcome Offer:
1.Click on 'Open Account' at the top of your screen.
2. Select the Bingo Welcome Offer' and enter your contact information.
3. Go to the 'My Offers' page and click 'Deposit' on your Offer Card to activate your Bingo Welcome Offer.
4. Deposit the amount of money corresponding to your desired payout value to instantly get your Free Spins.
5. Wager your deposit amount 10 times in our Bingo Lobby until the bar at the bottom of your Offer Card is full.
6. Click 'Claim' on your Offer Card to credit the cash to your account.

The Bingo Welcome Offer must be activated within 14 days of joining. After that, you have 7 days to wager your offer and claim your reward.
Deposit and Play For One of the Below Offers:

For Example: Let's say you deposit €10 - we'll instantly credit 10 Free Spins to your account. Then, if you wager that deposit amount 10 times in our Bingo Lobby, you'll receive €10 in real money.
Free Spins are only available on Madame Destiny and are worth €0.10 each.
Why Play Bingo Online at LeoVegas?
After a hard day's work, some people just want to sit back and relax in the easiest, most comfortable way possible. With the LeoVegas App, playing bingo couldn't be simpler! Our mobile casino's user-friendly interface makes finding and choosing games a walk in the park, and now you can access all our bingo rooms via the fast-paced, feature-rich LeoVegas App! So join LeoBingo for round-the-clock bingo fun, with big wins ready for those who play!
However, serving you with a high-quality app that is built with the latest technology isn't the only way we follow through on our passion for delivering the greatest gaming experience, as we are also aware that variety is a big factor in what you all love. That's why, in our Bingo Lobby, you'll discover a selection of bingo rooms so rich you'll want to be playing for days! The variety comes from many places, such as the number of in-game balls and the ticket prices as well as the winnable prizes. These rooms have been created with the player's experience in mind, making sure you'll find something no matter your mood! And for those of you who love a thrill, we know you'll get a kick out of our jackpot bingo rooms. That'll definitely make you Jump and Jive!
In a pride of lions, everyone looks out for each other. At LeoVegas, we make sure that the members of our pride are having fun in the right way. With this in mind, we have made many responsible gaming settings available in your account, ensuring that the fun you have with us is had sensibly and safely. We encourage you to refer to LeoSafePlay, where you'll find many useful resources regarding this topic, or even contact our 24/7 customer support team if you want to resolve any queries or issues you may have.
LeoVegas and Our Many Offers!
What's better than an offer? MANY offers, of course! Trust us when we say, the Bingo Welcome Offer is just the beginning of a long streak of rewards! We want you to have a fantastic experience with us, which is why we boast massive prizes, offer regular promotions, and do everything in our power to make sure the fun never stops at LeoVegas!
Not enough? Well, unlike other online casinos, with us you play with and win only real money! That means that when you pay out your Cash Offers, it's real money which you receive. You can then decide whether you want to withdraw those funds to your bank account, or keep enjoying them at LeoVegas Casino. And you don't have to use it only on bingo! Our online casino has thousands of different slots to offer, ready to transport you to different worlds! Speaking of slots - whenever we reward you with Free Spins on any of our fantastic slots, there's no wagering requirement. Our Cash Policy ensures you get your Free Spins winnings in cold, hard cash!
But enough of that! It's time to let you get on to some Bingo fun! All that's left to do before you can grab a hold of up to €250 and 50 Free Spins with our Bingo Welcome Offer is to click that button below!
Wagering requirements and bonus terms, in addition to general terms and conditions, apply.
New Player Bingo Bonus Terms and General Bonus Terms apply