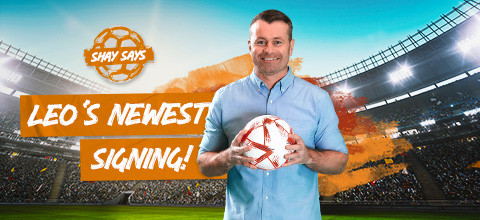 Welcome to Shay Says, the latest football betting blog from LeoVegas' Irish ambassador, Shay Given.
This week, the Republic of Ireland and Premier League legend reviews Ireland's latest Euro 2024 Qualifier matches against Greece and Gibraltar.
We've also got his opinion on Ireland veteran Matt Doherty, the exciting Evan Ferguson and West Ham midfielder Declan Rice.
Let's see what Shay Says!
Euro 2024 Qualifiers
The Greece game was frustrating from an Irish point of view. I thought the performance against France was one of the best performances under Steven Kenny, but I said they needed to back it up against Greece, and unfortunately they didn't do that.
They didn't play well individually or collectively as a team – it was a disappointing performance and result. It's not an uphill battle to qualify. They beat Gibraltar on Monday, which was expected, but it doesn't paper over the cracks of the Greece defeat.
Stephen Kenny made a few tweaks at half against Gibraltar and brought some substitutions on, so you have to give him credit for that and the performance in the second half.
Obviously Evan Ferguson scored again and Adam Idah got his first international goal too, so there were positives to take from that front, but if you look at the bigger picture, is it going to be enough to get them into the top two?
You've got France away next and Holland at home after, which will both be very difficult games. We'll know a lot more after them.
Evan Ferguson
I think we forget how young Evan Ferguson is! He's still learning his trade and is at the start of his career, but from an Irish point of view, I'm really excited. It was great for him to score his first competitive goal against Gibraltar – and a brilliant header too.
This is his first campaign and his first chance to play regular Premier League football, but already the whole Irish setup seems to be around him. It looks like he can be the next star player to come through the ranks.
I don't want to put too much pressure on him, but I'm really excited for what next season is going to bring for him personally and collectively for the Irish.
Listening to a few of his interviews, he's very level-headed and he's got the right people around him as well – he wants to learn and become a better player, so I'm excited for next season.
He was linked with a few big moves away, but he signed a new contract with Brighton, which makes a lot of sense to me. He's in a club where the manager thinks a lot of him and he's playing very regularly in the Premier League.
He definitely has the ability to join a new club, but at the same time, he's at the perfect club to improve and become better. We've got huge hopes for him!
Declan Rice
I think for Declan Rice, going to Manchester City would be the obvious choice. If you look at Jack Grealish and what he's done since he joined the club and how many trophies he's won, it's what you want to do as a player.
Arsenal obviously challenged last year and Rice may think that he could be the difference for them knocking City off their perch, but if City are really strongly interested as well, there would be a big pull for him to go there as well.
You saw what they achieved last season and topping it off with the Champions League – so he'll be thinking that he'll have a brilliant chance of winning trophies there.
If I were Arsenal, I'd be rushing through to get him across the line – City could swoop in and pinch him if they put their minds to it.
Having said that, I think he will be playing at Arsenal by the start of next season. They seem to have made him a priority for this summer.
Matt Doherty
It's amazing – it's like the Premier League trying to speed up the Saudi Arabian league by sending them as many players as possible!
The lure of the big wages will attract any player – I'm not sure what Matt Doherty's financial earnings over his career would be, but I imagine they wouldn't have been like that of Cristiano Ronaldo and N'Golo Kante, so if there's a deal on the table and it's rewarding for him and his family, you would think he'd definitely look at it.
Obviously he went on loan last year at Atletico Madrid and had a frustrating time, so it's important that he's playing regularly – he's still an experienced player for Ireland and needs to stay match fit, so It wouldn't surprise me if he goes there.
LeoVegas Ireland is the only place to find Shay's must-read football betting blog, Shay Says. Check out the new edition every week and follow our social media channels to get the content first.
Watch the previous episodes: