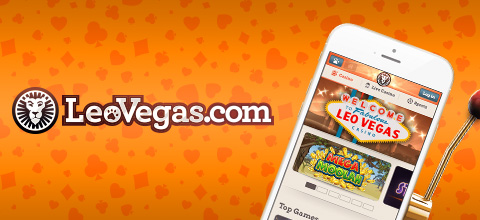 Never give up on experiencing the real Vegas feeling on mobile. The King of Mobile Casino is here to exceed your expectations! Tap into our sports betting app to reserve your place in the bleachers of San Siro and become the envy of every sports enthusiast. On the other hand, if casino is more your scene, then find play in the every day with our endless selection of online casino slots and table games. Trust in the winner of Mobile Operator at the EGR Nordic Awards in 2020 to bring you the best mobile casino service possible.
LeoVegas Online Casino
Get a kick out of spinning your favourite online casino games in an immersive mobile app that adjusts to complement your surroundings thanks to the Dark Mode technology. Tap into our mobile casino app using Touch ID or Face ID and play an unlimited number of casino slots on the go - whenever, wherever! The LeoVegas mobile casino app was created with your needs in mind. Never interrupt the fun thanks to our smart interface, designed to allow you to choose your next game before you're even done from the latest one. What's there not to love? Download our app for online casino here to jump straight into the action!
LeoVegas Live Casino Online
LeoVegas Live Casino is here to get you rolling! Learn what it's like to walk the red carpet with our lightning-fast mobile casino app. Mingle with our top-class dealers as you're jetted off to international waters with our HD streams of dedicated studios across the world. LeoVegas never expects you to miss out on the action. For this reason, our native casino app allows you to follow multiple tables at the same time. Choose to play your traditional table games from the best providers in the market or challenge your comfort zone with the unique concept tables and premium rooms in our Chambre Séparée. Don't miss out on a one-of-a-kind experience, download our app for Live Casino to experience a true VIP treatment.
Disclaimer: The availability of LeoVegas Live Casino is dependent on your location.
LeoVegas Sports Betting
Hit the ground running and take a shot at our sports betting app which allows you to bet on every point! LeoVegas puts you in the front line. Bet live with our competitive odds as you watch the action unfold before your eyes. The LeoVegas mobile app is built around your passion for the game, offering you the ability to personalise your dashboard to track the most anticipated games of the season. Download our sports app for great odds, weekly offers and just good fun!
LeoVegas On Your Browser
That's the lowdown on our mobile apps but what about the people who prefer to play on their browser? That's alright. You didn't think the King of Mobile Casino wouldn't consider that, did you? Simply visit our homepage on your iPhone, iPad, Android or Windows Phone and tap to open whichever game strikes your fancy to experience the bustle of our online casino!
Although our mobile casino apps are native to the App Store, we also cater for Android users. Click the 'Android App' tab to learn more about playing LeoVegas games from your device!