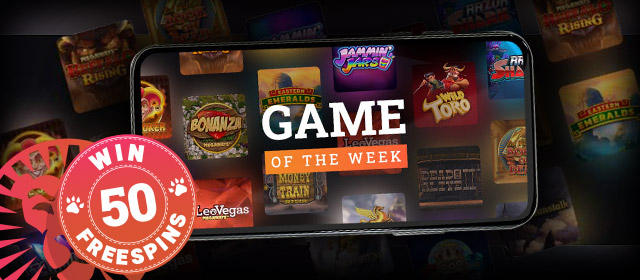 50 Free Spins Offer - No Deposit Needed!
Free Spins No Deposit Bonus
Each week, we offer a chance to win 50 no deposit free spins on our Game of the Week, Early Release or Exclusive Game - all you have to do to take advantage is complete 3 steps, entering you into the draw to claim the bonus!
Make sure to claim your 50 free spins within seven days of winning. Players can only enter the offer once per platform. Winnings are paid as cash, 18+ www.begambleaware.org.
---
If you've never claimed a free spins no deposit bonus before, then you may be unsure what free spins are or how to access them. Let us help - if you sign up as a LeoVegas player and follow the instructions below, you will be entered into a random draw to potentially win 50 free spins. These bonus spins cost no money to play and you don't need to deposit any funds before using them on the game for that week. Any winnings from the free spins will be paid into your balance and can then be withdrawn. Please note that the no deposit free spins are only available to players with a LeoVegas account. Full terms and conditions apply.
How to Participate in the Free Spins Offer
Step One
To enter the free spins bonus offer, ensure that you have an existing LeoVegas account. Once created, the first step is to like our Facebook and Instagram page.
Step Two
For the chance to win 50 free spins, like the relevant Game of the Week, Exclusive Game or Early Release social media post for that week.
Step Three
As the final step to enter, leave a comment with your LeoVegas nickname on the relevant post. You're in! A random player will be selected to win 50 free spins which will be available to play on the selected game for that week. If won, the 50 bonus spins will be added directly in-game.
Promotion Terms & Conditions
The 'Social Media Free Spins' promotion period runs from 00:01 on Mondays until 23:59 on Sundays. The time format in this document is GMT/BST.
Participation outside the promotion period is not valid.
Participation via any device (desktop, mobile, tablet) qualifies for this promotion.
Free Spins are added directly in-game within 72 hours of the promotion ending.
Free Spins have to be activated in-game within 7 days from being added to the player's account. The Free Spins have no wagering requirements. Winnings from Free Spins have no wagering requirements.
Number of Free Spins: 50.
Free Spins value depends on the game and varies weekly.
Free Spins are on that week's Game Of The Week (this changes every week).
We may also run this Free Spins promotion on an Early Release or an Exclusive Game.
Players must have a verified LeoVegas account.
The user must like LeoVegas's Facebook page, like the relevant 'Game Of The Week'/ 'Early Release'/ 'Exclusive Game' post on there, and comment on that post with their LeoVegas nickname for the chance to win 50 Free Spins on that week's Game Of The Week/Early Release/Exclusive Game.
Players can enter ONLY once per social media platform.
1 random winner is chosen from all valid entries.
If Free Spins cannot be offered on that particular week's Game Of The Week/Early Release/Exclusive Game, they will be offered on an alternative game.
If there is no response within 5 days of being contacted, the winning player forfeits their right to their Free Spins.
General:
Any player who contravenes any of our Terms and Conditions and/or if LeoVegas reasonably suspects that a player has acted fraudulently and has abused the promotion, LeoVegas will disqualify said player from the promotion and suspend/close the player's account.
Players must be 18 years or older and only have one membership account open with LeoVegas, as per the general terms and conditions found on site.
Should LeoVegas discover a player with multiple accounts, all winnings will become null and void. It is the player's responsibility to ensure that it is legal for them to play at LeoVegas, in whichever jurisdiction they are gambling, and to take part in the promotion.
We can change or withdraw a promotion or change the terms and conditions: without giving you notice, where a change or withdrawal is required due to any change in law or regulation; or by giving you prior notice, if the change or cancellation is for any other valid reason (for example, if there is a fault in the software or systems used to manage the promotion, or if a mistake is identified).
These terms and conditions relate to this campaign only.
General Terms and Conditions at LeoVegas apply.
Please see full website Terms & Conditions.
By participating in this promotion, you agree to follow its Terms and Conditions.
Promoter details: LeoVegas Gaming plc, The Plaza Centre, Bisazza Street, SLM 1640, Sliema, Malta.
Types of Free Spins
No Deposit Free Spins
No deposit free spins are often used as a sign-up bonus for new casino players. They provide players with a free opportunity to land wins on our vast range of online slot games. Naturally, these offers are typically lower value than their deposit counterparts as they've been given to the player either to commemorate an event or as an additional part to a different bonus. No deposit free spins are typically valued at either 10p or 20p apiece and, in most cases, players will have to match a wagering requirement to withdraw their money as cash. An example of this is the free spins bonus that you can find and claim above at LeoVegas UK.
Think of it as a free opportunity to play casino games and, if you win, you get even more opportunities to play without spending a penny!
Deposit Free Spins
To receive these free spins, players will have to make a deposit and play through that deposit on selected casino games. For bonuses centred around free spins, players will often find that the deposit requirement is around £10-£20. As players have to put money into a site to receive these kinds of bonuses, players will often see a higher number of free spins on offer, sometimes ranging as high as 200 free spins! Sometimes, if these spins are low in volume, they'll be higher in value so, instead of having free spins at 10p per spin, they can sometimes reach the heights of £1 per spin!
Similarly to the no deposit bonus, these offers will also include wager requirements if players wish to withdraw their winnings. Wagering requirements often range between 10x and 100x.
Free Spins No Wagering Requirements
If an offer states that it has no wagering requirements, this means that when players land a win from their free spins, they can withdraw their funds without playing through a set number of spins. This is often attached to bonuses that include 10 free spins, so players can check out a game, play through their 10 free spins and take any potential payouts that they receive to the bank.
Can I play Free Spins on mobile?
Yes, here at LeoVegas, our free spins aren't exclusive to any particular method of playing. This means that whether you're playing on mobile, desktop or tablet, you will receive the same offers as everybody else. So, if you're looking to play your free spins on the go, why not download the LeoVegas app and play through your free spins today!