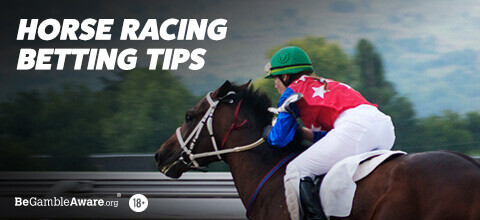 Horse Racing Betting Tips
Whether you're an avid fan of UK horse racing or you're a new follower of the sport, there will be some hints and tips before you place your wager and where to look out for the top horse racing tips.
Horse racing is one of the most popular sports in the world, and whether you prefer to place your wagers on flat horse races or over the national hunt fences, we have you covered with our wide range of betting markets which cover everything from major meetings to the smallest daily racing events.
So if you're ready to place your sports bets on horse racing at LeoVegas, why not take a look at our extensive guide below and see if you can follow horse racing super tips?
Bet on Horse Racing Betting Tips across the UK
Across the UK, there are so many horse racing events in which you can place bets, and within our selection of betting markets and our collection of today's racing tips, we'll have something which suits your preference.
At LeoVegas, we have sports book odds from all corners of the globe, so whether you're looking to place bets at smaller meetings at Newcastle, Chepstow and Wincanton, or you'd prefer to focus on the bigger racing events which take place over the course of a week such as the Cheltenham Festival or the Grand National, we'll provide racing tips for all of the main events.
If you prefer to browse horse racing tips from the other side of the globe, UK customers will also see markets for races taking place in the USA, at courses like Aquaduct and Keenland, racing from Australia at Belmont, New Zealand in Rotura and Vaal in South Africa.
That said, if you only have a passing interest in the sport or you're a new customer of LeoVegas, you may want to focus on the big events where you'll see top racing tips for the biggest national hunt contests such as the Cheltenham Gold Cup, which is run at Cheltenham Festival in March and the Grand National.
But if you prefer to stick to the flat races, then we have the Epsom Derby in June, Royal Ascot, which features a week of top-class races and international races such as the Prix de L'Arc de Triomphe from Paris in October.
Horse Racing Betting Terms
Before you place any bets following our horse racing tips, you may need a crash course in the terms you'll encounter when placing a bet. Take a below if you're a new customer and be in the know before you place your bets.
Back/Lay: To 'Back' a horse means that you are placing a bet on it to win or place. To 'Lay' a horse is the opposite, in that you think it will lose or miss out on the places.
Place: If a horse finishes second (or sometimes third or fourth, depending on the number of runners), it is said to have 'placed'. LeoVegas will sometimes offer extra places for bigger events, such as The Grand National.
Each-Way: An Each-Way is when you place a bet on your chosen horse to win the race but also wager the same amount on it to place, as a sort of covering bet. The returns will differ depending on where your horse finishes.
Exacta/Forecast: An Exacta or Forecast bet is when you wager on the exact horses that will finish in first and second, in that specific order.
Tricast/Trifecta: A Tricast or Trifecta is similar to an Exacta/Forecast, except that it applies to the top three horses rather than the top two. Again, you are wagering on the specific order you believe those horses will finish.
Rule 4: Rule 4 is important, as it can see your Betting Odds recalculated even after placing your wager if a horse pulls out ahead of the race, for example. This is due to the fact that your horse will, therefore, have less competition for places. There are some bets that are not subject to Rule 4, and more information about this can be found in our terms and conditions under Section B 6.1.
Free Horse Racing Tips
Across the UK horse racing calendar, there are many big race meetings on which punters like to place bets. Here at LeoVegas, we'll have a selection of free horse racing tips which will cover all of the big horse racing festivals. Whether you're looking for Irish racing tips or betting selections for national hunt racing, then keep your eyes peeled across all of the biggest meetings.
As well as being able to provide daily horse racing tips for the big meetings, we also have Australian racing tips for the major meetings, and if you prefer US horse racing, then keep your eyes peeled for the month where you'll see Breeders Cup information and for the Kentucky Derby.
Today's Horse Racing at LeoVegas
Whether punters are looking for horse racing betting odds at Exeter, on the all-weather courses at Wolverhampton or at the biggest meetings at Cheltenham and Kempton, you can head over to our sportsbook to find all of the latest odds for every race across the day.
We'll have all of the race times and different betting markets on offer, including each-way odds, forecast and tricast selections and race distance specials; we'll have something for every punter when you browse our wide selection of today's racing odds.
Horse Racing Betting Tips FAQS
How to place a horse racing bet at LeoVegas?
To place a bet on any horse racing market at LeoVegas, you will need to have a registered account. Simply click the open account button and complete all the required information and see if you are eligible for an account.
When your account is activated, simply click on the race time, and the selection of horses will appear on the page. Choose your runner and place your bet, which will have to be from a min stake and then wait for the race to unfold. If you're bet wins, then the total gained in bet settlement will be added to your balance.
Do I need to be an expert to place a bet on UK horse racing betting tips?
No, extensive knowledge of horse racing is not needed to place your first bets as, like any sports betting, horse racing is still a game of luck. Punters can be guided to the best bets for each contest thanks to horse racing tips. But making your own selections can be more beneficial.
Where can I find ITV racing tips?
Here at LeoVegas, we'll have betting tips for all of the feature races in the calendar year. So whether you're a new customer who is placing your first bet or you're a regular punter, you'll see all the latest and updated markets.