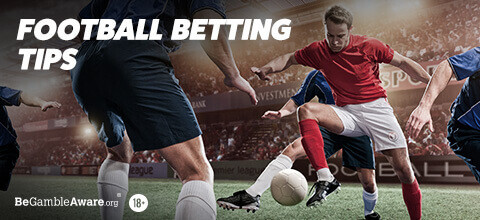 Welcome to the LeoVegas Football Betting Tips and Odds hub, where we bring you all of the previews from around Europe as the top leagues burst into life. Will anyone be able to challenge Juventus or Paris Saint Germain in Serie A and Ligue 1? Will it be Barcelona or Real Madrid's year in La Liga or can Atletico Madrid spring yet another surprise? Can Bayern Munich dominate the Bundesliga yet again? Remember that you can view all of our online betting odds and place your bets on a number of superb markets. These include match winner, first/last/anytime goalscorer, total goals, correct score, cards, corners and so much more.

We also provide the latest Premier League Betting Tips over on our hub page for insights on some of the most popular bets and insights for the Premier League season.
Whether you are new to betting or a seasoned veteran, you will be able to place your football bets here with us. The great thing about our online betting platform is that it can be accessed whether you are at home or on the go, via mobile, desktop or tablet devices. There is also the option to download our casino app and access our betting and online casino platforms that way.
In order to filter by just football betting, it will depend on the type of device you are using. You can use the Search button on the App or via a Mobile device, while if you are on Desktop you can use the Filter feature by clicking on 'Browse Sports'. Then, once you have decided on a league or competition to bet on, selections can be added straight to your bet slip with a single click, making things quick and easy. Then all you have to do is decide what your stake is going to be and click Place Bet if you are happy with it. Keep an eye out for the green 'Cash Out Available' tick too, which is on certain markets and selections.
In terms of the leagues and competitions you can bet on, there are so many different ones to choose from. If you are on the Live tab, you will be shown a list of football matches that are currently underway, with the latest scoreline and football betting odds listed for each contest. In the Upcoming tab, the 'Top Leagues' are shown first with the biggest scheduled matches for each day. For example, on a big weekend of Premier League football, the biggest games from England's top flight will be listed in order of kick-off time. If there is an international weekend or major tournament, the biggest games that pit countries against each other will be listed.
The filter will show you all of the countries listed in alphabetical order, with each nation's flag appearing as a quick way to differentiate between them all. Underneath each country will be all of the available leagues and competitions. As an example of the football betting odds for England, you can bet on the following:
Our football betting isn't just on the popular European leagues like Serie A, La Liga and the Bundesliga though, we also list betting odds for more obscure leagues too, such as Colombia's Liga Aguila or Poland's Ekstraklasa. We believe you will find the perfect league or competition that suits your football betting tastes here at LeoVegas.
When looking to bet on football in the UK, we believe there is no better place. For all big matches, hundreds of potential bets can be available for you to choose from. Of course, the most popular market is often Full Time, which is a straight decision on whether the home team will win, the away team will win or whether the game will end in a draw.
Other markets that often appear under our Most Popular tab include Total Goals at Over/Under a certain amount, Both Teams To Score, Double Chance and Correct Score. These are far from the only markets though, with other highlights including the Exact Winning Margin for each team, First, Last and Anytime Goalscorer, as well as betting on Corners and Cards.
If you are looking for a stat attack to back up a potential hunch, we also list some informative information regarding each match. You will be able to see a current league table, as well as view the top scorers, top assist providers and the players to have received the most cards in each league and competition. For an individual game, a variety of fantastic football stats could be listed. The recent form of each side is a given, as well as the results in previous meetings between the two.
In terms of match facts, some examples include the average number of goals each side scores when playing either at home or away, the average number of goals when the two sides meet and the percentage probability of each potential outcome.
Asian Handicap: One team is given an advantage from the start of the game, in order to level out the betting when one team is a big favourite. Full lines, half lines and quarter lines are available with Asian Handicap betting.
Double Chance: Backing two outcomes in one, which often comes in the form of one team to win or a draw, or a bet on either team to win.
Half Time/Full Time: A bet on both the result at Half Time and the Result at Full Time. Both would need to be correct in order for the bet to be a winner.
Outright Betting: This is betting on the outcome of a tournament as a whole.
Over/Under: Whether an outcome will happen over or under a certain number of times. Taking Goals as an example, if you placed a bet on Over 2.5 Goals and the match ended 3-0, your bet would be a winner.
Scorecast: A combination bet of a goalscorer, often a first goalscorer and the exact score of the match.
Wincast: A combination bet of a goalscorer, often a first goalscorer and the result of the match (1x2).
Bet Builder at LeoVegas
As well as all of our amazing football betting odds and markets here at LeoVegas, we also have a brilliant tool in the form of our Bet Builder. This will allow you to build your own bet on a particular game by combining a number of bets into one. You will be able to bet on up to 12 different outcomes in the same game such as the winning team, how many goals or corners there will be and which players will score.
The Bet Builder is available both pre-match or in-play as well, so there are plenty of options. If you have a hunch on the outcome of the match, number of goals, goalscorers, corners and cards, you can combine all of these into one massive bet.
In addition to our superb selection of football betting odds and markets, we also provide match previews for the biggest football matches from around Europe.
Each season the El Clasico football match dominates the headlines as Real Madrid and Barcelona go head to head in the clash of Spain's titans. Following the form and news of both giant clubs are good football betting tips for finding the best odds for the El Clasico game. Every season tends to be different as the clubs add some of the world's best talent to their squads to improve their chances of securing the La Liga crown.
Athletico Madrid is typically the dark horse of the league, mounting pressure on Spain's two giants to challenge for the title. Monitoring the transfer news and form of the league could allow you to find better odds when looking through the outright betting markets.
Italy's top tier of football has become one of the most unpredictable throughout Europe, with different teams putting their foot down and challenging for the title. In recent year's Juventus have dominated Italian football, but with strength in teams such as; Milan, Napoli and Inter, there is no sure answer over who will be crowned champion.
Once again, the summer transfer window can play a huge part in the outcome of the Serie A, with some big talent making the switch to Italy. Over, the course of the season, it can start to become more clear who is challenging for the title and who is struggling in a relegation battle. The betting markets will be updated over time to reflect these changes, but following the progress can help you to discover some of the better odds available and make more informed decisions with your football predictions.
In the last decade, it is no surprise to hear that Bayern Munich has dominated, but the German league tends to have a surprise club climbing the table to challenge Bayern.
Previous seasons have seen clubs such as Borussia Dortmund and RB Leipzig develop title-challenging campaigns and as a result, they have attracted promising talent to the league that is worth keeping an eye on.
There is no guarantee that any of the football tips available will result in your bet winning as there are so many external factors that can't be predicted. Even free football betting tips will not always be accurate as there are so many influences that can impact the final result of a football game.
However, some of the most popular football tips today are formed around research ahead of the football games that you are betting on. Improving your awareness of team form and player news can help you to discover the best odds when exploring the latest betting markets online.
When it comes to the easiest bet in football, there is no right answer. This is because there is no way to accurately predict any outcome in a game, regardless of the situation or whether you have the best football tips.
Despite this, there are some more common football bets that are popular among punters, including; Both teams to score, Over/Under bets and Outright results.
As the season progresses or key events occur, the betting markets will often be updated to reflect those changes.
For example, if a team signs key players ahead of the season, this can change their odds of potentially winning the title or achieving qualification for a competition. When the events occur, the odds can often be adjusted.
At LeoVegas, you can discover the latest odds for Europe's top leagues, as well as football leagues in South America and more. When international competitions roll around, such as the World Cup and the Euros, you will also be able to find betting options for those matches.
Exploring weekend football tips could provide you with up-to-date team news and form ahead of some of the biggest matches for that week.